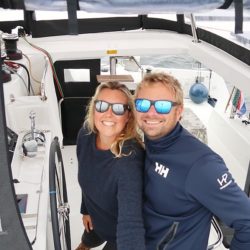 Hi there! We're Fleur (41) and Ronald (37) from the Netherlands. Since we started our working careers, we have been focused on creating a financial future that gives us as much freedom as possible.
In only eight years we were able to completely transform our lives and achieve financial freedom. We now travel the world on our Lagoon 42 catamaran.
We always knew we wanted to travel the world. And this dream kickstarted our search for the best way to fund our ideal lifestyle. We didn't want to travel for just a few years. We were keen on creating a sustainable financial situation in the long term. This meant a complete shift in our finances and our lifestyle. We now live a life in which we can spend our time the way we wanted it, without the need to work for an income anymore.
We're not millionaires! We just learned to manage our personal finances successfully. Setting a goal, cutting expenses, saving money, and most importantly: investing. In other words, all the hard work. Due to our approach, we are now able to sail full-time without having to work for an income anymore. We were able to buy our dream boat and create a steady passive income that covers all our living expenses.
Financial freedom gives us the opportunity to live our dream life without having any worries about money for the rest of our lives. We like to enable as many people as possible to achieve financial freedom as well. This is why we started sharing our financial insights and experiences through this blog called From Penny to Many. It is about us and our journey towards financial freedom.
In addition to this blog, we also created the Design Your Financial Freedom Toolkit to help you set the right steps towards financial freedom. Hopefully, it is a source of knowledge and inspiration.

IN THE SPOTLIGHT
Want to know more about us? We are proud to have been featured on the following websites:
Zeilwereld | In 4 steps to financial freedom (NEW!)
Making Sense of Cents | How This Couple Reached Financial Freedom Before 40 And Live On A Sailboat
Zeilwereld | The ultimate dream: stop working and leave before the age of 40
Dali Sailing | Sailing colleague in the picture
Watersport TV | Follow Sea Heroes Fleur (40) and Ronald (37) on their world tour
YOUTUBE VIDEOS
Regularly we share a new video about us and our life on the water. Check out our latest Youtube video:
GET NOTIFIED OF NEW ARTICLES
INSTAGRAM FEED
We also share pictures and updates about our sailing lifestyle while working on this blog about financial freedom via our Instagram account.