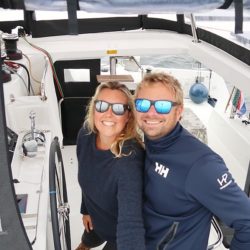 Hi there! We're Ronald and Fleur. A little bit about us: since we started working, we have always focused on creating a way of life that gives us as much freedom as possible. We have been able to create a financial situation in which we were able to buy our own sailboat and live and work on it.
We're not millionaires! We just learned to manage our personal finances successfully. Generating income, cutting expenses, saving money, investing. In other words, all the hard work. We are always looking for opportunities, experimenting, making mistakes, and getting better step-by-step.
We like to enable as many people as possible to achieve financial freedom as well. This is why we started sharing our financial insights and experiences through this blog called From Penny to Many. It is about us and our journey towards financial freedom. We also created a Design Your Financial Freedom Toolkit to help you set the right steps yourself. Hopefully, it is a source of knowledge and inspiration.
IN THE SPOTLIGHT
Want to know more about us? We are proud to have been featured on the following websites:
Making Sense of Cents | How This Couple Reached Financial Freedom Before 40 And Live On A Sailboat
Zeilwereld | The ultimate dream: stop working and leave before the age of 40
Dali Sailing | Sailing colleague in the picture
Watersport TV | Follow Sea Heroes Fleur (40) and Ronald (37) on their world tour
YOUTUBE VIDEOS
Every other week, we share a new video about us and our life on the water. Check out our latest Youtube video:
GET NOTIFIED OF NEW ARTICLES