First monthly expense overview of the new year! Welcome to 2021 and to our monthly expenses for January. The new year is always a bit special, like a blanc piece of paper that has all these stories to be written, while you have no idea what they will be. Well, at least you can be assured that we will blog about the cost of sailing our Lagoon 42 catamaran. 
We decided to keep track of our expenses because we get such positive feedback on our monthly expense overviews. A lot of you really like reading them and we like writing them. Also, we are quite curious what the average costs of sailing and living this lifestyle will be after one full year of keeping track. Read further if you are curious about the monthly expenses for January
Cost of Sailing: tracking our monthly expenses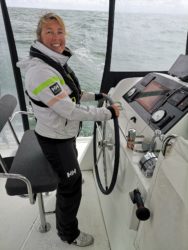 We started with our monthly expense overviews when we left for our full-time sailing adventure (in July 2020). Over the last few months, we sailed from the Netherlands to the south of Spain (Andalusia). We currently live on the boat in a marina there waiting for spring to sail further into the Mediterranean.
Our departure day, on the 1st of July 2020, was such a surreal moment in our lives. We had actively been working towards living on our own sailboat since 2012. It was then that we decided we wanted to pursue a different lifestyle and dedicated ourselves to making the switch. However, we really didn't want to be stressed over money. Also, having the freedom to travel, for us, meant having the freedom to not be forced to work anymore.
Due to this mindset, we were able to create a solid passive income for ourselves. This is the income stream we currently live from and keeps our dream afloat. For us, it is vital to keep our expenses under our passive income stream. That's why we track our expenses.
Besides, we feel that sharing the monthly expense overviews via this blog is valuable since it gives others (you) insight into the costs involved in this lifestyle. We hope this information helps others in determining how much passive income they might need to create financial independence for themselves.
Previous editions of the monthly expense overviews: https://frompennytomany.com/category/monthly-expenses-all-blogs/
App for tracking our expenses
An important part of being able to make a monthly expense overview is to have a nice tool to track the actual expenses. You could, of course, sign in to your bank account at the end of the month, make a list of all the expenses you had, and categorize them. And although this will give you valuable information, we feel that the big downside to that approach is that you are looking back at something that cannot be changed anymore. At least, not for that month.
This is why we track our expenses using a separate app. Every time we spend money, we take out our phone, open the app, and put in the amount spent in one of the categories we have defined ourselves in the app. This way, each time we spend money, we are also confronted with the total amount of money we have to spend during the month so far. This can be a bit confronting at first, but it very soon becomes normal. And, it's an amazing way to have a clear expense overview of your money situation.
Since you will be using it a lot, the tracking app must be easy to use and intuitive. If you have to go through multiple steps or screens to put in your spending, you will probably stop doing it. We use the free android app 1Money, which is great.
Monthly expenses for January 2021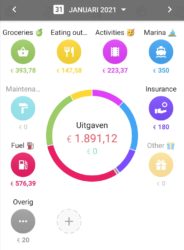 Alright, time to share the expenses we made in January 2021 living on our Lagoon 42 catamaran in the South of Spain.
The month of January looks actually pretty different moneywise from the previous months. Not that we spend a very different amount of money, but mainly due to the way the expenses are divided over the different categories. The main reason for this is that in January 2021 we traveled back to the Netherlands from Spain by car.
The total monthly expenses for January were: 1,891.12 euros.
As mentioned, it's not that different from our average expenses. Over the period July 2020 – December 2020 we averaged 1,785.72 euros per month. The expenses for January 2021 are a little bit more than 100 euros above that.
The main difference is in how we spend our money in January 2021. Let's dive into the categories to see where the money went, sorting the categories from highest to lowest this time. For each category we also added the 6-month average for comparison:
⛽ Fuel 576.39 euro (average 132,34 euro)
🍏 Groceries 393.78 euro (average 490.94 euro)
⛵ Marina 350 euro (average 350 euro)
🥳 Activities 223.37 euro (average 39,76 euro)
✍ Insurance 180 euro (average 180 euro)
🍽 Eating out 147.58 euro (average 430.84 euro)
🔩 Maintenance 0 euro (average 218,45 euro)
🛍 Other 0 euro (average 52,90 euro)
Monthly expenses for January 2021 – category breakdown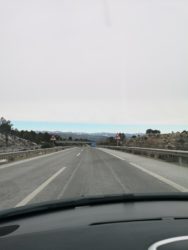 As you can see, we had a huge increase in the categories of fuel and activities and a large decrease in the category of eating out. All of this was caused by the fact that we spend a large part of January 2021 outside of our normal routine. We will explain more about this when we discuss the several categories in more detail:
Fuel 576.39
In contrast to December 2020, when we barely moved around at all, January 2021, was all about going places. Not only did we spend the first weekend of the year in Malaga, but we also decided to take the car to drive to the Netherlands to visit family and get some administrative things settled. We wanted to visit family already in December 2020 for the holidays, but some very last-minute regional lockdowns in Spain, combined with a case of COVID in the family back in the Netherlands force us to cancel our plans. In January, we luckily had a new opportunity to go!
We decided to drive by car instead of flying by plane to avoid the risk of not being able to get back to the boat. The fact that we drove by car explains why we spend so much more than normal in this category. The expenses weren't only fuel though, it contains also the costs for the toll roads driving through Spain and France.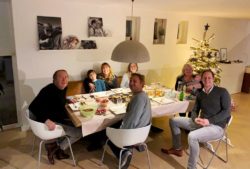 After the Netherlands, we also paid Ronald's parents a visit to the Valencia region. In total, we were away from the boat for more than two weeks. It was great to see family and friends in person again! It totally charged our batteries!
Groceries 393.78
Although we didn't spend much time on the boat and we ate more with family and friends, our grocery expenses are still quite substantial. The explanation for this is that since we went to the Netherlands ánd we took the car, we could shop for groceries there are bring them back to the boat. Needless to say, we stocked up good on some favorite foods we couldn't get a hold of while in Spain.
Marina 350 euro
This category has been very consistent over the last few months, as we have been staying in Puerto Deportivo Almerimar since October 2020. The costs for our berth in the marina are 350 euros per month. This is including electricity and water. The only downside we have found so far is that it can be very windy here since we are at the end of the funnel of the winds blowing through the strait of Gibraltar.
Activities 223.37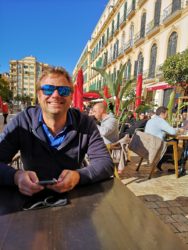 We started the new year with a weekend trip to Malaga. Malaga is only 2 hours away from Almerimar. And with the regional lockdowns temporarily lifted due to the holidays, we were keen to explore a bit more of Andalusia. Malaga was the perfect place to stroll around and enjoy city life for a bit. And not expensive: we spend 49.50 on the hotel and 27.60 on parking.
Other costs in this category include the hotels we slept in driving to and from the Netherlands. Due to the evening curfew in France, we couldn't drive the whole way at once, so we planned one overnight stay on each trip. It actually was pretty chill and less tiring to cut the big road trips into two.
The third thing we spend money on, which we categorize under Activities is the yoga classes we started to follow by our Almerimar boat buddies Navika Sailing. Alex is an amazing yoga instructor and we are super fortunate to have the luxury of outside yoga in the marina. The classes are based on a "pay what you like" basis. We pay 7,50 per person per class. If you are interested in joining: you can also follow them live via Zoom. You can sign up here for more info.
Insurance 180
Our Lagoon 42 catamaran is insured at Pantaenius. The expenses are fixed at 180 per month.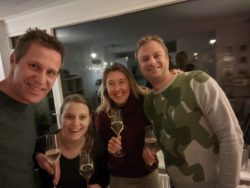 Eating out 147.58

 
Normally, eating out is quite a big cost item in our monthly budget. We are foodies and we like to eat and drink in a restaurant. Luckily for us, these are still open in Almerimar, so we do our fair share of terraces in the sun. Since we went away for the weekend to Malaga, we ate out there and we also spend some money on our way to the Netherlands.
For the rest of the month, however, we didn't eat out as much. In the Netherlands, we met family and friends and ate with them at home. Also, because the restaurants and bars are closed there. After that, we went to Ronald's parents in Moraira, where restaurants and bars had just closed after a higher number of COVID-19 cases.
Maintenance 0

 
We didn't do any maintenance on the boat in January, so the costs are 0.
Other 0
We didn't have any other costs that need to be accounted for.
That's it: the first monthly expenses for January 2021. We will keep the coming as time progresses. If you have any questions about our expenses living on our Lagoon 42 catamaran, please let us know in the comments below! You can also sign up for our blog updates by leaving your email address below.