In 'Money Talk' readers who have chosen a different lifestyle, share their finances with us. This time, it's sailing couple Anas & Noellie (both 30) who transitioned to working remotely while sailing their Lagoon 42 catamaran. In this Money Talk, they give a glimpse into their money mindset and how they combine work and the sailing lifestyle while traveling the world. 'We get to work in the most beautiful office in the world!'
Tell us your story. Who are you and what do you do?
We are Anas and Noellie, both in our early thirties, and have been expats for nearly a decade.
After living in London for a few years, we realised that something in our life was missing, and that was nature. We love travelling to islands, hiking, diving, and kitesurfing… all pretty hard to do in a city like London.
Holidays always felt too short and we realised that we weren't after a break from work but a break from city life. So we transitioned to a remote job, saved all the money we could possibly save, and bought a boat.
Anas studied computer science and now runs a small software agency and I (Noellie) went to a business school and work for an international remote digital agency as Performance Director. All we need is a good internet network and our laptop and we get to work in the most beautiful office in the world!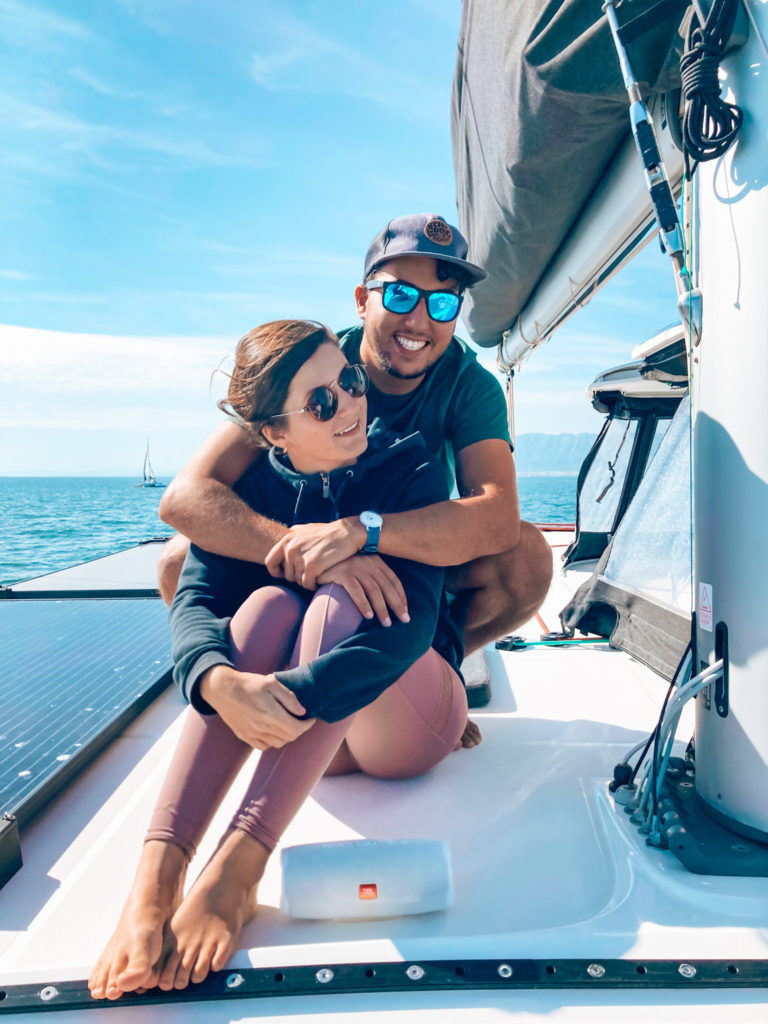 Why did you decide to start sailing?
We were on a hunt for a new lifestyle and needed a home that could work as an office and take us around the world including islands. So a boat was just the perfect fit for us.
We booked a 3 days trip on a catamaran in Antigua followed by a 1-week competent crew RYA course and bought Malaika 6 months later.
For us, it was the right thing to do and we actually never questioned our choice. We went head first into the unknown and haven't looked back since. We learned all the basics in books, Youtube videos, and by practising on our own boat.
From April 2021 to October 2021, we travelled over 2,000 nautical miles from Brittany to Ibiza while working full time and we had the best time of our lives. We felt alive and fulfilled and cannot wait to explore more of the Mediterranean.
How were you able to buy your boat?
We actually partially financed our boat (a Lagoon 42 catamaran) with a French bank. To buy Malaika, we paid 30% upfront with our own savings and we now have a monthly payout which roughly equals to what we were paying in London.
We went for a new boat to reduce the time we would spend on repairs (as we are already busy working) and we think we made the right decision. Essentially we bought a boat instead of buying a house and have the equivalent of a mortgage. 
Essentially we bought a boat instead of buying a house and having a mortgage, this is how we see it
Yes, a boat depreciates over time but the amount of joy we get from this adventure is priceless and we don't see this money as 'wasted'.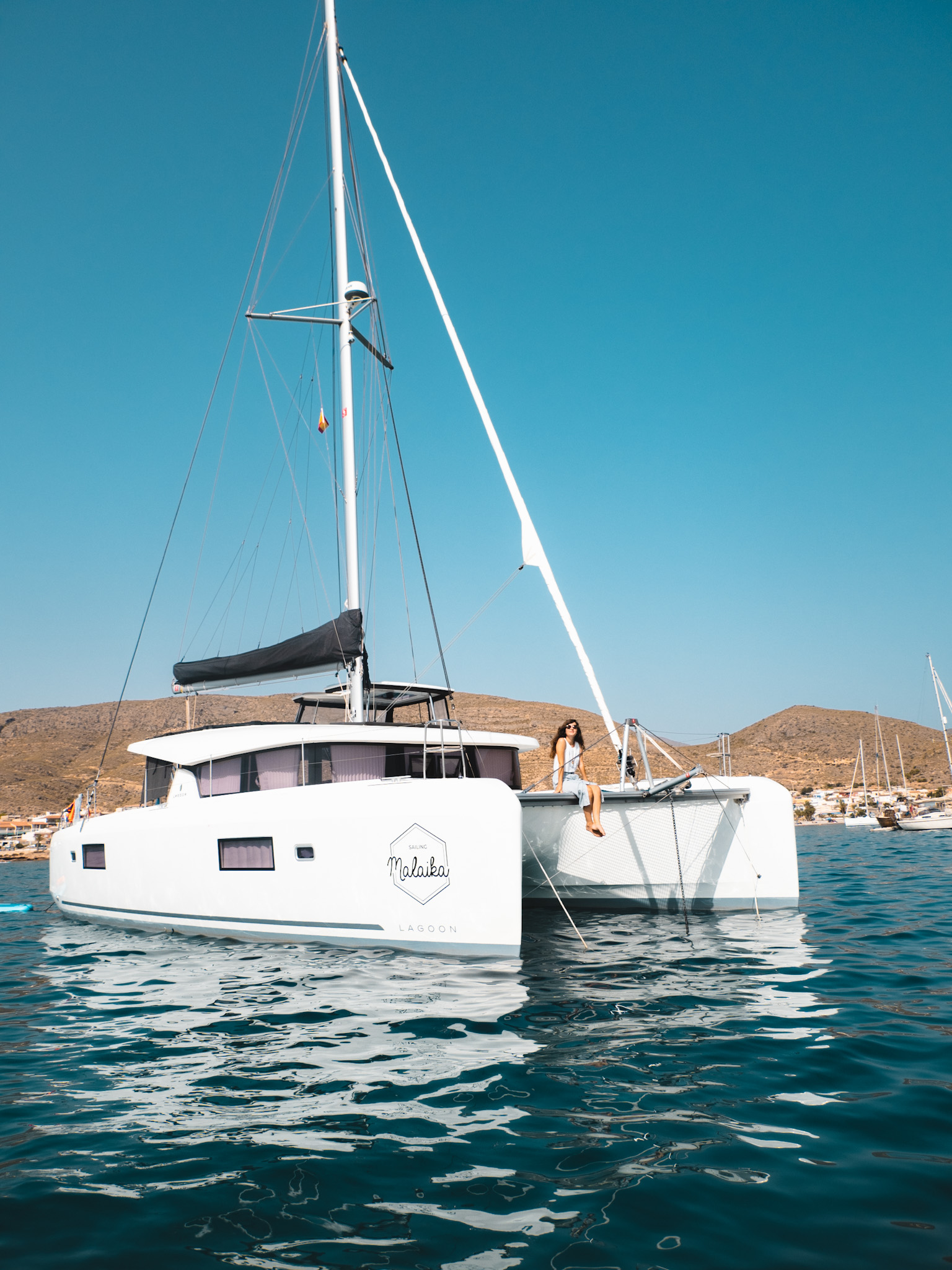 How do you afford to travel and live on a boat?
We work! Simple 🙂
We both have a full-time job and therefore a monthly income. But we are very disciplined and rigorous with our finances. We save a large proportion of our earnings (around 40%) and buy only what we need and what is essential to our day-to-day life
GET THE FINANCIAL FREEDOM TOOLKIT
Anas & Noellie have a savings rate of 40%. If you want to know more about the savings rate and calculate your own, you should definitely check out the Financial Freedom Toolkit. I share it using the Pay-What-You-Want-approach. This means you can pay any amount you feel is appropriate for it. Check out the Financial Freedom Toolkit here.

What's an average day like for you?
That's a difficult question as we kind of live two lives in one.
On a regular working day, we would mostly be on our laptops working and take breaks to swim or sunbathe on the roof of the boat. We try to start early and take the dinghy to shore after working hours to walk and explore. When the days are longer, we also move to a different anchorage, sometimes before or sometimes after work.
During weekends, we either cover long distances (10h+ sails) or go explore the surroundings (a hike, a cave, a town etc.). And if we have a really long passage ahead (from one country to another for example) then we either wait for a bank holiday or take annual leaves.

Capture from Anas & Noellie's Instagram 'Sailing Malaika'

How much does living on a boat and sailing cost you?
We don't really track our expenses so it's hard to give you an exact number, but we are definitely spending more than what we were used to on land and on things that don't even make a difference to our day to day comfort on board (such as new lines, cleaning products, engine oils, filters, etc.).
We are definitely spending more than what we were used to on land
Every month is different and we do most of the big maintenance and upgrades in the winter when we are in a marina. With a new boat like ours, I'd say we average €1k a month in repairs/maintenance/upgrades during low season (so winter). During the summer months, I'd say this cost is pretty down to 0 unless something breaks of course. In addition, we also pay €300 a month on insurance (covering us in Europe) and €500 a month in marina fees 6 months a year.
Travelling at a relatively slow pace allows us to reduce our sailing costs as we probably use our boat less than other sailors would. Sailing is definitely not cheap and when you don't pay for repairs, you spend money on products to avoid the repairs. So all in all, you will spend that money either way!

What do you spend the most money on?
Back in the days (prior to the boat), we used to spend a lot on holidays, weekend getaways, restaurants, takeaways, pubs, concerts, taxis, etc.
Now we spend our money either on toys and gear (paddle, fins, kiteboarding gear) or on our boat. Malaika is our priority over anything else and I now spend more time in marine shops than in Sephora for sure!
Do you see yourself as savers or as spenders?
We are very much both. We save a lot of our income every month but at the same time, we treat ourselves a lot.
However, we buy things we need or things that genuinely make us happier. We don't buy for the sake of buying, go for quality over quantity and ask ourselves 'why' we need this new object before making a purchase.
We don't focus so much on our appearance, on things that would make us look good to others, and don't seek validations. When you eliminate the inessential and focus on what brings value to yourself only, then saving becomes a lot easier.
When you focus on what brings value to yourself only, saving becomes a lot easier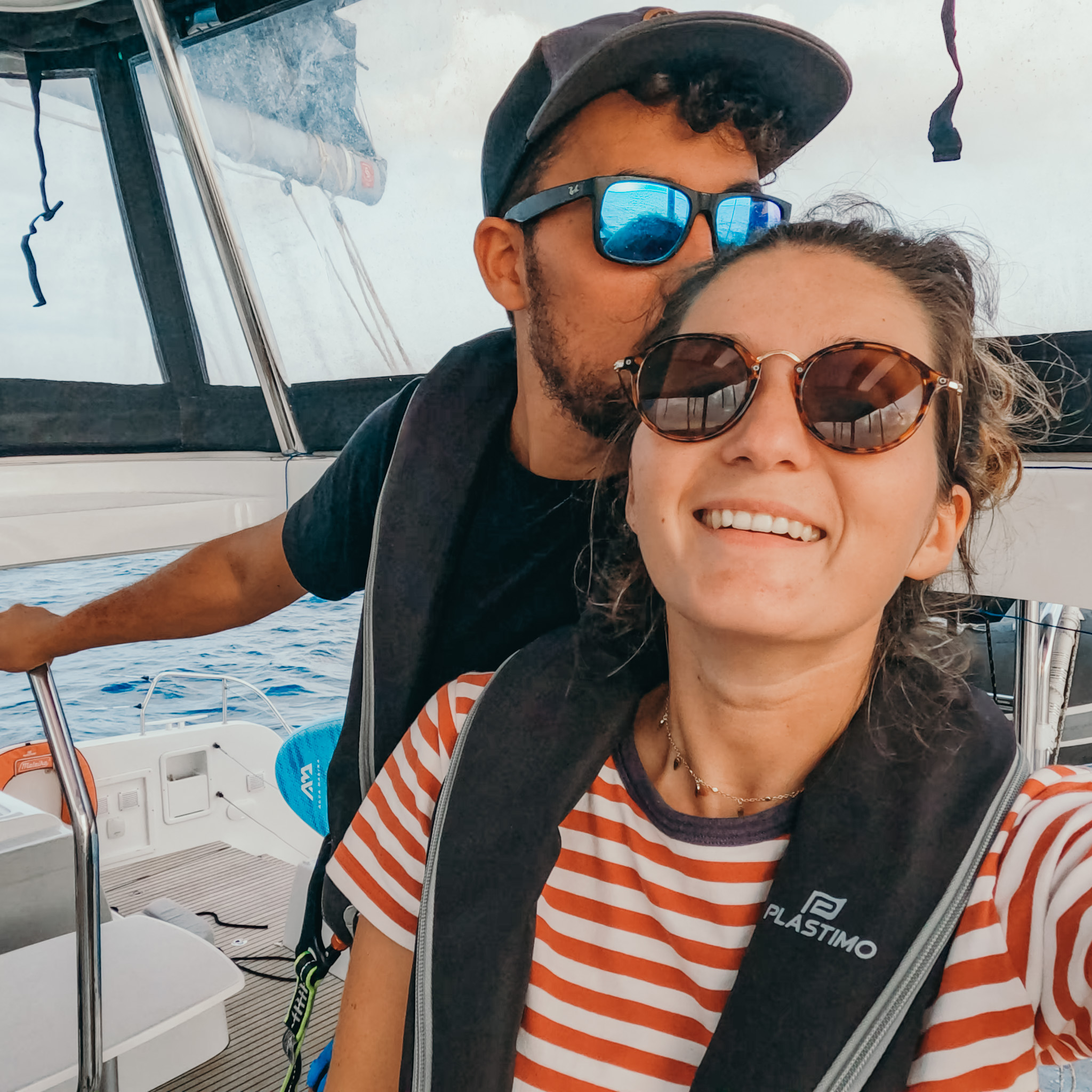 Can you give an example?
Well one thing that surprises a lot of people is that we don't celebrate Christmas or birthdays, at least not with presents. A nice meal and quality time spent together means a lot more to us and we make that a priority over material goods.
If we feel like buying each other something, then we do it but we don't enforce it and it can be any time of the year.
One thing is sure, we only spend the money we have available after saving and we don't live beyond our means.
Are you satisfied with your financial situation?
Yes, definitely and we are very grateful for what we have and proud of what we achieved over the years. We definitely live comfortably and we owe a lot to our wonderful parents who offered us the tools we needed to thrive in our lives (access to good education and the right mindset).
We don't dream of a bigger boat and there is nothing on our 'wish list' that we can't actually afford. That doesn't mean we are rich, it just means we aren't interested in superficial products. Our main goal now is to work on our passive income to free up our time but we for sure will continue to work and be creative regardless. We could always wish for more money but we would still live exactly the same way.
Our main goal is to work on our passive income to free up time but we will continue to work and be creative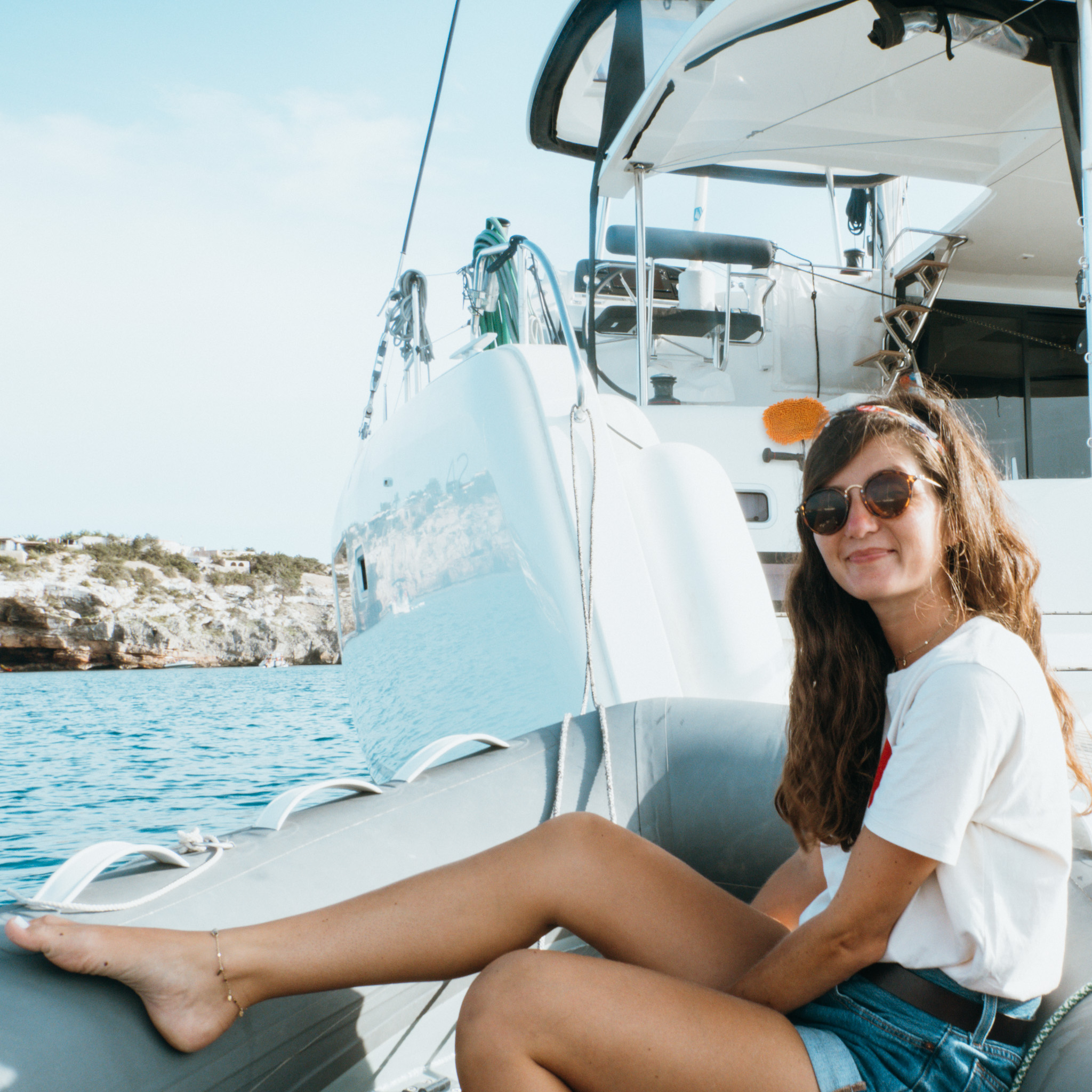 If you could change one thing about your finances, what would it be? 
We definitely want to move part of our savings away from the bank and use it to invest more in real estate and stocks. That way, we can protect it from inflation, and get passive income.
Our biggest regret is not having bought a property from the very beginning and having rented apartments for so long. It's always hard to invest when you are an expat as rules may be different from what you are used to but one thing is sure, we could have saved a good bunch of cash if we'd chosen to buy.
Our biggest regret is not having bought a property from the very beginning
Lastly, what is your best tip (or two) for someone who wants the same lifestyle as you?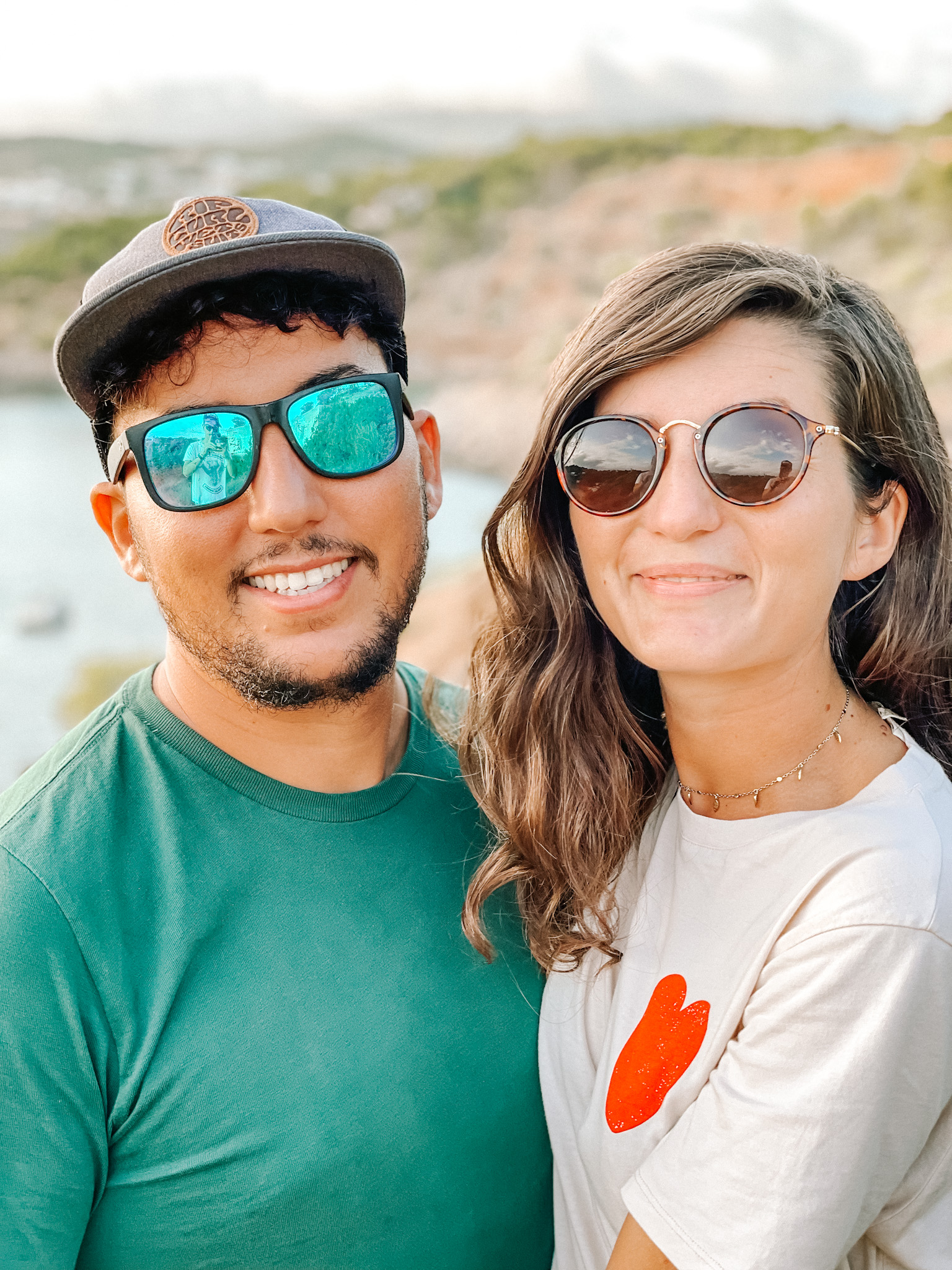 Every story is different so it's hard to give a bit of one-size-fits-all advice. But don't let anyone tell you no, that you are silly or perhaps too young. Trust your gut and do what feels right for you!
Be honest with yourself and your financial situation and don't aim too high. We also recommend overestimating the cost of sailing. Set aside 6 months worth of living costs on your bank account for safety.
Last, don't wait, just do it! It's good of course to save for a few months but don't wait forever to take your big leap, you have no control over your health and what the future holds!
Related blog articles
Did the story of Anas & Noellie inspire you? Check out these related articles to get more information:
The best way to invest your money
14 creative ways to save money
The Financial Freedom toolkit
–
Follow Anas & Noellie | Sailing Malaika
Instagram: https://www.instagram.com/sailingmalaika/
Youtube: https://www.youtube.com/channel/UCzgOUsH1LFS8scSviKZnYKA
Facebook: https://www.facebook.com/svmalaika