In this article, we will guide you through the process of how to start a WordPress blog on Bluehost. We have had a previous experience online with building websites, but we never before had a blog, so in the beginning, the process of starting was quite overwhelming. We had a lot of questions and uncertainties, such as:
What is the best platform to share our information?
How do we attract visitors and actually reach people with our blog?
Will Google think our blog is worth showing in search results?
Can we make sure people come back to the blog or subscribe?
How do we choose the right technical set-up?
And many more…



Click here to start your blog on Bluehost and use the tutorial below for directions
*Special intro offer (starting at $7.99 $3.95/month) and 30-day money-back guarantee
WordPress and Bluehost combo
You can see that having to answer all these questions, our learning curve was very steep. We did a lot of research during the first months because we want to start well and it would be frustrating and a lot of extra work to move the blog to another domain name, platform, and/or hosting provider.
After researching all options we decided to install a WordPress blog on Bluehost.
Bluehost is the company where your WordPress blogging system runs and it's everything you need to start blogging.
If you consider starting a blog as well, you will benefit a lot from our experience and the choices we made. That's why we decided to share our knowledge of how to start a WordPress blog on Bluehost.
Advantages of Bluehost
These were the main considerations for choosing this set-up for our blog: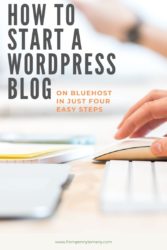 User friendly
We wanted an easy and quick way to start the blog, an uncomplicated tool to upload content, and fun options to make the blog look great while also being interesting and attractive for visitors. We had great experiences with the ease of WordPress and how quickly you can give a website your own look-and-feel. The user-friendliness of WordPress is awesome and we had lots of reasons (too many to sum up here) to configure this for our blog.
Reliable
We definitely needed a good and reliable hosting provider to make sure the technical side of the blog was covered and we didn't want to spend a lot of money and time to start. Our main focus was to share our financial insights as fast as we could. We soon discovered that Bluehost and WordPress are like peanut butter and jelly as it comes to starting a successful blog. If you are curious about the reasons, please check out the 8 benefits of using WordPress.
Professional
Our idea behind the blog was to create a valuable platform of knowledge and we definitively needed a set-up that supported the monetization of our blog. We for instance wanted to start using affiliate partnerships as we see the blog as a professional business and not as a personal hobby project. Generating income from our blog and viewing it as an asset is completely in line with our financial perspectives as you can also ready about in the article create assets to reduce financial risk.
If these considerations sound like a good starting point for your blogging journey as well, please read on as we describe in a step-by-step way how we set-up your WordPress blog via Bluehost. Even if you are not looking for ways to create a moneymaking online business, we still think that a WordPress Bluehost set-up is very interesting and affordable. We also offer you a discount when you click here.
How to START a WordPress BLOG on Bluehost – four simple steps!
The process of how to start a WordPress blog on Bluehost consists of the following simple steps. You can start the process here yourself and offer you a great discount.
With WordPress on Bluehost, you can start cheap and upgrade later! From our personal experience, this combo is the best way to start blogging.


Click here to start your blog on Bluehost and use the tutorial below for directions
*Special intro offer (starting at $7.99 $3.95/month) and 30-day money-back guarantee
We will explain every step in more detail below:
1 | Select the Bluehost plan that fits your needs
As soon as you go through the steps of starting your online blog, you get this rather interesting overview of options that Bluehost offers. Don't panic right away; the difference between the three plans is actually the price per month and the extras you receive.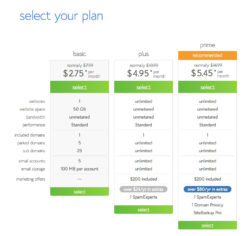 We choose the basic plan since this option is more than sufficient for starting one blog. Also, you can always upgrade later on, so best to pick the basic package for now.
2 | Choose a domain name
Okay, now the more tricky part: an appealing domain name. Choosing the right domain name can be quite challenging since a lot of options are already taken. It is best to brainstorm some options beforehand and check which of your ideas are still available to register. You can check this via https://www.bluehost.com/products/domains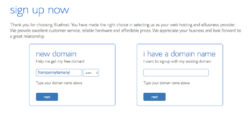 We did not beforehand register the domain elsewhere, so we used the left box to register the domain name. If you already have a domain name registered elsewhere, you can fill it in on the right side.
3 | Create your account
Now it's time for the easy stuff: your account information, which is your name, address, etc. It's super easy to fill in this form.
In the bottom part of the form, you decide the duration of your account plan. For each plan (basic, plus, and prime) you can choose for 12, 24, 26, or 60 months. In general, the longer the plan, the lower the price. Although the 60-month plan doesn't give you a financial advantage over the 36-month plan.
Bluehost here offers some extra options, such as Domain Privacy Protection, SiteLock Security, etc. Information about these options can be found when clicking on the 'More information' link below each option.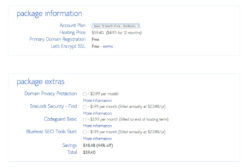 We actually choose the 12-month basic plan and paid a few dollars more per month in comparison with the 36-month plan, but we liked the idea of being flexible. However, if you are keen on getting the best deal, you are best off going for the 36-month option. Looking back we now probably would have chosen the 36 months option as well. Furthermore, we unchecked all the other options, because we felt they were not necessary to start our blog. You should investigate yourself, but our advice is to uncheck them, as you don't need these additional services from the start.
4 | ALL DONE!
After adding your payment information and creating a password you are officially all done. Congratulations! Now you can start building your own WordPress blog on Bluehost! Bluehost makes it really simple to set the first steps in getting your site online. You just pick a WordPress theme you like (no worries, you can change it later) and click on 'Start building'.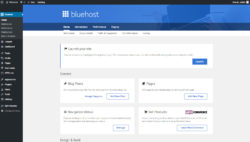 After logging in to the WordPress dashboard, make sure to navigate to Bluehost in the sidebar and click on the blue 'Launch' button when you are ready to publish your blog. We actually only discovered this step two days later after wondering why our blog still wasn't visible online 😉 Good luck, have fun and feel free to ask any question about how to configure your WordPress blog on Bluehost.
Start now!
Ready to start your blog with WordPress and Bluehost as well? Use this link to create your own account on Bluehost and get a nice discount. Click here to start your blog on Bluehost and use the tutorial above for directions
Subscribe to the blog