A new blog series on From Penny to Many! In this new series 'Is it worth it', I will review products that seem to fit with a travel and/or freedom lifestyle. First up: the MiniDive review. I have been wanting to start this series for a while now. To discuss what some products cost and – more importantly – if they are worth the money. So I am very happy that the first blog article is finally here! 
Alright, first up: the MiniDive review. MiniDive is an innovative product that has been a true game changer in the diving scene. MiniDive allows everyone to experience breathing underwater without the need to go full scuba. Sounds cool, right? But is this gadget worth its money? Let's find out!
Discloser: this blog post is part of a partnership with MiniDive. However, my reviews in this blog series are always honest. I will not recommend products or services that I feel don't deliver value. This blog post doesn't contain any affiliate links.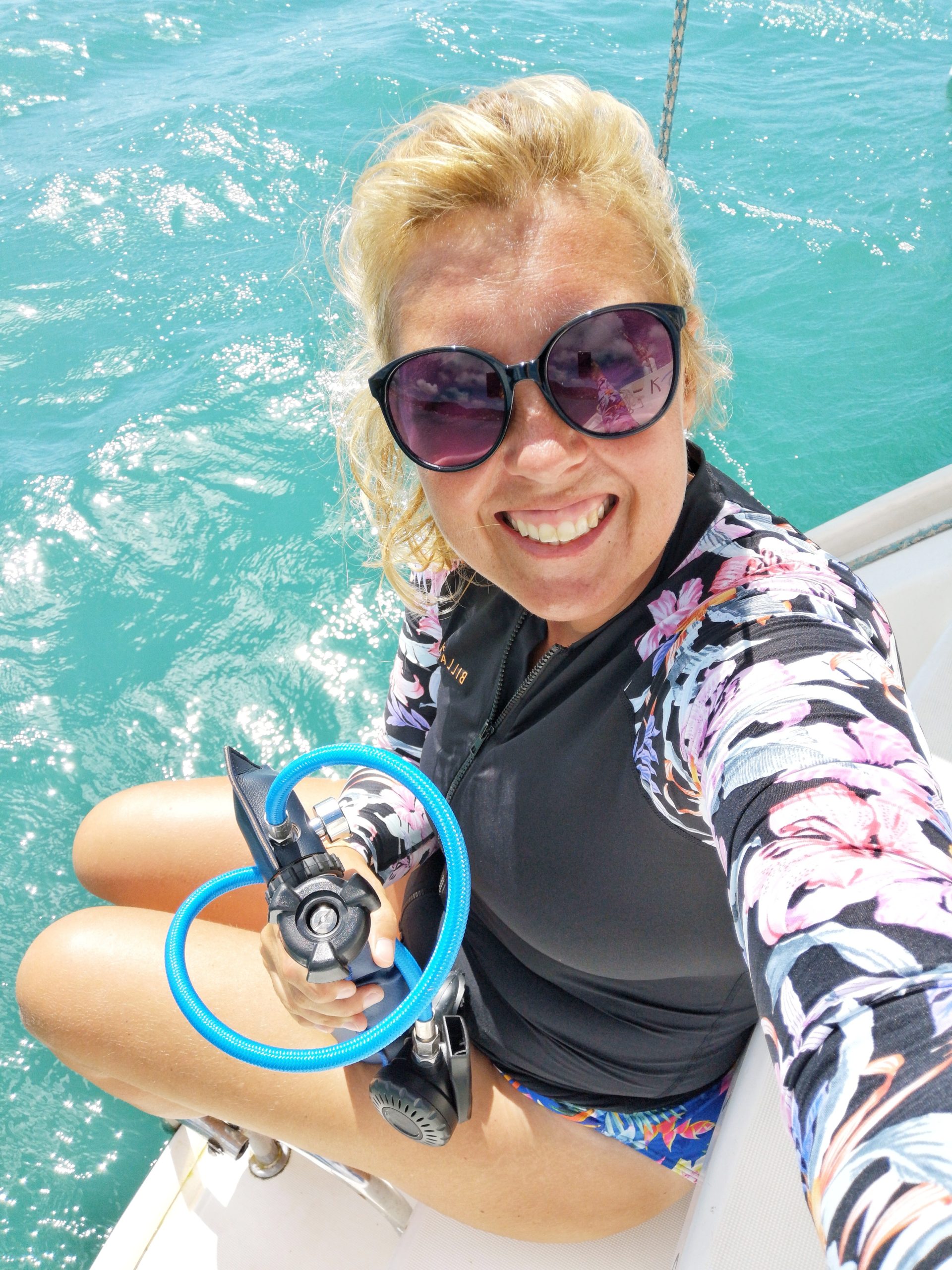 What is MiniDive?
The MiniDive literally is a mini diving tank. It uses compressed air and allows you to breathe underwater in a comparable way as you would be able to do with scuba gear. But since the device is so small, it offers a very easy an accessible way to dive and stay under the water surface for a longer period of time.
MiniDive was initiated by Yann and Quentin, two friends from France, who both have a passion for underwater life. With MiniDive they want to make the experience of diving available to everyone.
MiniDive wants to make the experience of diving available to everyone
In November 2016, MiniDive was launched on Kickstarter and in just 41 hours after launching, they already reached their funding goal. After 30 days, when the campaign ended, MiniDive had collected more than 60.000 euros in support from the Kickstarter community. This in itself shows how much enthusiasm there was for this idea and product.
Which MiniDive model did I test?
I am reviewing the MiniDive Pro Pack (0,5 L, 30 cu) which came with the MiniComp 12 V compressor.
This version of the MiniDive has a 200 bar (3000 psi) tank and a regulator. The MiniDive is actually very simple to use, you just have to take the regulator in your mouth and you can breathe underwater through the regulator.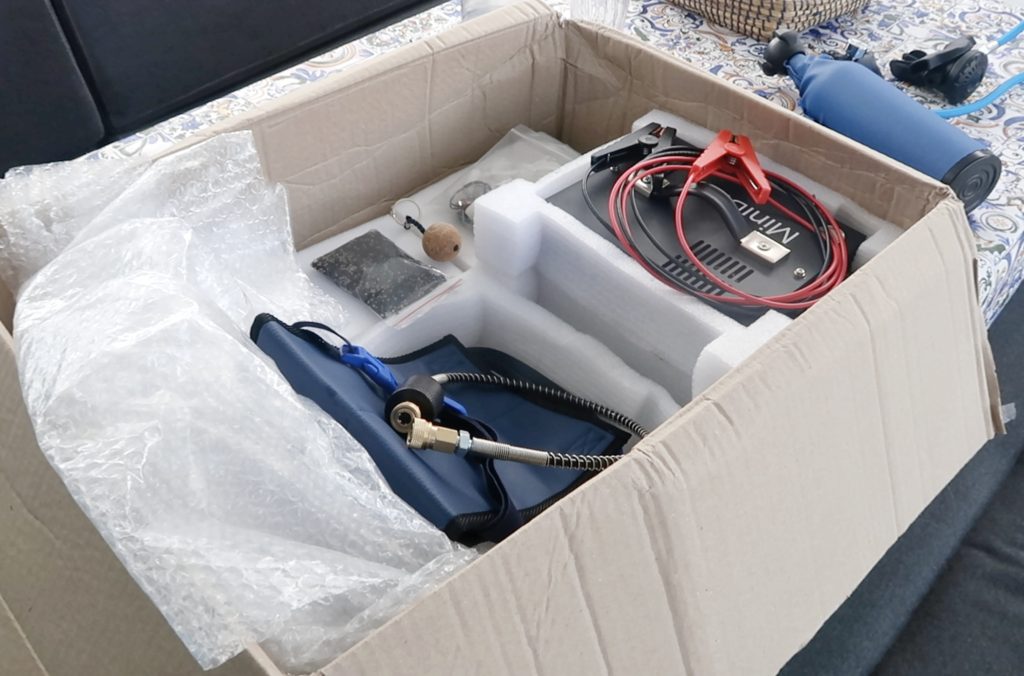 With the 0,5 L tank you have up to 10 mins autonomy. This means you can stay under water for 10 minutes before you have to refill the MiniDive tank with the compressor. The electric compressor can be plugged on a 12 V battery. It can fill the MiniDive Pro (0.5 L) in 15 minutes.
What does it cost?
There are different options to choose from, depending your preferences. The cheapest option is the MiniDive Evo, which has a 0,2 L tank and allows for 3 minutes of underwater breathing. The biggest tank is 2 L, which gives you 40 minutes of autonomy. Of course, the price increases when you want to spend longer time under water. For instance, the MiniDive Carbon Max (2 L) package will cost you 1.799 euro.
The MiniDive Pro (0,5 L) I used currently (June 2022) costs 699 euros in the webshop of MiniDive. This includes the tank, the regulator and the compressor.
The package comes with only one extra filter filling for the compressor. Since you need to change the filters after each use, you will need to buy some of those extra. The MiniComp filters will cost you an extra 35 euros which will be enough for 50 refills.
MiniDive review: overall impression
Look and feel




The MiniDive looks pretty sturdy and professional. It has that quality look and feel that says: 'I am made to last'. This also accounts for the mini compressor, which is compact and and looks great in black.
Compared to the MiniDive Pro, the MiniDive Carbon tank is even more good-looking, so if you are going for that badass appearance, you might want to consider investing a bit more money before you show off your new gadget 😉
The only thing that doesn't fit with the overall look of the MiniDive is the harness. You use the harness to attach the MiniDive to your body so you don't have to hold it while swimming. Also, with the harness you can't lose the MiniDive while in the water. Unfortunately, the harness doesn't appeal to me. I feel MiniDive should invest in a new version of the harness that matches the overall look and feel and cool diving vibe.
The MiniDive has that quality look and feel that says: 'I am made to last'
Use of the MiniDive
The MiniDive is small, which is great if you're out travelling. You won't need to sacrifice a lot of space for the compressor and let's be honest: space is valuable when you have a travel lifestyle.
Of course, the MiniDive is a unique product, so it's best not to compare it to any regular scuba diving gear. With 10 minutes of underwater breathing (with the 0,5 L tank) and a maximum depth of 3 meters for uncertified divers, the MiniDive provides a low entry option for exploring under water.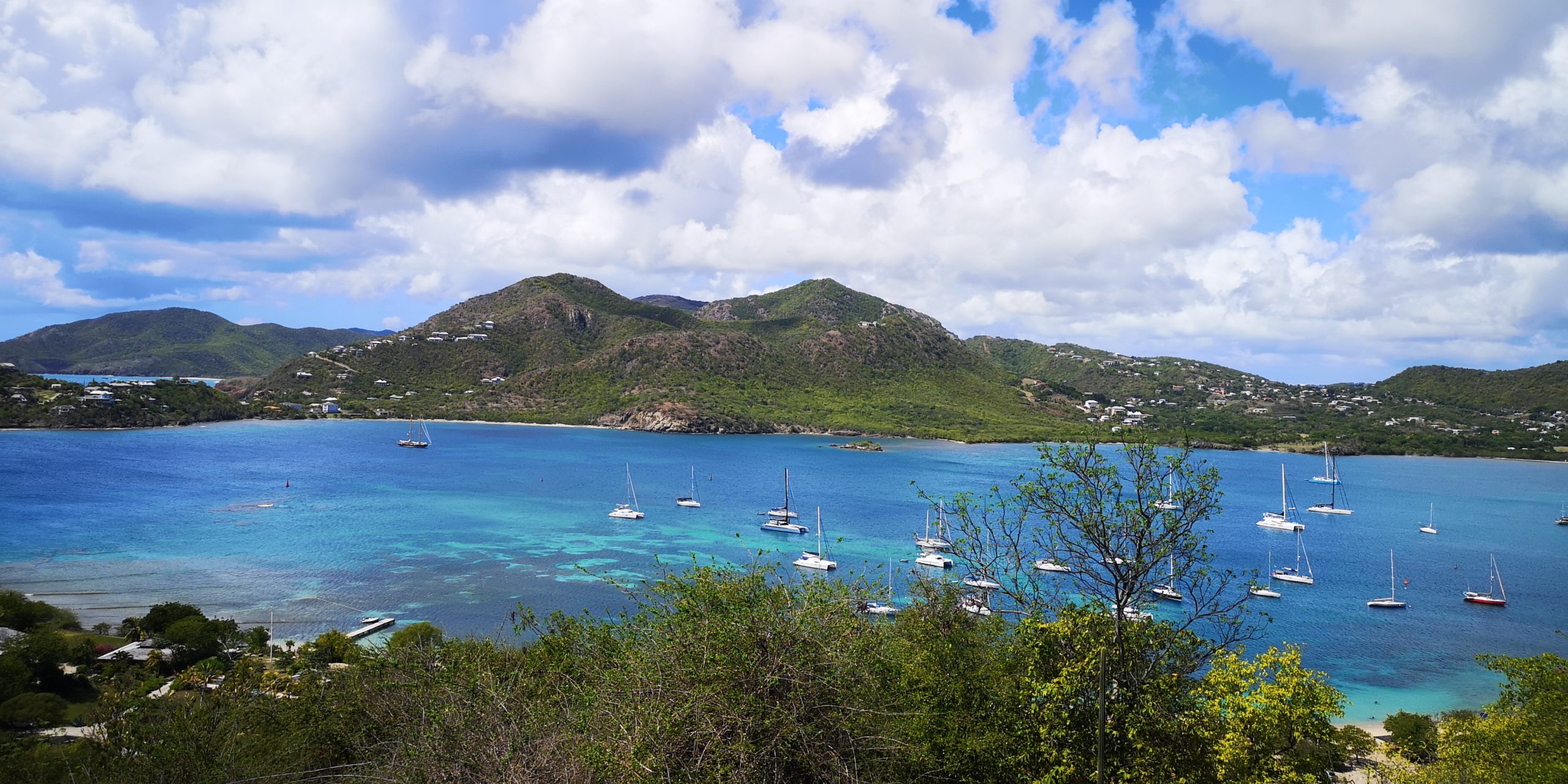 I used the MiniDive to swim around the beautiful bay of Falmouth Harbour in Antigua in the Caribbean where we were anchored after successfully completing the Atlantic Crossing. There are turtles in that bay and it was great to swim with them and to dive a bit deeper and a bit longer than I normally could do with my regular snorkeling gear.
In my opinion, the MiniDive isn't meant to replace the experience of scuba diving, it's just a bonus for those who like to take their swimming and/or snorkeling activities to the next level. Next to that, there is also another very interesting way to use the MiniDive as a boat owner.
The MiniDive isn't meant to replace the experience of scuba diving, it's mainly brings swimming and snorkelling to the next level
MiniDive review, is it worth it?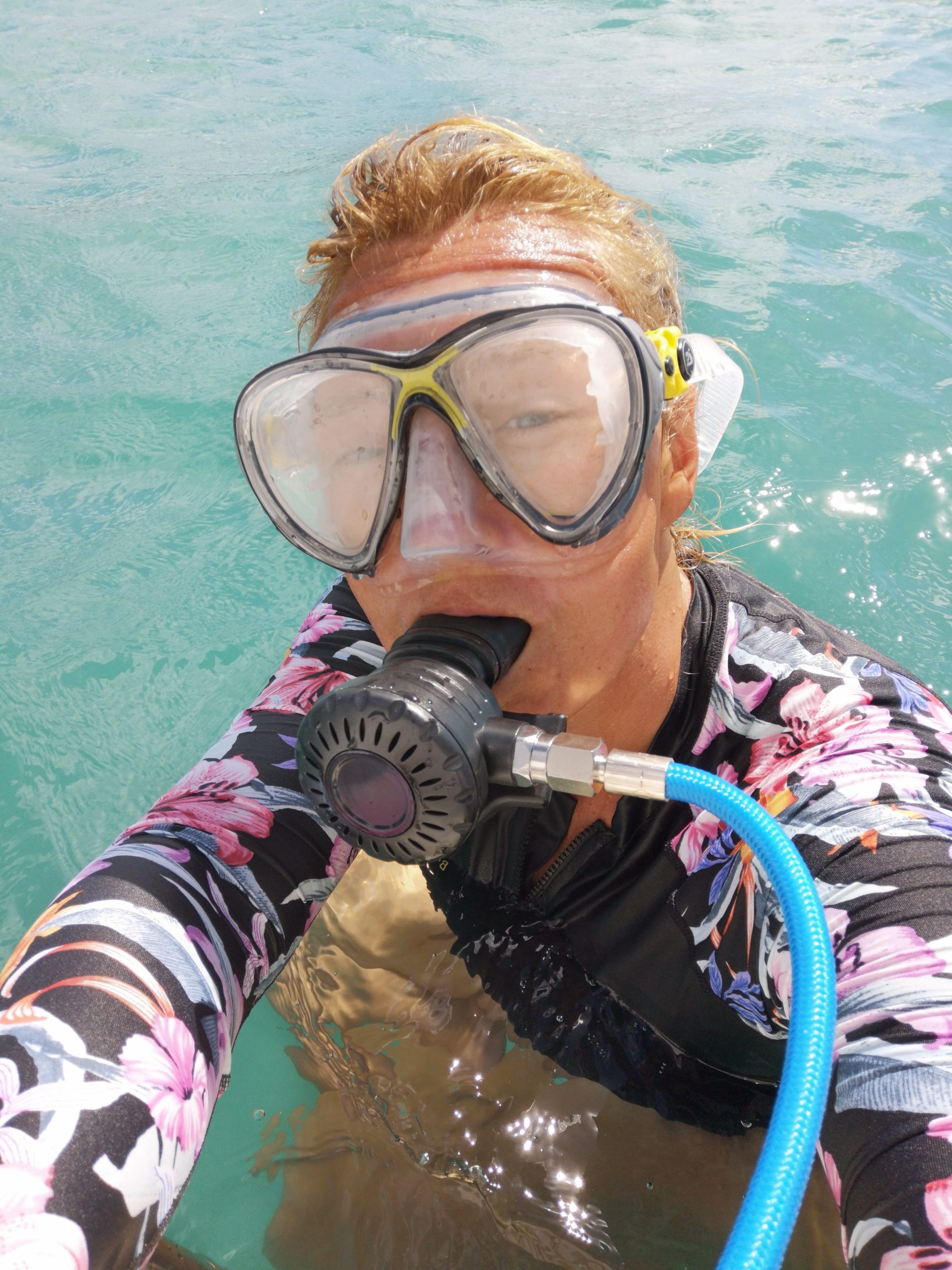 To determine whether the MiniDive is worth its money, there are two factors to take into consideration: the first one is the fun factor, the second one its potential practical use as a boat owner.
The fun factor
Let's first explore the fun factor. With regard to exploring the underwater world, it all depends on how often you will use the MiniDive to make it you worthwhile. If you love to snorkel and swim and maybe even spear fishing, I would say that the MiniDive is worth its money. Especially if you live near water or on a boat.
However, if these things don't apply to you, you may want to sit this one out. I wouldn't bring the MiniDive in my campervan, simply because I won't use it as often and it will just sit there taking up space and adding weight.
Practical use for boat owners
But, the MiniDive doesn't only provide fun. There is also a second factor to take into account and that is its potential practical use as a boat owner. The MiniDive a great tool with regard to maintenance and safety of boats. And in my opinion, this is where it really delivers its value for money!
Next to fun, MiniDive's practical use is where it really delivers its value for money

With the MiniDive you can easily check the underwater ship, clean the hull and see if your anchor has set properly. Next to that, it also gives you the option to solve problems that may arise, such as a fouled anchor or a line in the propellor.
These issues would normally be a real struggle to cope with without the MiniDive. Often, you might need to call a professional diver to help you out of such a situation.Next to the money this will cost you, the MiniDive removes of a lot of hustle and the stress and provides you a self-sufficient safe option.
This practical use of the MiniDive gives it the real value for money you're looking for as a boat owner.
Final note on the MiniDive review
Is it worth it? Yes!
But that being said, giving you my most honest opinion in this MiniDive review, the MiniDive does work best for boat owners. I actually consider the MiniDive an essential tool for boaters in terms of maintenance and safety of the boat.
Next to the fun it brings in exploring the underwater world, you will always have an easy and safe way to go under your boat when necessary.
MiniDive website: https://www.minidive.com/
Want to partner with From Penny to Many in this blog series? Send me a message to discuss the possibilities! contact [at] frompennytomany.com