In this blog, we share our monthly expense overview for March 2021. We give you the total expenses for the whole month of March and break it down into several categories to give more insight into where the money went.
Sharing our monthly expenses has been a great experience for us so far. It's great to get positive feedback about how valuable the information is we provide. Especially since we feel that it also provides us with a lot of insights on whether we can sustain our traveling lifestyle with our Lagoon 42 catamaran.
We have written a monthly expense blog overview of every single month since we started living on our Lagoon 42 catamaran. If you want to read about the costs of the previous month you can check all the blogs here.
Our financial situation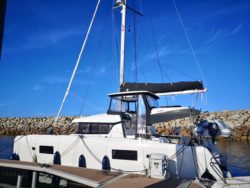 Over the last eight years we have been working towards our ultimate goal: sailing the world with our own catamaran. It took us a few years of really dedicating ourselves to save as much money as we possibly could. We also started investing it in real estate. This not only allowed us to save more money, but it also created a way for us to quit our day jobs and start living from the revenue from our real estate investment rentals.
Currently, we have a net passive income of about 2,500 euros that we can spend each month on our living expenses. We use this money to cover all costs for groceries, eating out, sailing the boat etcetera. Our passive income gives us financial freedom, which means for us that we can live our dream life without having to work for money to afford it.
It's an amazing situation to be in, because not only can we use our time to travel the world, but in addition, we always can feel secure about our finances. We don't have any debt, so we can change our lifestyle at any given moment without being limited by our finances or our work situation.
About tracking our expenses
Tracking our expenses has always been a huge deal for us. If you do not track your expenses at the moment, we highly recommend that you start. No matter what your situation is, it is very important to know where your money goes. Especially, when you work towards financial freedom.
In maximizing our savings, keeping track of our expenses has allowed us to save more money faster and invest sooner. Since we now live from this passive income, we need to keep track of our expenses mainly to make sure we don't overspend on our monthly passive income.
Although we feel that this lifestyle isn't the most budget one to choose, we also feel secure knowing that we can afford it without having to sacrifice our wants in life.
Our living situation in March 2021
In 2020, we sailed our new Lagoon 42 catamaran from the Netherlands to the south of Spain. We arrived in the marina of Almerimar at the end of September 2020.
March 2021 is the last month for us in the marina. We will sail further into the med at the start of the season to explore the coast of mainland Spain, the south of France, and of course the Balearics as well as Corsica and Sardinia.
Life in the marina has become our new normal. The boat is secure at the dock and we use it as if it is a normal apartment. We work on our blog, go grocery shopping, and have drinks with friends in the marina.
One thing that made March a bit different money-wise is that we are preparing to go sailing again, which meant that we started provisioning. This had its effect on our expenses, as we will show you when we break down the total costs for the month.
Our total monthly expenses in March 2021

In total, we spend 1,965,89 euros in March 2021.
This is quite a bit amount for us, given the fact that on average we spend around 1,700 euros per month living this lifestyle.
An extra 200 euros may not sound very intense, but in money, it's often the small increases that go unnoticeable that make the difference between freedom or sleepless nights 😉
That's why, when we have a month in which we spend more than an average month, we always look into more detail to find the reason behind it. If there is an incidental reason that explains the one-time higher expenses, we rest assure that our spendings haven't increased in general.
Even though we have a passive income of 2,500 euros – and our monthly expenses of almost 2,000 euros is well below that amount – we still are cautious because we like to be able to save a bit of our passive income every month for those unexpected high costs that come with sailing our Lagoon 42 catamaran. If something breaks or needs repairs on the boat, it will quickly be thousands of euros we have to spend. And we would like to pay for it from our passive income and not from our savings accounts.
Category break-down of our expenses in March 2021

Let's zoom in to the several categories of expenses to get a better insight into what we spend our money on in March 2021. First the overview of the category break-down:
🍏 Groceries 922.39 euro
⛵ Marina 350 euro
✍ Insurance 185 euro
🛍 Other 143.17 euro
⛽ Fuel 125.79 euro
🍽 Eating out 123.20 euro
🔩 Maintenance 59.84 euro
🥳 Activities 56.50 euro
Groceries | 922.39 euro
Normally, we spend between 300 and 500 euros on groceries each month. In March 2021, we spend a lot more and doubled our costs. The reason for this is clear: we started provisioning groceries in March 2021 because we are about to leave the marina and go sailing again.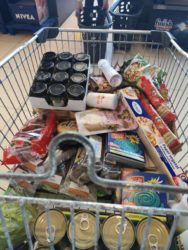 We are not going on a long passage like crossing an ocean, but we still decided to stock up on food and drinks.
There are a few reasons for this. The first one is that the Mercadona supermarket in Almerimar is cheap and good. They have a lot of stuff for a good price. Secondly, we still can use the car which means we don't have to carry everything back to the boat. And third, once we are sailing again, we don't want to spend our time on groceries. We want to explore, sail, swim and have as much fun as possible 🙂
We stocked up mainly on shelf-life food that we can keep for months. Canned basics, like coconut milk, tomato sauce, and beans, but also coffee, toilet paper, and cleaning products. With these extra expenses this month, we expect lower costs for groceries over the next months.
Marina | 350 euro
Costs for the marina of Almerimar for our boat are fixed at 350 euros per month. This is including everything: water, electricity, and the berth. A pretty sweet deal for our size boat.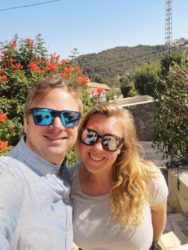 Insurance | 185 euro
Our Lagoon 42 is insured at Pantaenius. This is a well-known boat insurer. The costs for the insurance are for the whole of Europa, so as long as we stay in the Med, we will pay 185 euros per month.
Other 143.17 euro
Other costs are all the costs that don't fit into one of the other categories. Normally this category is quite low, but this time month we went to Ikea, and well yes we splurged a little on some handy things such as baskets, hooks, and some kitchenware.
We also bought an electric blanket via Amazon which heats up. This is probably going to great at anchor since in April it can be quite chilly. We don't have a heater installed at our boat.
Fuel 125.79 euro
The costs for fuel are also higher this month than normal.
In March 2021, we returned the car we were borrowing from Ronald's parents to Alicante airport.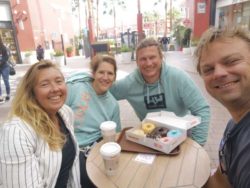 To bridge the last weeks in the marina, we hired a car together with our boat buddies Fou and Rea from Sailing Koru. We had to collect and return this car to Malaga airport. All of these movements added to the fuel costs.
Eating out 123.20 euro
March 2021 was a very 'low' month when it comes to eating out. In total, we only spend a little bit more than 120 euros. This is the lowest we have spent eating out since we started living on our boat in July 2020. Overall, we have seen our costs for eating out getting lower every month since the beginning of our journey.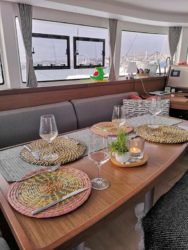 Seems like the more we get used to this lifestyle, the less we eat out. It's getting more normal life and less holiday probably. Probably a good thing as our expenses were a bit much in this category anyhow. We also spend some days in Moraira with Ronald's parents again, so that prevents us from paying for eating out as well as they insist on treating us.
Maintenance 59.84 euro
The maintenance category stays quite low. We have to admit, the expenses for maintenance are much lower than we expected when setting off sailing. In March 2021 we spend only a small amount on little things from the hardware store and a Gardena hand-pumped pressure washer for the boat.
So far, we might just have been lucky but we have only spent 1,500 euros in total over the course of nine-month on maintaining our boat. Of course, this is excluding the costs for upgrading our battery bank to Lithium (approximately 3,000 euros of investment).
Activities 56.50 euro
Yoga still is one of our favorite activities in the marina. We are so fortunate to have Alex as our wonderful yoga teacher in Almerimar marina, teaching yoga on a weekly basis. In total, we spend 45 euros in March 2021 on our yoga lessons, which was by choice since the lessons are on a Pay What You Like base (www.thefloatingstudio.com).
Next to that we also paid a visit to the Nao Victoria, a beautiful old boat from the 16th century.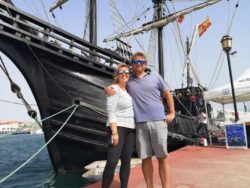 Conclusion
That wraps up our monthly expenses for March 2021. Hope you like the information, if so please leave us a comment below. We love to hear from you!
Next month, we will share our expenses again. It's gonna be interesting to see the expense overview change when we leave the marina and hit the water again. See you next month!