Another monthly expense overview from the water. In this blog, we will cover the expenses we had during the month of February 2021. It covers how much we spend on groceries, eating out, maintenance on the boat, and all other costs associated with our sailing lifestyle. If you are curious about what this lifestyle costs us, you will like this monthly expense overview.
About tracking our expenses
Ever since we started our new lifestyle, sailing full-time with our Lagoon 42 catamaran, we have kept an overview of our monthly expenses. There are two main reasons why we do this and why we share these overviews here on our blog: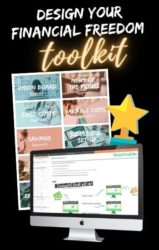 1. To have a grip on our monthly expenses
Over the past eight years, we have saved enough money to be able to buy our boat and to invest in real estate. The real estate is rented out and gives us a (basic) monthly income which we use to finance our lifestyle.
Now, we don't have to work to cover our costs anymore, which gives us a lot of freedom to spend our time any way we like. To maintain this financially independent lifestyle, we have to keep our monthly costs below our passive income from our rental properties. Keeping track of our monthly expenses helps us with that.
2. To show others how much this lifestyle costs
In preparation for our new life, we investigated the costs of living on a boat and traveling the world a lot. The income and expense reports that were published by other digital nomads, helped us a lot in determining the needed amount of passive income for our ideal lifestyle.
After we made the switch to our new adventure, we felt it is valuable to others and might help others to make it more comfortable making a bold decision in their own life.
If you are keen to switch to a travel lifestyle and look for ways to finance this big step, you will probably love our Design Your Financial Freedom Toolkit where we explain how we achieved this and let you work through our steps for your own situation.
Our monthly expense overview in February 2021
Alright, now you know more about the monthly expense overview. Let's dive into the month of February 2021! To give a more complete overview, we will in this blog also show you the monthly expenses for all months so far.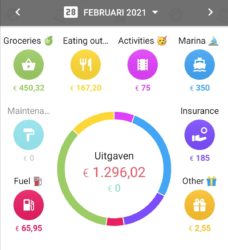 February was actually a very cheap month for us. It almost beat our cheapest month yet, which was August 2020. In total, we spend 1,296.02 euros in February. This is around 1,500 USD. If we look at the categories, we get the following breakdown:
🍏 Groceries 450.32 euro
⛵ Marina 350 euro
✍ Insurance 185 euro
🍽 Eating out 167.20 euro
🥳 Activities 75 euro
⛽ Fuel 65.95 euro
🛍 Other 2.55 euro
🔩 Maintenance 0 euro
We feel that this is a very nice amount to spend while living on a beautiful boat in sunny Mediterranean Spain, especially since we also have the costs of the marina currently while we are still waiting to leave for spring to explore more of the med. However, we do have to note that the month of February is of course a bit shorter. Also, we were away from the boat for a week, which has lowered our costs as well.
Total overview of our living expenses
Our living expenses over the last eight months haven't always been this low. If we look at the complete overview of months since we left, we see the following total monthly expenses (go to the expense overview of this month by clicking on the amount):
July 2020 1,714.17 euro
August 2020 1,226.42 euro
September 2020 1,661.17 euro
October 2020 2,830.48 euro
November 2020 1,452.85 euro
December 2020 1,713.02 euro
January 2021 1,891.12 euro
February 2021 1,296.02 euro
Our average monthly expenses are 1,737.45 euros.
This makes for a weekly average of 400 euros. Given the fact that during these months we stayed more in the marina than on the hook (at anchor), we feel that the average might go down a little bit. Staying at anchor versus being in a marina the whole month will save us 350 euros per month.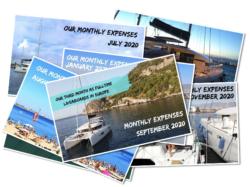 Details of our monthly expense overview in February
To give you more insight into where we spend our money in the month of February, we will give you a breakdown of the costs per category and explain a little bit more about it. We go through the categories starting with the highest first: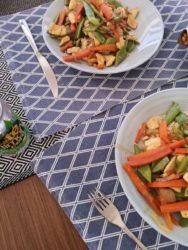 Groceries 450.32 euro
Our grocery costs are pretty standard in February, we normally tend to spend between 400 and 500 euros per month on groceries. With the restaurants closed after 18 PM, we tend to eat our meals at home. Grocery shopping is fairly cheap in Spain, so we do not really have to budget our expenses here.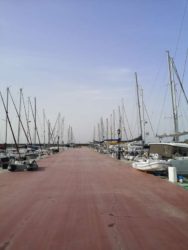 Marina 350 euro
The costs for the marina we are currently staying in are 350 euros per month. We are in Almerimar in the south of Spain, in Puerto Deportivo Almerimar. The marina is very inexpensive and therefore a popular option for sailors all around the med. For us, this marina was the least expensive option we could find, with prices for our boat going up to 700 euros per month easily.
Insurance 185 euro
Our boat is insured at Pantaenius. We have a higher deductible so our monthly costs are a bit lower because of that. This fee covers our boat for the whole of Europe.
Eating out 167.20 euro
This category covers not only meals we do in restaurants but also cups of coffee on a terrace and ice cream we buy during a nice beach walk. Normally we spend around double this amount on eating out, which probably is more than most people. We like to eat out and don't mind spending the money on it, but we definitely don't do very fancy dinners. We rather go more often and do simple tapas 😉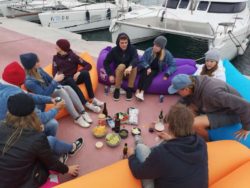 In February, the costs for eating out were lower because we stayed at Ronald's parents for almost a whole week. There was a pretty terrible storm going through the marina, so we escaped the wobbly boat for a bit.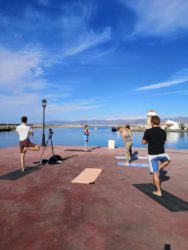 Activities 75 euro
Since the world – and also Spain – is under the spell of COVID-19 we generally do not undertake a lot of activities. Normally, we probably would have done more city trips and visits to cultural sights. We have been very fortunate though that one of our boat friends happens to be an amazing yoga teacher and she has started giving weekly lessons on the pontoon here in the marina.
The lessons are on the 'Pay what you can' base and we pay 7.50 euro per person per lesson for that. If you want to join the yoga lessons as well, please feel free to do so! Alex from The Floating Studio is the best and you can join her yoga lessons via Zoom.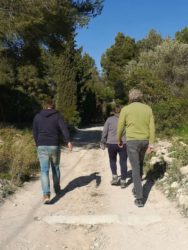 Fuel 65.95 euro
We still have a car here in Almerimar, which is great because it allows us to move around. Even though we can't go everywhere, we still enjoy trips to the big supermarket and the possibility to visit for instance family. In February, we fueled up twice for a total cost of 65.95 euros.
Other 2.55 euro
We don't even know what this is anymore, but probably something from the Chinese shop here in town where they sell everything that you might need for your house/boat 😉
Maintenance 0 euro
No maintenance on the boat in the month of February. We bought our Lagoon 42 catamaran new from the factory in 2019 and we have to say that so far, we really haven't had any issues or maintenance costs. We get this question a lot since often people complain about the maintenance costs associated with even new boats. Lagoon really hasn't let us down. We do feel that the Lagoon 42 model is fully developed since it was first produced. If you are interested in the Lagoon 42, you might value this Lagoon 42 review article by fellow Lagoon 42 owners, Nestor and Yolanda, from S/V Blue Buddha.
Conclusion
After our eight months of tracking the expenses, living on our catamaran, we feel that we are getting a good insight into the average costs of living this lifestyle. We can cover our monthly expenses from the passive income we have from our rental properties.
This is great, but we also are very aware that having one main source of passive income is also a risky strategy. That's why we are working on creating a second (passive) income stream. It's great to be working towards this next goal while helping others achieve their goals in life as well! This blog and our Toolkit are a great example of how we are realizing a new income stream.
We will keep publishing these monthly expense overviews at least until the end of June 2021, so we will have a full-year overview of living on a catamaran in the Mediterranean. After that, we probably will continue with them as it can be interesting to see the costs change when we sail to other areas of the world and when the boat gets a bit older as well.
Hope you liked the blog. You're very welcome to leave a reply or question down below. We answer all of them! See you next month for the monthly expenses of March 2021.