In 'Money Talk' readers who have chosen a different lifestyle, share their finances with us. This time, it's sailing couple Alfie & Ceylan's (both age 30) turn to give a glimpse into their money mindset. They were able to buy a catamaran – a new 40ft Fountaine Pajot – last year and are now prepping to cross the Atlantic. 'We are completely useless at budgeting. And of course, as always, we spend way too much money on cocktails and eating out.'
Who are you and what do you do?
Hi, we are Ceylan & Alfie, and we sail a Fountaine Pajot Lucia 40 Catamaran called 'Coco'.
Alfie left school when he was 15 and started an apprenticeship to become an electrician. After completing his apprenticeship, he worked his way up to becoming a director of an Electrical and Building company in London. I (Ceylan) have a photography studio in South London called "Hello Gorgeous Studios", which Alf helped me set up in 2013.
Tell us a bit more about your photography studio
Since I was 16, whilst I was at school, college, and during my university years, I had worked in a photography studio. When I finished Uni, I decided I didn't want anything to do with what I studied, which was Graphic Design Communication. Instead, I decided to set up a photography studio and start my own photography business.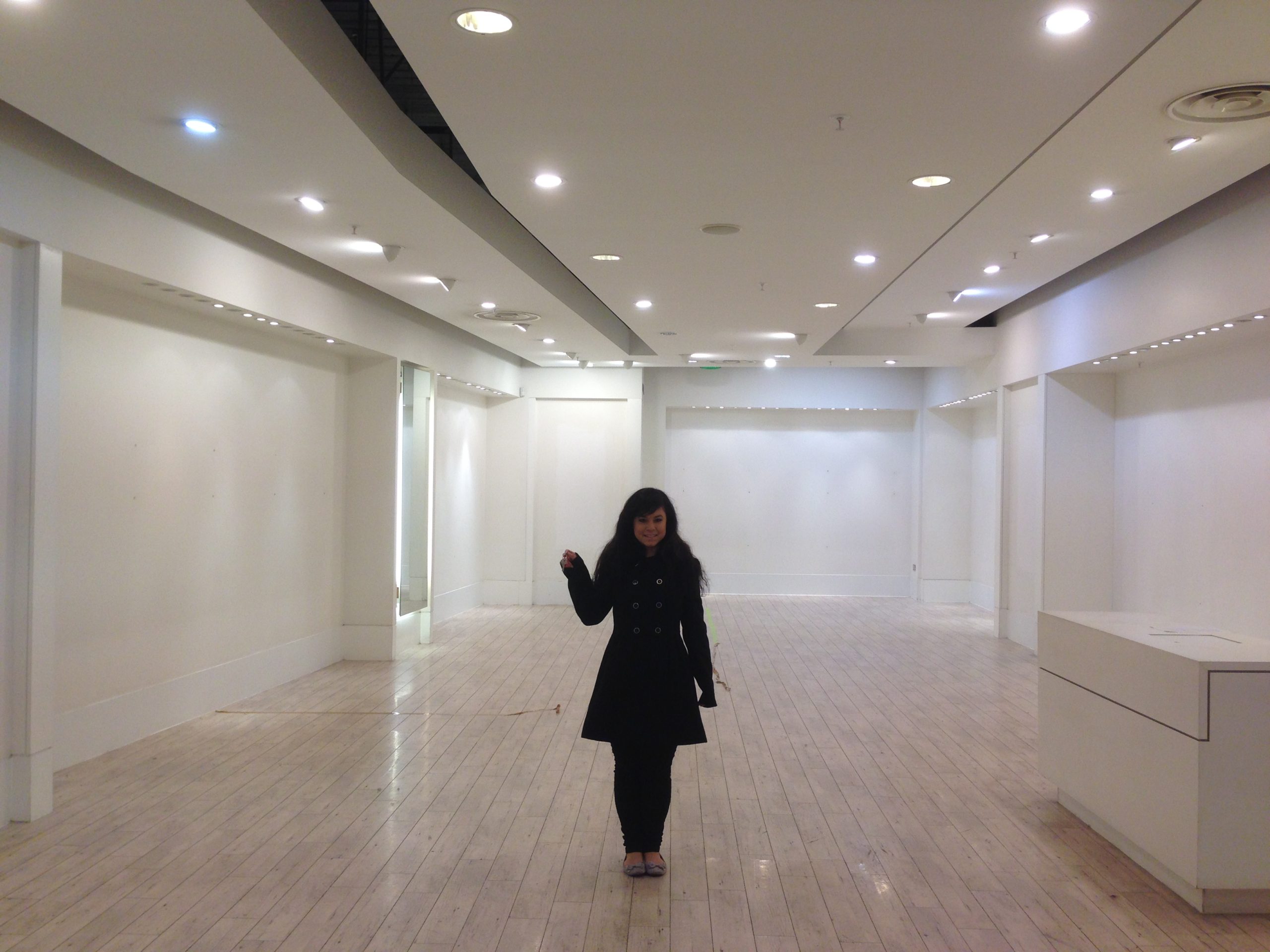 All the years of saving my hard-earned cash being a 'gofer' in various studios, I would have never imagined that I would have started my own. I didn't know what the outcome would be; all I knew is that I wanted to create a business that could operate without me being around. Haha….
We both currently manage and run the photography business remotely with our great team at Hello Gorgeous Studios. The rental income we generate from our rental properties also helps boost our monthly income.
Why did you decide to start sailing?
Alfie's Grandad and Dad have always had boats, which they kept on Hayling Island, on England's south coast. So Alfie started sailing from when he was born (even before he was born). When Alf's mum was nine months pregnant, she went sailing on a Leisure 17 sailboat in Chichester harbor. A memory she remembers well, but not for the best of reasons. By the sounds of it, she had an awful experience. Luckily that experience didn't rub off on Alf.
We met when we were 21, and our first sailing experience was a couple of years later, when we went out on Alfie's Grandad's Westerly Berrick for an afternoon sail, and we LOVED it – conditions were perfect, the sun was out, and it felt like an escape from the stresses of work.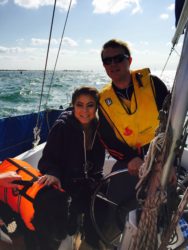 Later that week, literally that week, Alfie purchased an abandoned Snapdragon 27 for £2,000, and we called it Mushu (From the film Mulan, we love Disney!). We were down the boatyard every day that we could spare working away, as we had to restore her as she had been neglected and left to stand for seven years.
Just as we finished the restoration of Mushu, our first boat, Alfie secretly purchased a 33ft Colvic Countess that his Grandad's friend was selling. He surprised me with the news when we were on a night out, and he timed it very well. I was excited and mad at the same time! Excited because it was the perfect boat to sail out of England to further horizons. I could envision us traveling further, as our initial plan was to go to the Med!! Also mad because the restoration work was about to start all over again!! But it was worth it. We had always spoken about traveling and visiting different countries. We were lucky that the sailing came with the traveling!
How were you able to buy a catamaran?
The first two boats we owned were very affordable as they were both boats that required a lot of work. Alfie had purchased and sold them from savings he had from his monthly wages. The restoration works were completed and paid with a lot of blood, sweat and a few tears along the way, funded again from our monthly salaries.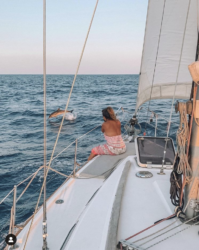 We purchased our catamaran from the boat show in La Grande Motte. Due to the delivery times of the boat, we were able to pay in 3 stages. The paying and delivery structure allowed us time to save in between each step which helped us massively.
Due to the delivery times, we were able to pay for the boat in 3 stages
We had always decided to buy a catamaran as 'basic' as possible. We couldn't afford the boat installed with all the extras fitted out straight from the factory, so we decided to install as many extras as possible after delivery. The factory-fitted extras were very overpriced in our opinion. Overall, getting the additional items completed after the boat purchase and after the factory was more economical in most areas.
And how do you afford to travel and live on a boat?
We both take small wages from our photography company Hello Gorgeous, which provides us with a stable income, which is just enough to live off.
Next to that, we have a few properties in South London that we rent out. Our properties' rental income helps boost our income, allowing us to travel, sail, and live on board. One of the properties we are renting out is our house in London, where we both lived. We purchased our home back in 2017. It needed a complete refurb, as it was in a BAD state. We initially thought we bit off more than we could chew, but we finally completed the work, and it was worth it in the end.
Our properties' rental income helps boost our income, allowing us to travel, sail, and live on board
We are not very good at budgeting at the best of times, but Covid has certainly thrown a spanner in the works. We have had to change plans, stay in marinas longer than usual, travel back to the UK to avoid Brexit & lockdown issues. This year, in particular, has been tougher on our finances than other sailing years, but we hope everything will be back to normal soon!
We have recently been trading on the Forex market, and although this is a high-risk income stream, we have adopted a low-risk strategy that is working for us. Even if we can make enough monthly income to pay our boat insurance, it's a bonus for us.
What's an average day like for you?
An average day, haha, where do we begin?
At anchor, we usually wake up, have a coffee, listen to our coffee morning playlist, catch up with some work, edit our vlogs, and plan our day. There always is a long list of things to do and we never seem to get to the end of that list. We also spend a lot of time on laptops, maybe more time than we would like, but that is due to our work.
We love jumping in the sea if the waters are clear or tendering ashore to go out for dinner and explore the area – where we'll usually be making plans for the next day!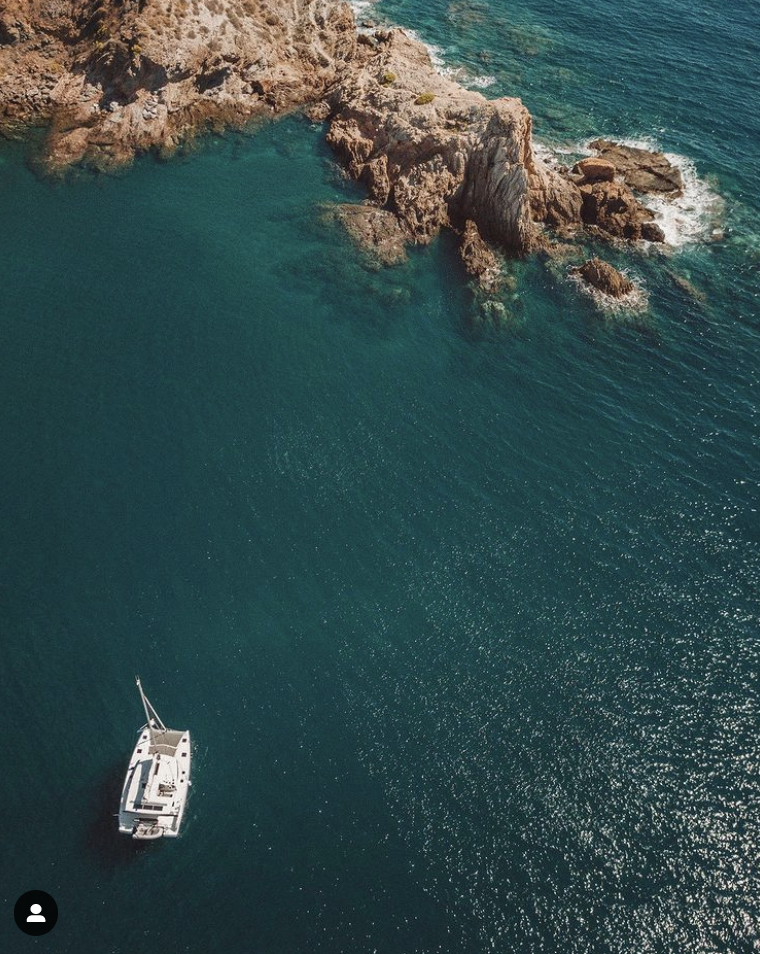 And what about a typical day on the water?
If we are sailing, we tend to wake up early. Usually, Alf wakes up first and sets off to our destination. By the time I wake up, I make some brunch and enjoy the sail with Alf.
We both love it when we're on the move, but we usually don't speak to each other much whilst sailing, for no reason in particular, as we do love each other's company, haha. So we typically listen to music, audiobooks, or watch films and have some time to ourselves. When we arrive at a new anchorage, generally in the evening, we greet the evenings with a small-ish glass of wine.
We feel that we are always behind on our travel plans, so we never spend too long in one place and are always excited about visiting the next anchorage or destination! This is something we would like to change in the future. We realize that we always make too many travel arrangements, so this year (after we get up to date with our plans of crossing the Atlantic), we are planning on NOT MAKING ANY MORE PLANS and taking each day as they come. It would be nice to slow down and spend more time in each place that we find.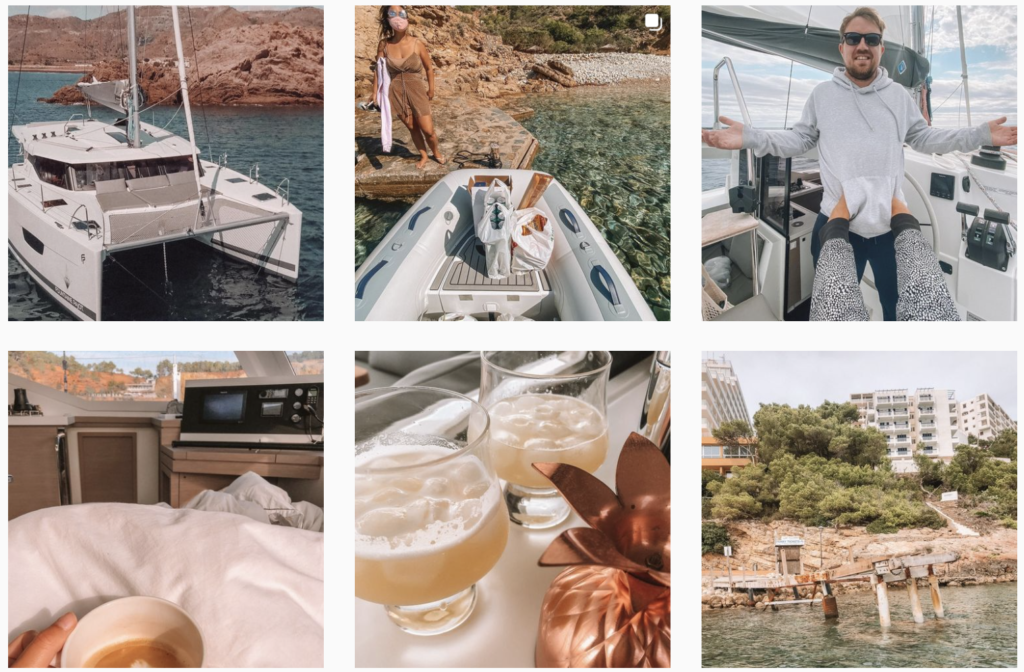 How much does living on a boat and sailing cost you?
As mentioned before, we are completely useless at budgeting. In saying that, we do keep within a monthly expense budget of £1,200. This monthly budget includes our monthly marina fees (when we are in a marina which isn't often), food, eating out etc. We try our best to keep our monthly maintenance costs within the budget, but sometimes that isn't always possible.
We keep within a monthly expense budget of £1,200
When installing the additional items on our catamaran, we had always decided that a watermaker, generator, and washing machine were must-have items, allowing us to be more self-sufficient at anchor. We both decided to place these extras on our must-have extra's list due to our sailing experiences the previous years in the Med. The money it costs to simply wash your laundry or spend a night in a marina to fill up water tanks is through the roof. So this helps us keep our monthly budget to a minimum.
What do you spend the most money on?
Our most considerable expense at the moment is still installing the extras we want on our boat. Both time and money were running out when we first purchased our catamaran, and we wanted to head on down to the Med, so we didn't have time to complete the initial fit-out.
We have just finished installing a bowsprit complete with a downwind sail from North Sails and an electric toilet in the guest heads. We are planning on installing a freezer and a bimini before we head to the Caribbean too. And of course, as always, we spend way too much money on cocktails and eating out.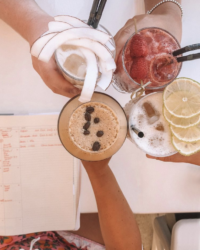 Do you see yourselves as savers or spenders?
A few years into our relationship, we realized that Alf was the spender and I was the saver. I tried so hard to get Alf to become a saver, but it wasn't happening. He's the fun one, and I'm the sensible one! We decided early on that we would live off and spend Alfie's money and save my money. This strategy works for us as we have always enjoyed ourselves eating out, having cocktails, and holidays.
Strangely, since Alf quit his job last year, he is slowly turning into a saver. This helps us out at the end of the month. We try not to add the money we save each month onto the following month's budget. At the end of the month, any money left goes straight into our savings account, which usually doubles as the boat maintenance fund.
At the end of the month, any money left goes straight into our savings account
Are you satisfied with your financial situation?
In a word, Yes, we are happy with our situation; we have managed to keep everything balanced, but we expect to be more financially stable after we're married. Hopefully, we will be able to marry this year.
We are so pleased that we have spent the last ten years together preparing and setting our lives up for this point. We have both recently turned 30. Once these lockdowns are over, we will be able to restart the new lives we had planned to live at sea!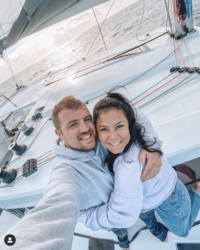 What is your best tip (or two) for someone who wants the same lifestyle as you?
Our advice would be to envision the life you want, plan for it, and go for it. Nothing is unachievable, and take it all step by step as we learned as we went along! It may take a while, but the hard work and perseverance will be worth it.
There is always someone around to give you a reason why you shouldn't do something. Try not to listen to these people, do what you want to do, and don't look back. You will not regret it.
If anyone ever needs advice, don't hesitate to reach out to us: we would love to help in any way we can!