As travelers, we like to explore the world as much as possible. Given the opportunity, we set off on a new adventure in another country. Unfortunately, holidays are expensive. You have to travel to the location, pay for accommodation and rent a car or arrange transportation to get around. Add this to the extra costs of shopping, eating, and drinking, and all the fun activities you undertake and you are looking at an expense that often exceeds a few thousand dollars for a couple of weeks in the sun. So how to use Home Exchange to save thousands of dollars on your holiday?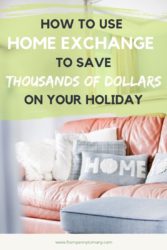 Pay in kind
There are of course lots of ways to save on your holiday expenses. One of our favorite and by far most effective ways (next to not going on a holiday 😉 ) is using Home Exchange. Home Exchange is a website that allows you to exchange your home with another person or family in the world during a certain period. Effectively this means that you do not have to pay any money for your holiday home. Instead you actually 'pay in kind' by letting the other party use your house in exchange. No money is exchanged and the website is completely based on sharing your assets (more about building your assets to create multiple income streams)
How to use Home Exchange
Since we started using Home Exchange in 2015, we have done five exchanges. This actually isn't a lot, since we have received far more invitations to exchange. However, we were not able to travel more due to work restrictions. We have been able to stay for free in houses in The Netherlands, Belgium, Italy, and the United States. In total, we spend almost 30 nights combined at these locations. This would have cost us 3.000 dollars if we assume an average rate of 100 dollars per night.
It may be clear that using Home Exchange is a great way to stay at places around the world. It simply doesn't cost you any money and you use what you have as a medium of exchange. A perfect solution since your own home is vacant when you are on holiday.
Home Exchange is a great way to stay for free around the world
If you are interested, you definitely should consider setting up your own account at Home Exchange. However, next to the obvious advantages of saving money, there are a lot of extra benefits, which we did not anticipate when signing up for Home Exchange:
1 | It also works passively
One of the benefits of Home Exchange is that once you set up your account you are not only able to actively seek out possible exchanges. After adding your listing you are also found by other members. This means you passively receive exchange requests in your email box. Free holiday opportunities are coming your way without having to do anything! How cool is that?
Free holiday opportunities are coming your way without having to do anything
Even more so, we were stoked to get exchange requests from locations in the world we had never heard of or never would have thought of booking a holiday there. This element of surprise really adds to the experience and helps you to get off the beaten track when it comes to traveling.
2 | The true local experience
Yes I know, this is what they also tell you about AirBnB but the Home Exchange experience is totally different. The dynamics change completely when no money is exchanged and you open up your home for others. As a traveler, you become a friendly guest instead of a paying visitor. During our Home Exchanges, we met such amazing people, willing to give us so much detailed information about their home and their neighborhood. Also, we have had many experiences where we got invited to participate in their local lives. Our hosts in Italy for instance invited us to sail with them on their boat over Lago Maggiore to have dinner at one of their favorite restaurants. A unique experience that we wouldn't have had otherwise!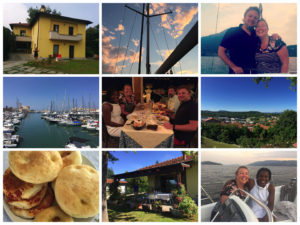 3 | Sharing more than just a house
During the exchange, you often get the opportunity to use other things as well. Such as bikes or even the car. This gives you even more opportunity to decrease your spending during your holiday. In contrast to renting a hotel room, you can use the whole house including the kitchen. Being able to cook your own meal is an extra budget saver. If you like animals: there are lots of homeowners that look for an exchange where their pet(s) can stay at home while they are on holiday. During a weekend Home Exchange, we left our bunny at home and the people we exchanged with loved to pet and play with her. It was super convenient and may even save you the money of booking an expensive animal shelter during your holiday.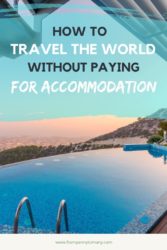 What about the costs?
The yearly membership fee charged by Home Exchange is pretty reasonable. In fact, having to pay a small fee per year is a good thing because it raises a threshold for less active participants. This guarantees better exchange opportunities. What is also great is that if you don't do an exchange in your first year, you get the second year of membership for free. Even if we take the costs of the subscription to Home Exchange into consideration, we saved a lot of money using the platform. The potential savings depend on how much you travel and therefore how actively you use the platform. Only using Home Exchange for more than one night per year would already make it worthwhile!
To conclude
Are you convinced that exchanging your home is something you like to do to start saving money? Don't hesitate and set up an account. It is easy and you are up-and-running in no time.
Extra reads
Subscribe to the blog