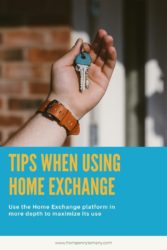 When looking for ways to save money and to create assets for extra income streams, it is key to look at the expenses you are already making. Which expenses do you actually have and which can you cut completely or can be reduced to a minimum? Our holiday expenses are not that high. But once when we discovered the possibilities of Home Exchange, we were super excited about the fun way it provided to save extra money. Here are our tips using Home Exchange to save money on holidays.
About Home Exchange
Home Exchange is a website that creates opportunities for you to exchange your home with other members. We were able to save thousands of dollars on holiday accommodation using Home Exchange.
When you start using Home Exchange there are a few tips that will maximize the use. Of course, there are the standard things to do to improve your findability. Like adding nice pictures and a good description of your home. It also is important to build trustworthiness by creating a personal and authentic profile.
Get the basics right
In setting up your Home Exchange account it is important to make sure you get these things right, for instance:
Use high-quality pictures of your home that look attractive to others
Create a good description of your home which highlights the unique benefits
Add information about the accessibility of your home from the airport or other public transport
Check other listings in your area and make sure your home looks even better
Make sure you attract attention, use icons in the title to stand out
Make the account personal with a nice profile picture and bio
Okay, so that's probably the more obvious stuff. Even though you might be surprised how often profiles on Home Exchange do not tick all these boxes.
How to use Home Exchange – Our expert tips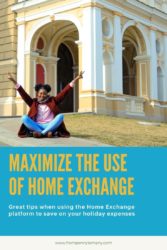 We also have some expert tips using Home Exchange to share with you. These tips come from personal experience and go beyond the clear dos and don'ts of how to use Home Exchange. Following these guidelines enable you to use the Home Exchange platform in more depth. It took us a few years to build this knowledge so don't miss out and use it to create an even better money-saving opportunity for yourself!
Tip 1 | React to requests
As soon as you set up a Home Exchange account you will be able to receive requests from other members of the website. Once you receive a request you can react to it simply with the click of a button. The reaction can be either 'Interested' or 'Sorry, not at the moment'. Make sure that you always react to requests you receive. Replying to each request will increase your response rate. We have experienced a growth in received requests after responding more actively. In the reaction form, you can add a message, so even if you're not sure, use the Interested button and explain your current situation. It will keep your response rate high, which results in even more exchange requests.
Tip 2 | Send out multiple requests at once
Finding the perfect exchange may sound like a lot of work, but it's actually really easy and fast once you understand the use of multiple requests. Home Exchange has a great feature that may be something you overlook at first. Let's say you would want to organize an exchange with someone in New York, preferably the Brooklyn area. When you search for this you can select a house, scroll down to the page and check the box that says 'select all'. This allows you to send a message to all houses on the page at once. We used this 'shoot with hail' approach many times and it is a great and easy way to find your exchange fast!
Tip 3 | Not every home exchange is mutual
Something we did not realize upfront but became a true insight, later on, is that exchanges will not always be mutual. Even though this is the intention of both parties. At Home Exchange, there are two options: a simultaneous exchange and a non-simultaneous exchange. The first means that you exchange houses at the same time. The latter means that the exchange will be at different moments.
In theory, the non-simultaneous exchange seems more difficult. You may only have one house to exchange. In this case, exchanging non- simultaneously would mean you need to find another location to stay for during the period that the other party is using your home. However, we found that in practice it still can be interesting to agree to a non-simultaneous exchange. Travel plans of the other party often change over time. This may lead to a situation where the exchange does not get completed both ways, even though you already stayed at the home of the other party. Of course, this works best under the condition that you are the first to use their house and there are no guarantees 😉
Tip 4 | Use your second home or separate part of the house for home exchange
When you have the privilege of a second home or a house with a separated area, using Home Exchange is even more interesting. Now you have all the flexibility to do non-simultaneous exchanges and you can earn and save up so-called 'Balloons'. Balloons are a relatively new feature of the platform. You earn Balloons by letting other members use your house. Then, you can redeem your Balloons to stay anywhere in the world, not just at the home of the Member you hosted. We have not experimented with the system ourselves, but it may be a great feature.
Since we start using Home Exchange in 2015 we spend almost 30 nights away from our home totally for FREE! We stayed in several European countries, even during peak season in summer, and even went to the United States during Mardi Grass in New Orleans. The accommodation would easily have cost us thousands of dollars if we had booked it the old-fashioned way. So it may be no surprise that after three years of membership, we are happy to stay active home exchangers. We can highly recommend setting up an account and perhaps we will even swap our home with you next time! If you have any additional tips using Home Exchange, we are very interested to read them in the comments.
Subscribe to the blog