Welcome to our third monthly expense overview. After cruising for two months with our new Lagoon 42 sailing catamaran we are definitely starting to get into the vibe of full-time sailing.
In this blog, we will take you through our expenses in September while living on the boat. We started these blogs to give more insight into the actual costs of living this alternative lifestyle for those who are considering a switch from the 9-5 office life.
About tracking our expenses
As we also explained in our first monthly expense overview, we gave an overview of almost all expenses we have while living on the boat. Costs that we don't include in this overview are our phone bills (they are paid through our businesses), our health insurance (which is around 85 euros per person per month), and some other small costs. If you are curious about our previous months of sailing and the expenses we had, please check out the monthly expense overview over July 2020 and August 2020.
Our travels in September
In September 2020 we did around 275 nautical miles. We sailed from Mazagon in the South of Spain to the marina of Almerimar in Andalusia (Spain), where we will stay for the winter months. During this leg of the trip, we stayed in 1,5 weeks in Cadiz, waiting for a weather window to cross the Strait of Gibraltar. We also had a week of great fun in Gibraltar together with Sailing Makani, See the Little Things, and Sailing Coco. We enjoying exploring Gibraltar together before we took off into the Mediterranean Sea.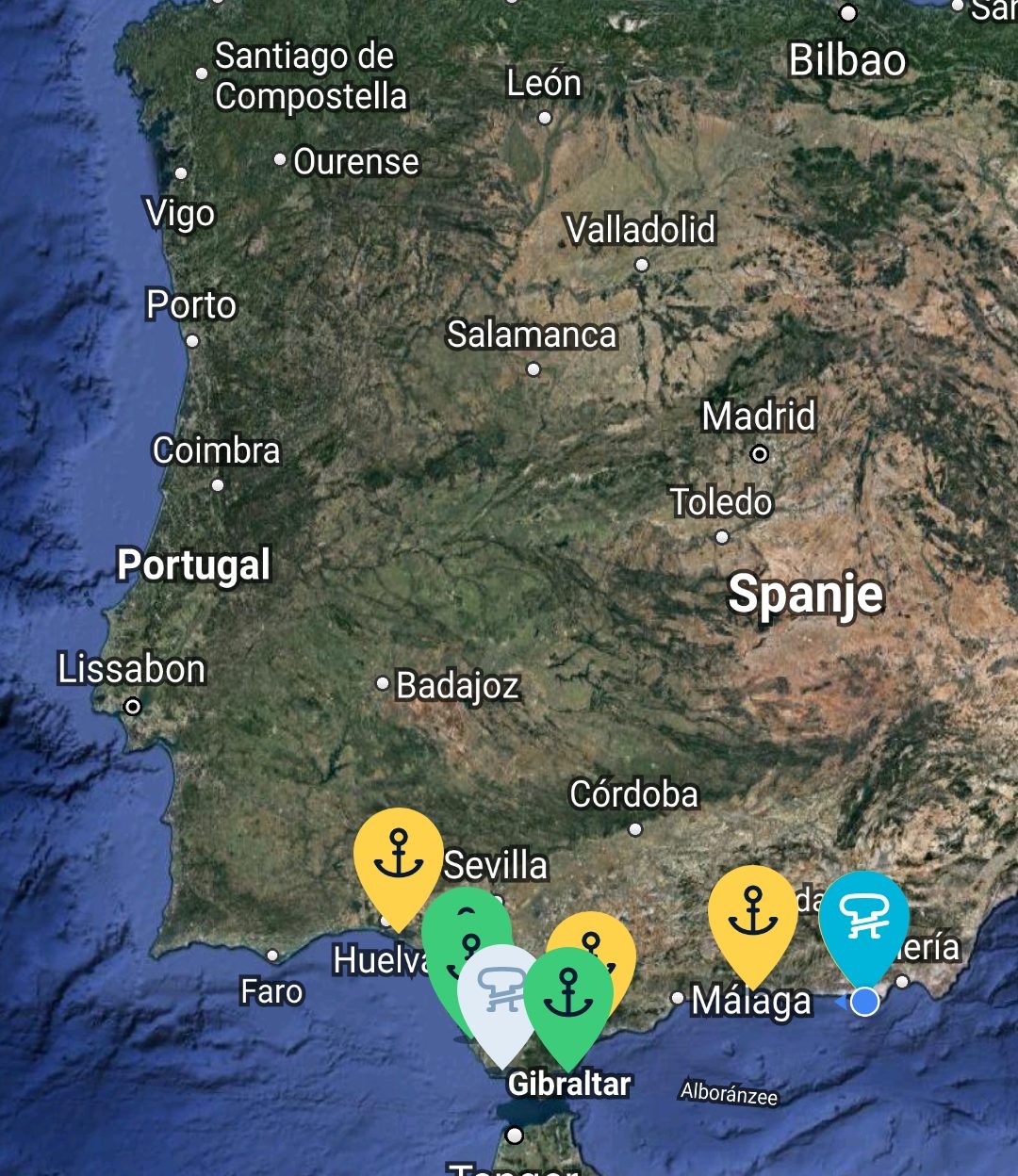 September was the last month for us to live full-time at anchor. We already had a winter berth booked in the marina of Almerimar from the 1st of November, but we decided to expedite our stay because of a storm that was coming our way. The reason was that hiding for the storm in Almerimar for one week was almost as expensive as a whole extra month of berthing since we already had 5 months planned there.
Monthly expense overview
For tracking our expenses, we use the app 1Money, which we find very easy to use. It's an Android app, so if you have an iPhone you will have to find another money tracking app. However, there are a lot of free options to be found in the app store. Tracking your expenses takes a bit of discipline, but it is a great way to obtain insight into your expenses. So, let's dive into the expenses we had in September 2020! First a break-down per category:
🍏 Groceries: 474,06 euro
🍽 Eating out: 393,28 euro
🥳 Activities: 11,20 euro
⛵ Marina: 69,59 euro
🔩 Maintenance: 160 euro
✍ Insurance: 173 euro
⛽ Fuel:  318,05 euro
🛍 Other: 61,99 euro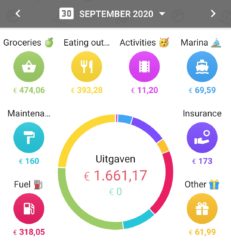 💵 In total, we spend 1.661,17 euros in September 2020.
And yes, this is more than our previous month. However, the costs for fuel were a high one-time extra expense this month, so we will explain a bit more about this in the detailed overview per category below.
More details about our expenses this month
Groceries: 474,06 euro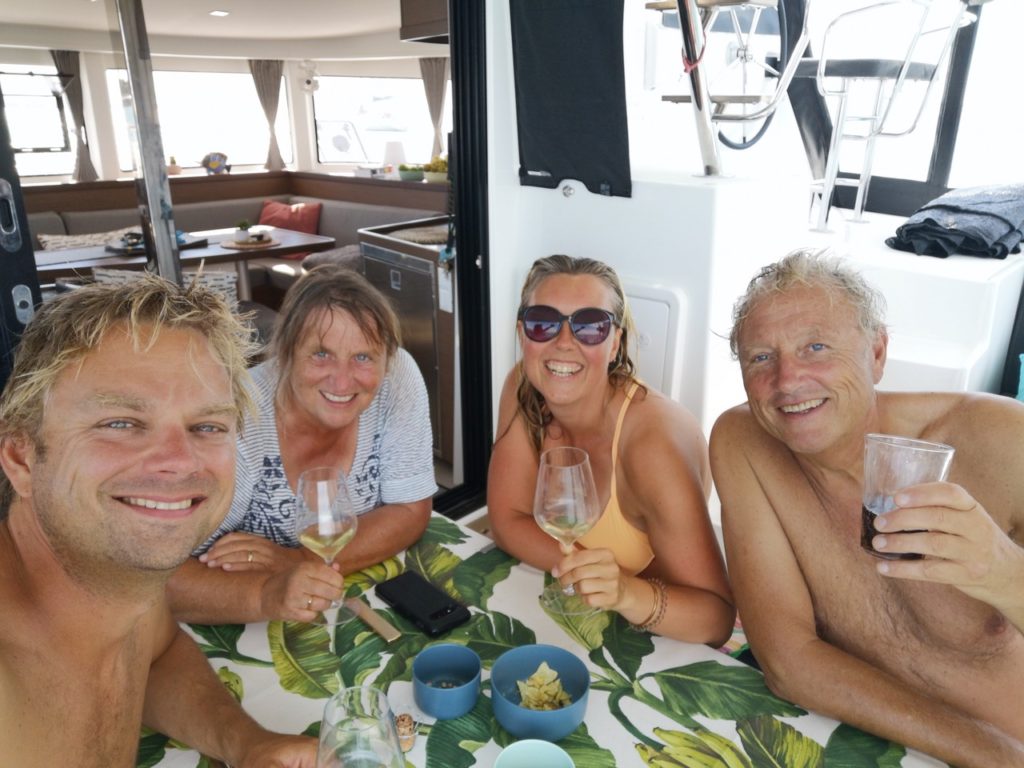 Since we departed from the Netherlands, our grocery costs are rising every month. September 2020 was our most expensive grocery month so far. We think it has three reasons. The first is that in September we did a big grocery run since the parents of Ronald came to visit us and we could use the car to stock up easily. The second reason is that our expenses for eating out are descending. More eating at the boat directly results in higher costs for groceries. The third reason is that we stocked up big in the Netherlands before departure and this food is now starting to run out.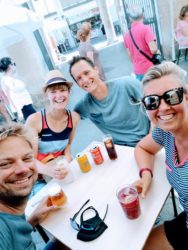 Eating out: 393,28 euro
In September 2020 our costs for eating out were 393,28 euros. It probably still is quite a big amount for some of you, but when you are traveling to different places and exploring new cities it is kind of logical that you also eat and drink more out.
Activities: 11,20 euro
Although we are quite active in exploring a new place, we find that a lot of activities actually do not cost any money. We love to walk around and hike for instance, which is almost always free of charge 🙂 We did visit the Cathedral in Cadiz and another one in Jerez de la Frontera, but Ronald's parents were so kind to pay that for us. The only costs we had in September in the Activities category were the ferry tickets to get to Cadiz city from our anchorage in Puerto Sherry which is across the bay there.
Marina: 69,59 euro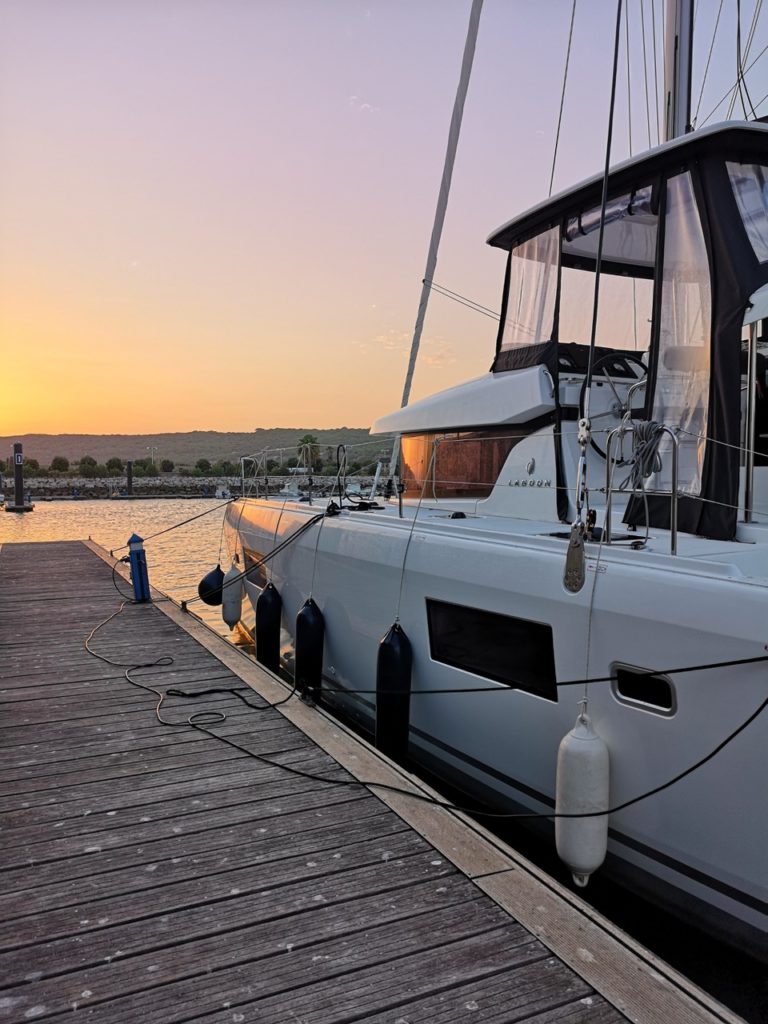 During September, we anchored for the most time. We only stayed in two different marinas. The first was the marina of Barbate where we slept one night before crossing the Strait of Gibraltar together with Kathi and Max of Sailing Makani. We arrived in Barbate in the evening and left early the next morning. With the marina office closed and therefore no option to pay, we had a "free night on the house" there 😉 Next to these costs we also paid for parking our dinghy a few times when we were at anchor in Gibraltar. It was 6 euros for the whole day and we used this facility three times. At the end of the month, we arrived in the marina of Almerimar where we paid two nights of summer rate before our winter berth period started. The costs per night in Almerimar were 25,72 per night (including a discount because of our winter berthing period).
Maintenance: 160 euro
Arriving in the marina of Almerimar we had to invest in some heavy-duty mooring springs. Since we are med moored here for the winter (with the back of the boot to the dock), these springs will make sure the wind does not put too much force on our mooring lines. The costs of the springs were 132,50 including some material to protect the lines from chafing. We also invested in a new Spanish guest flag, since the old one was already torn badly (6 euro) and some extra fender lines (21 euro).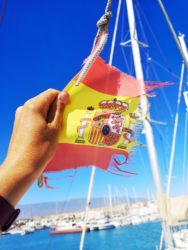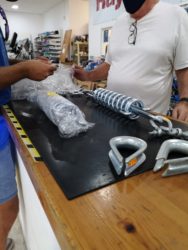 Insurance: 173 euro
The boat is insured at Pantaenius and the costs of this are fixed: 173 euros per month.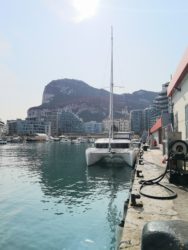 Fuel:  318,05 euro
September was quite an expensive fuel month. Not only did we use the dinghy and the generator quite a lot which means we had to get new gasoline for it (around 35 euros in total), but we also filled up our diesel tanks in Gibraltar. The price of diesel in Gibraltar is extremely cheap compared to any other place in Europe, so we took advantage of it. We added almost 500 liters of diesel to our tanks, which means we probably will be able to last a whole year with it. We paid 0,518 euro cents per liter for the diesel, so in total around 250 euros. A true bargain!
Other: 61,99 euro
The other category was 0 the last two months, but finally, now we were able to use it. We bought a few small miscellaneous things at the cheap Chinese Bazar. Mainly household items and kitchen utensils.
Also, we decided to get a Premium subscription to the Navily app. We love the app so much and use it a lot, so we figured it was worth contributing to it. We also learned that with the Premium subscription you can see the swell predictions for a specific anchorage. A nice feature since we had some rolly anchorages already since we arrived in the med.
Summary of our first three months on the water
September 2020 was our third month of living full-time on the water on our Lagoon 42 catamaran. Since we now have more months to compare, we can look at the total and average amounts of the expenses. They are starting to give a good insight into the costs of this lifestyle. A nice feature of the 1Money app is that it gives a quick overview of the total costs you had during a certain time period. In the screenshot below you can see the overview of our expenses from July to September.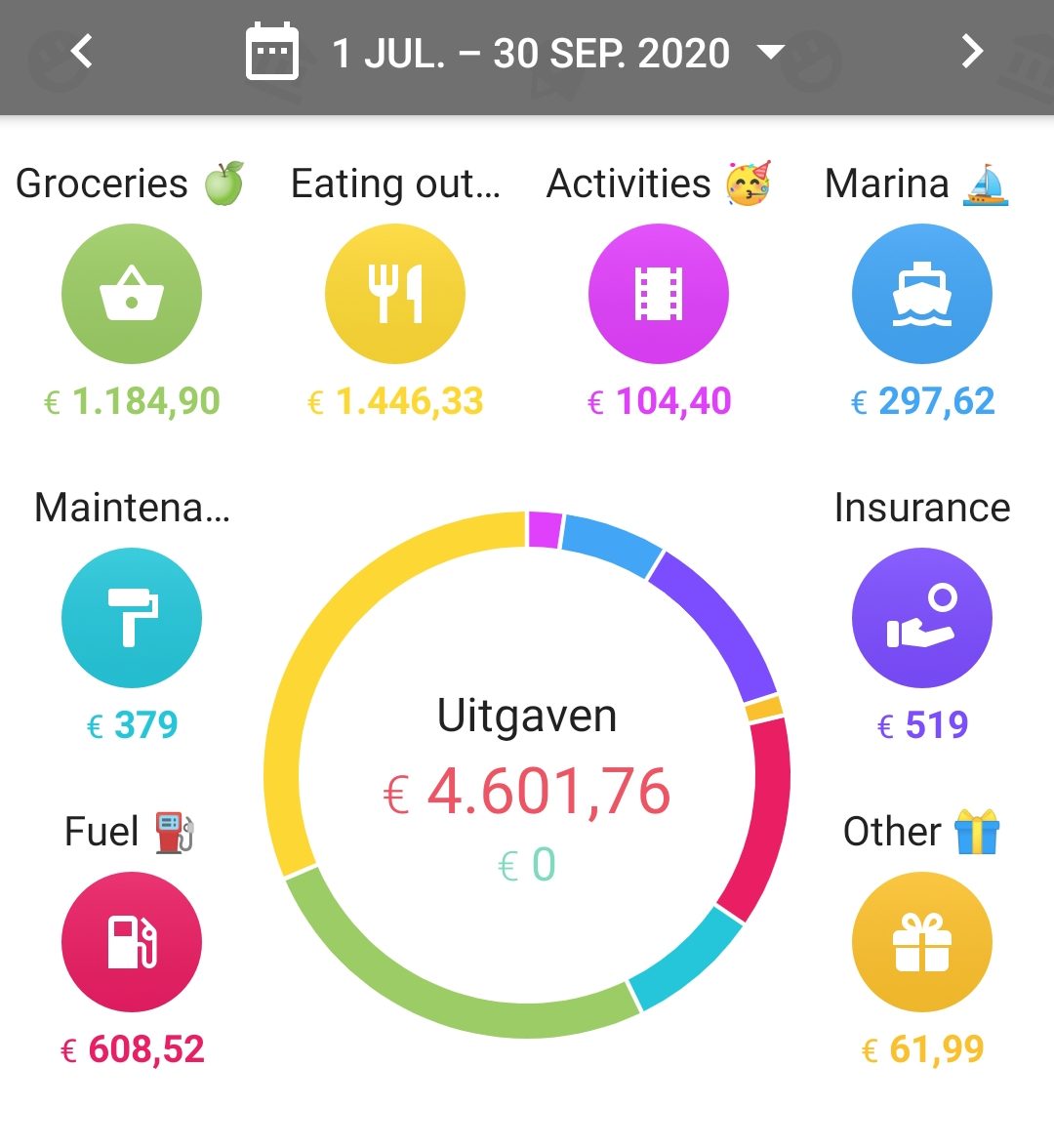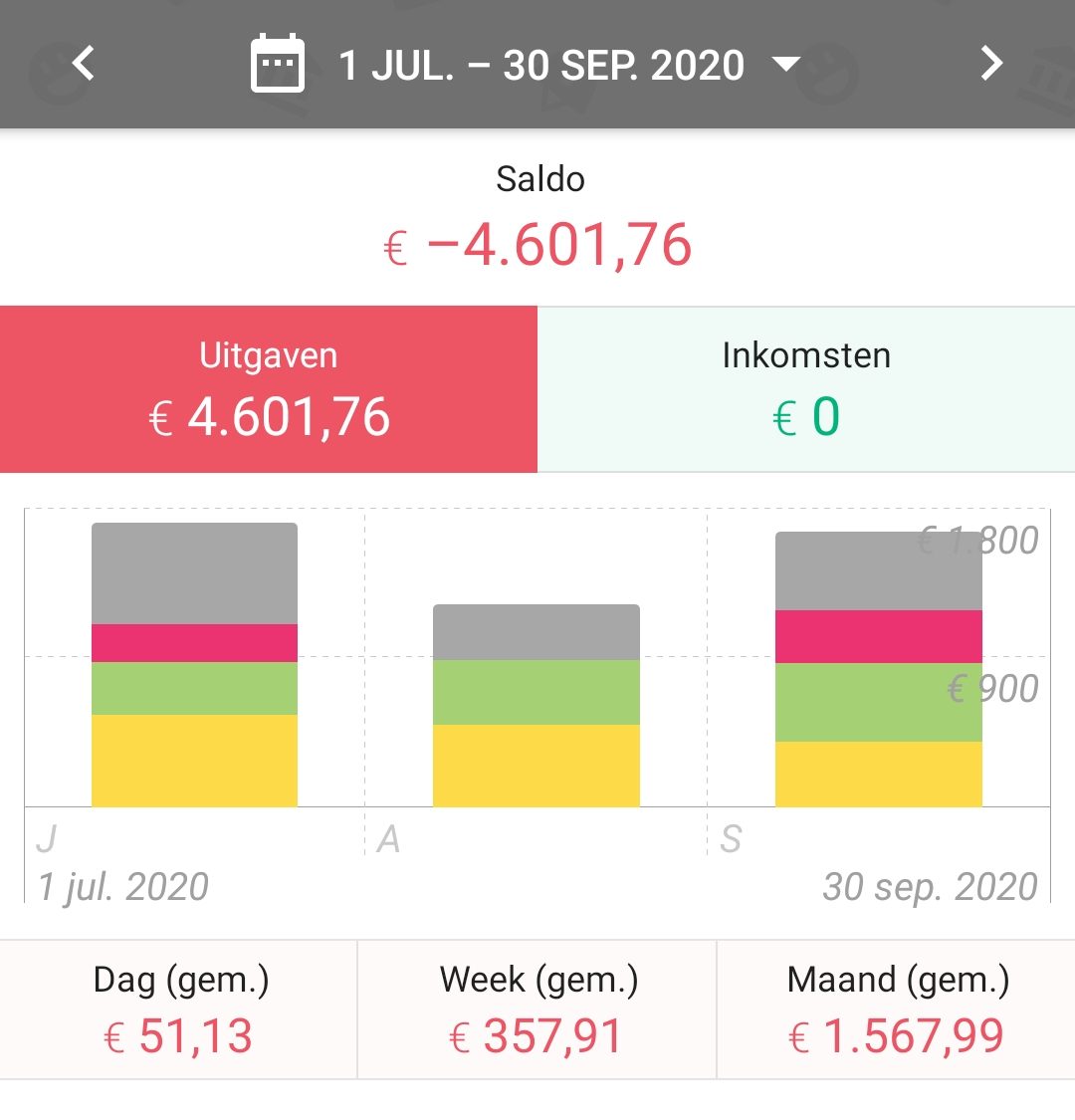 As you can see, in total we spend about 4.600 euros in three months. Our biggest expense categories were: eating out (1.446,33 euros), groceries (1.184,90 euros) and fuel (608,52 euros). In total these three categories are good for 3.239,75 euros, which is over 70% of all our expenses.
It is also interesting to see our average expenses per day, week, and month over the last three months. The daily average is 51,13 euros, the weekly average is 357,91 euros.
In total, we have a monthly expenses average of 1.567,99 euros. However, please note that between July and September 2020 we have mainly been living at anchor instead of staying in a marina. As of next month – October 2020 – we will have to include these costs in our expenses overview.
Subscribe to the blog
We hope you liked the overview of our expenses in September 2020. Of course, we will keep up writing a monthly expense overview for the coming months. Next time, we will give insight into the expenses of living on our Lagoon 42 while staying in the marina permanently. Would you like to get an email notification when we publish a new blog, you are very welcome to enter your email below.