The last month of 2020! Time to wrap up this crazy year and share our monthly expenses sailing our Lagoon 42! With all the changes going on in the world, it definitely has been a challenging year. Especially because 2020 was also the year we started our full-time sailing adventure on our new catamaran. 
In December 2020, we stayed at the Marina of Almerimar in the south of Spain. We are living here until the end of March 2021 when the spring weather will hopefully bring us towards the islands of Ibiza, Mallorca, Corsica, and Sardinia. The video below gives you a summary of our journey far:
About tracking our expenses
We started sharing these monthly expenses overviews when we left the dock in the Netherlands with our Lagoon 42 catamaran. We wanted to keep track of our expenses for ourselves anyhow and thought it might be valuable for others as well.
In the past eight years, we have been totally committed to creating financial freedom for ourselves. We both loved our life in the Netherlands, but we also knew that there was more they explore. We wanted to be able to break the cycle of full-time "work, work, work".
Our journey had taught us many lessons and we are so grateful that we were able to create a lifestyle based on a passive income that allows us to travel full-time. If this sounds appealing to you as well, we highly recommend that you download the guide we made on Financial Freedom. It's free!
DOWNLOAD YOUR FREE GUIDE
We are convinced you can achieve financial freedom too! That's why we share our steps and main tips in this free PDF guide: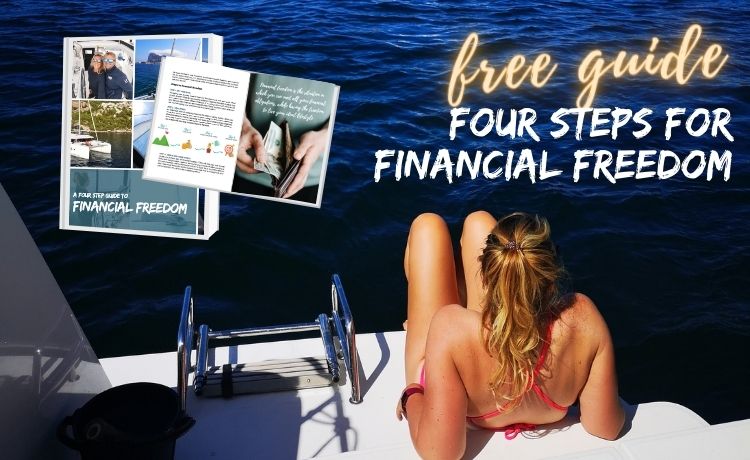 Previous monthly expenses
We hope this monthly expenses overview gives you more insight into how much it costs to live this lifestyle and how much (passive) income you need to achieve this. Since we started this full-time sailing lifestyle, we have shared expense overviews for each month on the water. If you are interested in our previous overviews, you can check them out here.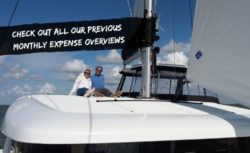 Average costs of living after six months
Since this is the last month of 2020, it is interesting to first take a look at the average costs of living in our travel lifestyle over six months. Over the period from July until December 2020, we spend a total of 10,598.11 Euros. In the image below you can see how this amount divides into the categories we use.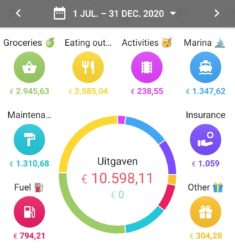 This means that on average we spend 1,785.72 euro per month.
If we can extract that amount to a full year of living this lifestyle, the two of us should be able to live from a little bit more than 21,000 euros (net). We invested in two student rental properties in the Netherlands, which gives us a net passive income of 2,500 euros per month.
Given the expenses we have so far, this amount of passive income is enough to cover all our costs. This is great and gives a so much freedom to spend our time on whatever we want, instead of being forced into working from the boat (which we also do by the way).
Monthly expenses in December 2020
So, let's dive into December 2020.
In total, we spend 1,713.02 euros in December.
This is a little bit lower than our average costs so far, which is great. Certainly taking into account that normally the December month is quite an expensive month due to the holidays.
If we look at the spending per category, we get the following list of expenses:
🍏 Groceries 665.72 euro
🍽 Eating out 449.09 euro
⛵ Marina 350 euro
✍ Insurance 180 euro
⛽ Fuel 35 euro
🔩 Maintenance 11.50 euro
🥳 Activities 0 euro
🛍 Other 21.71 euro
More details about our monthly expenses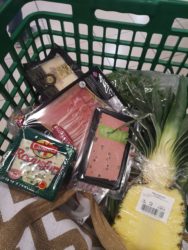 Groceries: 665.72
This category is normally always on the top of our expense list, together with eating out. And this is not an exception in December 2020. Initially, we planned to spend the Christmas holidays with Ronald's parents after which we would travel to the Netherlands for New Years'.
Unfortunately, Covid-19 blocked these plans in several ways. We spend the month of December in Spain on the boat and had an amazing Christmas dinner with friends in the marina. Our average grocery cost is around 500 euros per month, so there is definitely a difference here!
Eating out: 449.09
In December 2020 our costs for eating out were quite normal for our situation. You could argue that we spend quite a lot of money on eating out. And you probably would be right 😉
But hey, what can we say. We just love food; we love drinking coffee on a terrace and we love a Christmas lunch with all our amazing friends we've met sailing!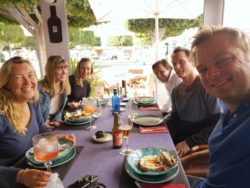 Marina: 350 euro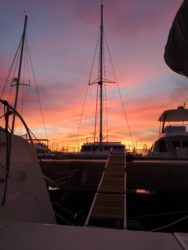 We are staying in Puerto Deportivo Almerimar, which is a well-known cost-efficient marina in the south of Spain. Next to being cost-efficient, it is also a great place in terms of weather, local bars and restaurants, and boat friends nearby. The costs for our berth in the marina are 350 euros per month. This is including electricity and water, which is quite amazing.
Insurance: 180
The monthly costs of our boat insurance at Pantaenius are fixed at 180 per month.
Fuel: 35
In December 2020, we were still not moving a lot with the car. We only did some local trips to the supermarket and undertook one further trip to Sierra Nevada where we had a beautiful hike. Covid-19 is restricting our movements quite a lot, which keeps the expenses low.
Maintenance: 11.50 euro
Maintenance on the boat has been surprisingly low. Before we started sailing, we heard stories about needing a budget of 10% of the new value of the boat PER YEAR! In our case that would be around 40.000 euros per year.
Luckily, we also spoke to (new) catamaran owners who had different stories of only spending a few thousand euros each year on their boats. So far, it looks like they were closer to the truth when it comes to our 2019 Lagoon 42 catamaran.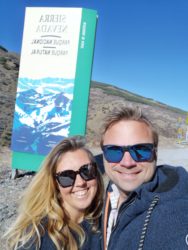 Activities: 0
As already mentioned, undertaking activities isn't something we were doing a lot in December. Instead of fun activities, we have mainly used our time in December to create our Design Your Financial Freedom Toolkit. And a walk around the marina and a trip to the ice cream shop also count as a fun activity, but this is free of charge or categorized under 'eating out'.
Other: 21.71
This category contains the costs we make that don't fit any of the other categories above. They cover a few presents we bought and some household items.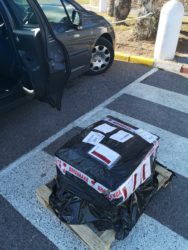 We also bought two 200 ah LIFEPO4 batteries (Lithium) which cost us 2,625.49 euros (excl. VAT). We didn't include these costs in the monthly expenses. Installing Lithium was something we wanted to do when we bought the boat, so we feel that it should be included in the purchasing costs of the boat instead of our monthly expenses.
Conclusions after six months
So far, tracking our expenses has provided us a lot of insights. It also helps us to stay within budget. We constantly see how much we have spent during the month, which automatically makes you more aware of your spending. This reason alone is a great one to start tracking your expenses as well. We use the app 1Money, but there are a lot of other great apps.
When we left for our full-time sailing adventure, we had our passive income already in place. Nonetheless, it was quite difficult to foresee if this amount would be sufficient for us living this sailing lifestyle. The last six months have shown us that our passive income can cover our living expenses. With our passive income, we even have a bit of money left each month to save.
However, to create a bit more savings and to diversify our income streams, we are currently also actively working on starting an online business. That way, we will be certain that our budget doesn't become too tight at any point in the future.
Subscribe to the blog
If you are keen to keep following our expense overviews to see where this will lead us into the new year, sailing the Mediterranean Island you can subscribe to the blog. That way, you get an email notification each time we publish a new article on the website.