It's about time we show you our monthly expense overview October 2020. This is the fourth month we are sailing and living full-time on our new Lagoon 42 catamaran. October has proven to be a quite different month for us and that shows directly in our expense overview: it's our most expensive month on the boat so far!
In this blog, we will show you all the expenses we made, break the costs down into more details and show you our average costs of living a sailing life after four months. We share these monthly expense overviews because we believe they hold value for those of you out there that are trying to achieve a financial freedom lifestyle as well.
About tracking our expenses
We have been tracking our expenses since we started living full-time aboard our boat. So far, we still are very happy we are doing this. It not only gives us the info we need to write these blogs, but it mainly gives us a good insight into where our money is going. It gives us a certain peace of mind that we wouldn't get if we wouldn't know the details of our spending.
We track our expenses using the app 1Money. Every time we buy something and spend money, we open the app to add the amount into one of the categories we defined. It's a super simple way of knowing how much you have spent and in what category. The app is free, easy to use and flexible since you can define your own categories, which is great!
If you are interested in our previous expense overviews, you can check them out here or click on the image below.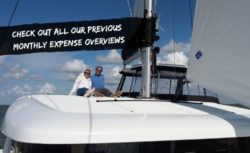 Our whereabouts in the month of October
Although every month sailing is very different, October was a real transition month. This is because we arrived in the marina of Almerimar (Spain) at the end of September and are since then living full-time in the marina waiting for spring next year to cast the lines again.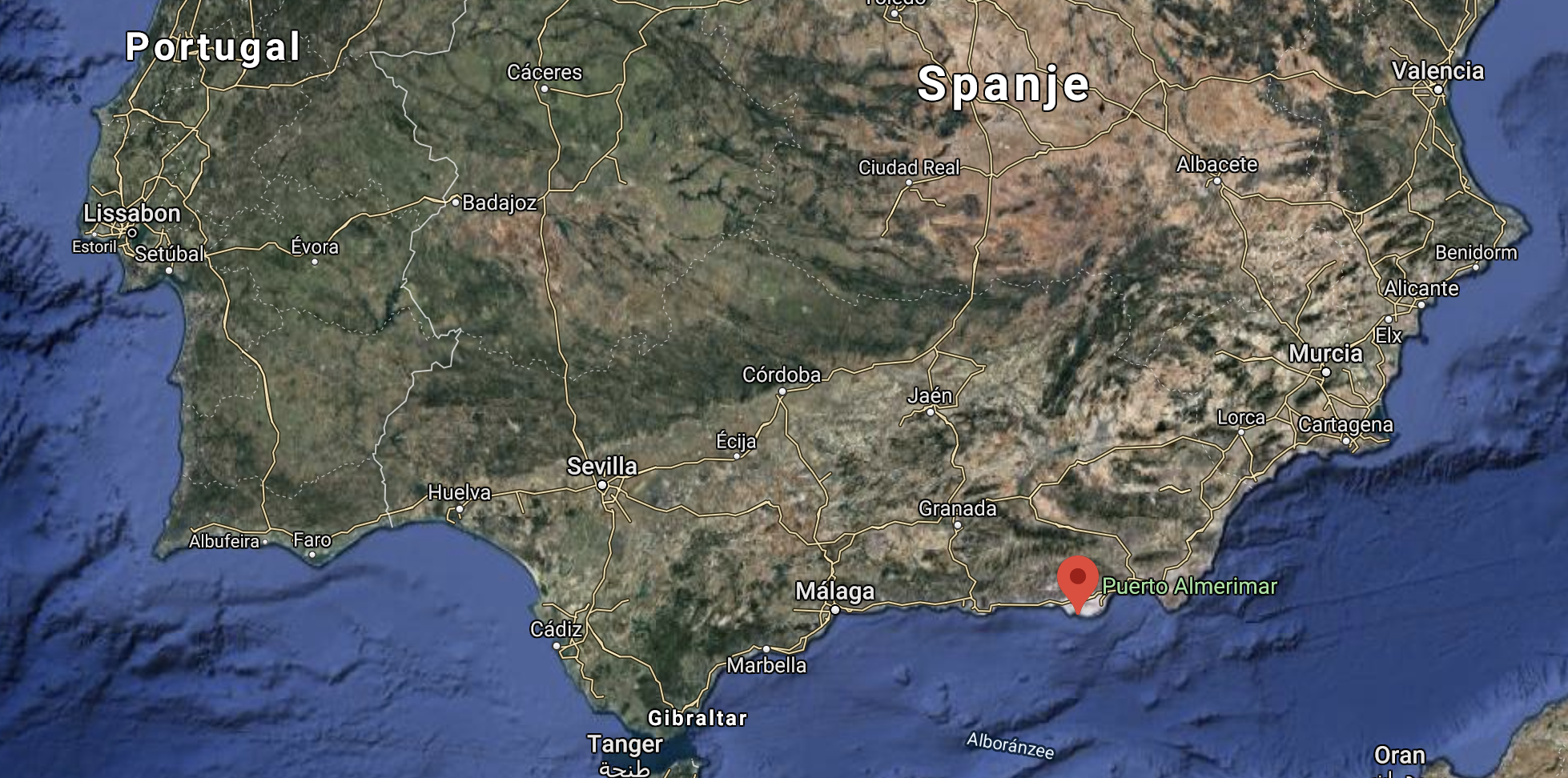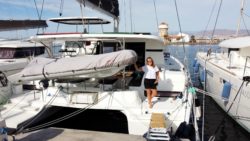 We knew beforehand that marina life would be more expensive than living at anchor. The most obvious reason is that we have to pay a monthly fee to have the boat in the marina. This is also why we chose Almerimar as our winter home base. This marina is the cheapest option we could find in this area of the Mediterranean.
Monthly expense overview October 2020
Okay, time to dive in our expenses for our expensive month so far, the month of October 2020.
Let's start with the total:
In October 2020, we spend almost 3.000 euros, or 2.830,48 euros to be precise.
That is a huge amount for us, since over the previous three months we spend an average of 1.567,99 euros each month. As you can see, in October, we almost doubled that amount.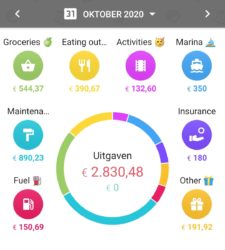 Of course, there is an explanation for this. And almost all of these reasons have to do with the fact that we are now living fulltime in a marina:
we are in a marina now, so we pay the marina costs
we had to add some things to the boat to be able to live in the marina
we had to do the warranty check on both our engines
we have a car here, which is great! (but of course, adds some costs)
Monthly expense overview October – Category breakdown
You will see more explanation about the costs we had in October in the breakdown below. In line with the list above, we will start with the highest category.
If we sort the amounts per category, starting with the highest first, we get the following:
🔩 Maintenance 890,23 euro
🍏 Groceries 544,37 euro
🍽 Eating out 390,67 euro
⛵ Marina 350 euro
🛍 Other 191,92 euro
✍ Insurance 180 euro
⛽ Fuel 150,69 euro
🥳 Activities 132,60 euro
Now let's see the details behind these numbers to give you some more insight:
Maintenance: 890,23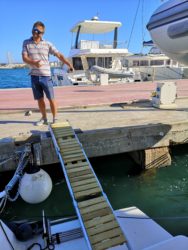 The biggest amount we spend in this category was the service we had done on both our Yanmar engines. To keep the warranty, we need to service them on fixed moments so since we hit the 250 engine hours mark on both of them, it was time to call the professionals. The costs were 621,20 euros.
Other costs for maintenance included the passarelle we needed to get on and off the boat. Because it is quite expensive to buy one, we made it ourselves using a ladder and wooden tiles from a garden center. It costed us a little bit over 100 euros that way. We also invested in a waxing machine to give the boat some proper love after three months sailing in the salt water.
Groceries: 544,37
The grocery costs in October 2020 were also the highest over the last four months. In total we spend 544,37 euro on groceries. One reason is probably that the supermarket is now only a short walk away, which makes it easier to shop. We also stocked up again and we are eating at home way more now than we did when we were sailing and exploring all the time.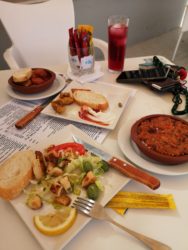 Eating out: 390,67
A direct effect of eating more at home (at the boat), is that we eat less out. That is reflected in our costs for eating out in October. It is the lowest so far compared to the other months (although the difference with September is only small).
We do eat a lot of tapas here in Almerimar. There are a few nice tapas restaurants that include a (free) tapas with every drink you order. Well, who are we, not to take advantage of that? 😉
Marina: 350
As mentioned before, we are now in the marina fulltime and of course we pay a monthly amount for that. However, for the size of our boat, paying 350 euros per month (including electricity and water) is a really good deal! We booked until the end of March (the whole winter period) which means that we get a discount of 30% on the 'normal' monthly winter fee.
Other: 191,92
We have had months that the other category was zero. However, since we arrived in Almerimar, we have done a bit more shopping than we did in prior months. We bought some nice things for the boat, such as new dinner plates and some basket to organize stuff.
There is also a big Chinese Bazar in Almerimar where we get a lot of random handy things. It has been proven a really good place to find some boat hacks. For instance, we used fleece neck warmers as fender covers and bread baskets to protect our winches. This category holds a lot of small amounts, but they do add up.
Insurance: 180
The monthly costs of our boat insurance at Pantaenius went up a little bit, we now pay 180 per month.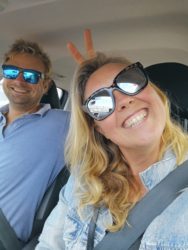 Fuel: 150,69
You might be surprised to find 150 euros of costs in the category fuel, while we don't sail and drive the dinghy at the moment. However, we have been two very lucky birds since we were able to lend the second car of Ronald's parents for the months we are here.
It's been a real game-changer, allowing us to go to places we would otherwise not have been able to visit, such as the Alhambra in Granada. In total, we spend 89,69 on diesel for the car.
Next to that, we also had to fill our gas bottle, which cost us 40 euros for the big one and 21 euros for a smaller Campingaz one.
Activities: 132,60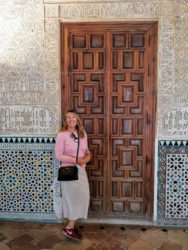 Since we are less busy sailing the boat, we have had more time exploring Andalusia and the mainland of Spain. This explains that we have had some costs for activities in the month of October.
The biggest activity we undertook was a weekend getaway to Granada. We booked a night in a hotel in the old city center and visited the Alhambra Palace, which was beautiful. It was actually just before the city went into a lockdown, which we only heard of when we were there. So we were quite lucky to get to see these sights. The hotel was 60,75 euros, the ticket for Alhambra was 29,70 euros, the parking there was 20 euros.
Average costs of our first four months on the water
Since October 2020 is now already our fourth month on the water, we can really start to look at the total and average costs of this lifestyle. Below you can find the total amounts we spend each month:
July 2002 1.714,17 euro
August 2020 1.226,42 euro
September 2020 1.661,17 euro
October 2020 2.830,48 euro
In total we spend: 7.432,24 in four months.
This means we spend an average of 1.888,67 euro each month.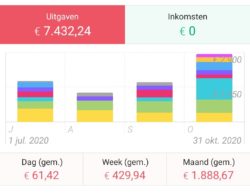 Although October 2020 was an expensive month for us, it is actually very nice to see that over the last four months we still have spent less than the passive income we get from our rental properties. This gives us confidence that we will be able to live this lifestyle using the structure we set up before we left.
Subscribe to the blog
Thanks for catching up on our monthly expense overview October 2020. If you are keen to keep following our monthly expense overview, you can subscribe to the blog. That way, you get an email notification each time we publish a new article on the website.