In this blog, we share the living expenses of our life on board our 42ft Lagoon sailing catamaran. This article covers everything about our monthly expense overview April 2021. It's already the 10th monthly expense overview we publish since we left the Netherlands in July 2020 to start our full-time sailing adventure.
This blog shows you how much this lifestyle actually costs us and what we spend our money on.
Our lives so far: one big change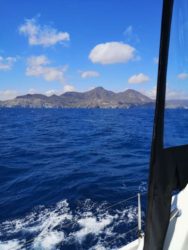 Without any doubt, the last ten months have been the most intense months of our lives. The transition from full-time land life –with structure, our jobs, and friends and family nearby – to a more remote way of living on the water has been a HUGE.
We loved it and we hated it, we felt the luckiest ducks alive and at the same time had more doubts about the choice we made than we could have imagined.
For us, the biggest struggle is trying to found rhythm and structure while living on a boat. The weather tends to dictate the way your day (and night) go and it's not easy to create a lifestyle around that.
We sometimes feel that the freedom we are looking for is taking away by the circumstances that boat life creates. It's been an interesting phase, having to cope with the fact that you're not in charge all the time. And of course, Covid-19 certainly didn't make things any easier. We probably all have felt out of control because of it.
That being said, we're beyond happy and super grateful to look back on 10 months of new experiences, new friends, and the fact that we have been doing what we wanted to do for so long.
Why we share our monthly expenses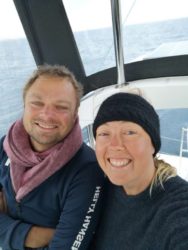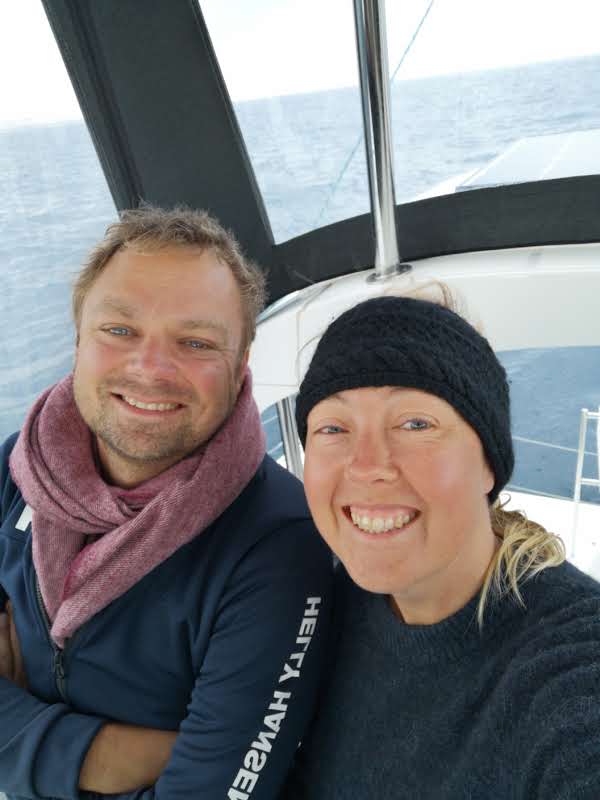 We always knew we wanted to travel the world and live a more flexible life. Instead of working from 9-5 until our pension age, we wanted to create a different path for ourselves. Over the last eight years, we worked hard to achieve financial freedom so we would be free to live any lifestyle we would like. We succeeded in doing so and now hope to show others that it can be done.
For us, the main thing is that there is a balanced option between just taking the leap on the one side (which may include selling everything you own and/or making money underway) and winning the lottery on the other side.
We know that a lot of people have a dream in life that they would like to pursue, but they just can't seem to make it happen. Money is often a big obstacle in that. Some may say that money is a mental obstacle and that you will make it work once you take the leap. And although these people are probably right, for us, it was more than that. We wanted to experience this lifestyle without a money-driven deadline or the need to spend time to earn money. We wanted to be independent of 'have to' once we set off on our adventure.
Keeping track of our monthly expenses has two main reasons: 1) to make sure we could afford this lifestyle in the long term (within our passive income) and 2) to show other freedom-seekers what a lifestyle like ours costs every month. We hope this information helps them to plan their route to (financial) freedom as well.
If you want to read our previous monthly expense overviews, you can find all of them here. We created the Design Your Financial Freedom Toolkit if you want to learn about our approach in becoming financially independent.
Our living situation in April 2021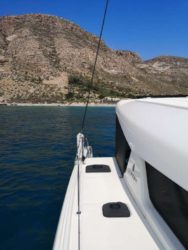 In April 2021, we left the marina of Almerimar, Spain, after months of staying there for the winter period. It was quite a shift to go from marina life to sailing life again, but we were also very eager to set sail again and explore more of the Mediterranean.
We had a berth booked at Almerimar until the end of March but decided to extend it a little bit to be able to leave with a good weather window. We ended up leaving the marina on the 10th of April 2021.
The weeks before departure, we did some extensive provisioning. We figured it would be smart to buy extra groceries while we were in the marina, with access to a car and cheap supermarkets nearby. Most of these extra grocery costs were part of our expense overview of March 2021, but we also had some extra costs in April.
Monthly expense overview April 2021
Alright, so let's dive into the monthly expense overview April 2021. First, let's look at the total costs for April 2021.
The total we spend is 1,780.20 euros.
This amount is a very average monthly expense total for us. Over the last 10 months, our average monthly living expenses were 1,764.72 euros. We now feel pretty confident that we can maintain this lifestyle financially from our passive income, which is 2.500 euros per month.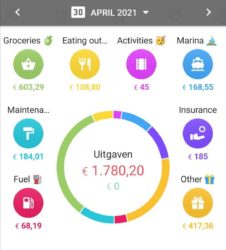 If we look at the categories of the expenses a little bit more in detail, we see the following amounts:
🍏 Groceries 603.29 euro
🛍 Other 417.36 euro
⛵ Marina 168,55 euro
✍ Insurance 185 euro
⛽ Fuel 68.19 euro
🍽 Eating out 108.80 euro
🔩 Maintenance 184.01 euro
🥳 Activities 45 euro
New boat, low maintenance…
One of the reasons that we can travel on this boat with these monthly expenses, is the fact that we bought a new boat. This means that the maintenance costs have been very low. In total, we only spend a little bit more than 1,500 euros on maintenance in 10 months! We definitely feel this would never be the case if we had bought an older second-hand boat. By the way, we do have an emergency fund in case something happens that needs immediate attention.
We also need to address that there are some costs we don't include in our living expenses. This is our health insurance (which we pay once per year) and our phone plans (which are part of our business expenses). For more information about this, please read our first monthly expense overview from July 2021.
Monthly expense overview April 2021 – category break down
Alright, so let's explore the monthly expense overview April a bit further by seeing how much we spend in each category in April 2021. We will discuss the categories starting with the highest and ending with the lowest:
Groceries
603.29 euro
As mentioned, we spend a little bit over our normal monthly groceries budget in April 2021. On average we tend to spend around 500 euros each month on groceries. We bought some extra last groceries before we left the dock, so wouldn't have to worry about buying stuff for a long time. This means that we should have lower expenses for groceries in the next months.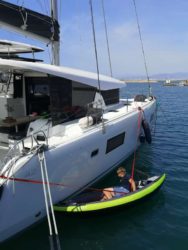 Other
417.36 euro
The costs for the 'other' category are normally very low, sometimes even zero. In April however, we had quite some expenses in this category.
The reason is a very expensive trip to Decathlon where we bought an inflatable kayak (which we love!), a sun umbrella, and a foldable table and chairs for those long-anticipated beach BBQs. With summer around the corner, we feel we could use the extra beach and water tools 😉
Insurance
185 euro
Our Lagoon 42 catamaran is insured at Pantaenius Yacht Insurance. We pay for the total insurance 185 euros per month.
Maintenance
184.01 euro
As mentioned above, the maintenance costs for our 2019 Lagoon 42 catamaran have been very low. Actually, lower than we anticipated. We know that this will change the longer we own the boat. At one point, we will have to add new antifouling (to prevent growth under the waterline) which means the boat has to be hauled out of the water. Having a bigger boat, also means that these things are more expensive.
In April, we spend a little bit more than our average on maintenance. We bought a maintenance kit for our toilet because we had to replace the one-way valve. It's a rubber part that dries out after a while causing water to come back up to the toilet because the valve isn't 100% closing anymore. We also bought boat cleaner and wax from the brand Starbrite to keep the boat nice and white. We ordered it at SVB, which is a great website for anything boaty.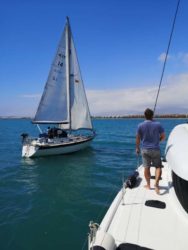 We had other costs in April 2021: the hatch covers and cockpit shades we had made for the boat and the window covers we made ourselves from mesh. We didn't include the costs for this in this month's total, since we feel they are boat upgrades and not really maintenance. But for those of you who are interested in the price: we spend 1,350 euros in total for the shades (made from mesh and sunbrella fabric). In addition, we bought the mesh ourselves which cost 170 including shipping.
Marina
168,55 euro
During the winter months, we stayed at Puerto Deportivo Almerimar for 350 euros per month. Since we left the marina on the 10th of April, we only have 168,55 euros in marina costs. After leaving the marina, we stayed at anchor all the time, which is free of charge.
🍽 Eating out 108.80 euro
Our costs for eating out have been going down ever since we left the Netherlands in July 2020. We started with 557,35 euros in that month on eating out alone (!). What a difference with only 108,80 in April 2021.
The graph below shows the change in costs we've had for eating out and groceries between July 2020 and April 2021. As you can see, the costs for eating out have been going down, while the costs for groceries have been going up. Seems like we have shifted from being in 'holiday mode to 'normal-life-mode' when it comes to food 😉

Fuel
68.19 euro
We had a hire car for the last days in Almerimar and of course, that means we also had some fuel costs. In total, we spend 68,19 euros on fuel for the car.
Activities
45 euro
To bring back our rental car to Malaga airport, we had to – believe it or not – hire another car from a local car rental company for two days. They would bring and collect the car in the Almerimar Marina and this was the easiest way to get the rental car where it belonged. We could have taken the bus as well, but it would have taken so long. We split the costs with our buds from Sailing Koru and ended up spending 45 euros on it.
The end!
That's it: the monthly expense overview April 2021. Hope you liked reading it. We will keep new blogs coming! If you have any questions about our expenses living on our Lagoon 42 catamaran, please let us know in the comments below! We always answer every question you might have.