In 'Money Talk' readers who have chosen a different lifestyle, share their finances with us. This time, it's sailing couple Kathi (36) & Max's (39) turn to give a glimpse into their money mindset. Kathi and Max live on their beautiful classic sailboat named MAKANI. They are taking a sabbatical to travel full-time. 'As soon as we started to save our money for this big adventure and a floating home, everything else felt less exciting and eventually became irrelevant.' 
Tell us your story. Who are you and what do you do?
Ahoy, there future-financial-freedom-experts. We are Kathi (36) & Max (39) from Austria. For the last 10+ years, we have worked and lived in Vienna. Kathi worked as an Art Director in big Advertising Agencies and later in a smaller Design Studio. Max was a senior software developer building successful apps.
Since July 2019 we live on a 38 ft long classic sailboat that we named MAKANI. We are both unemployed at the moment and we are taking a sabbatical to travel full-time for as long as our savings allow us to. By July 2021, it will be 2 years of living the sailing life.
We document our adventures and projects on social media and hope to inspire others to go out there and explore an alternative lifestyle for a while. It makes a big difference and we are so happy that we saved up and went for it now as opposed to wait for retirement to see the world together.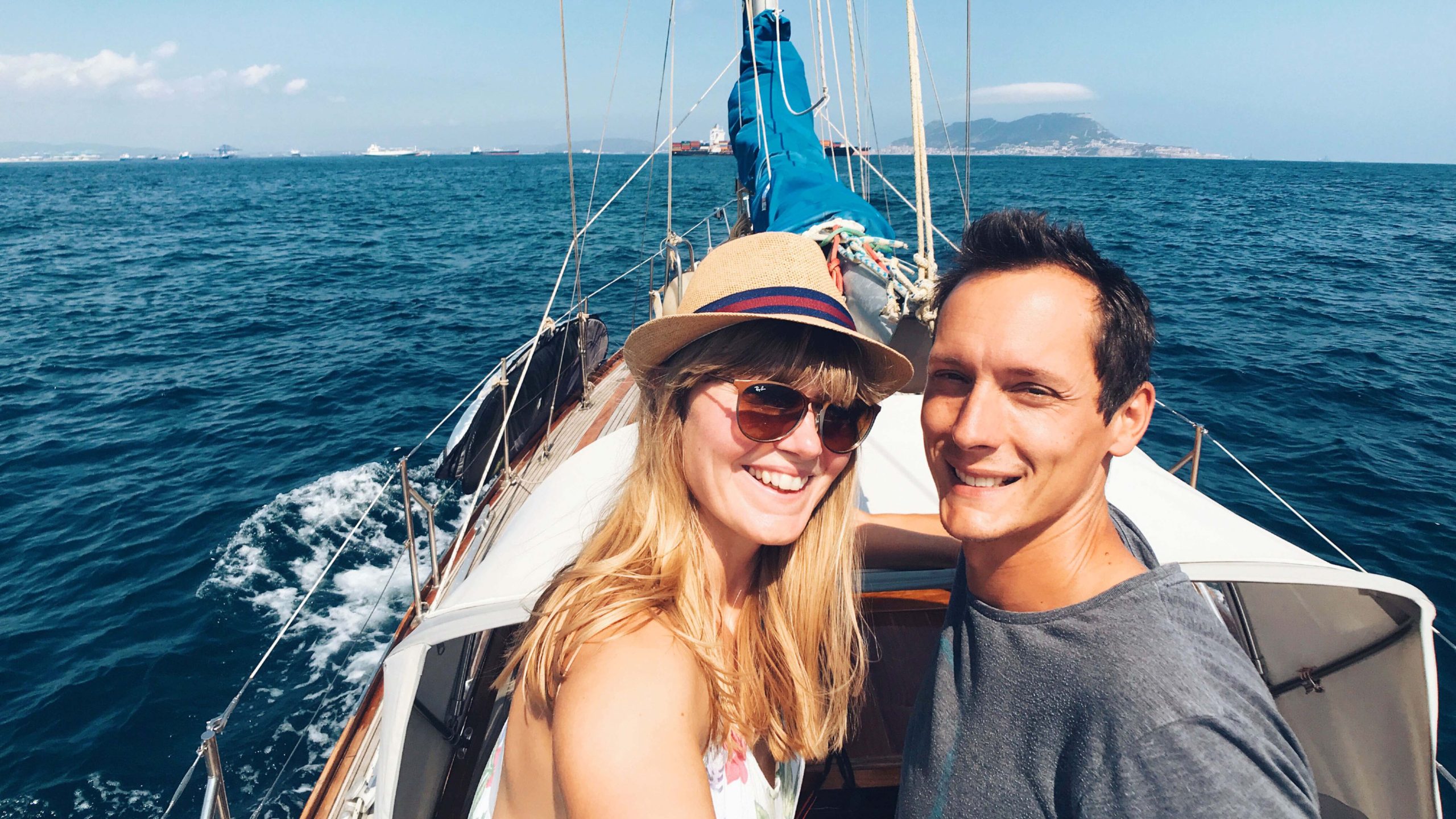 Why did you decide to start sailing?
We love to travel and after working and building careers in Vienna, we felt that there was more to this life than sitting behind a desk for the next 40+ years. We are both outdoorsy people and Max spent most of his free time on the water wakeskating, surfing, or swimming. Kathi loves Yoga, taking long walks outside to take photos, and exploring different cities, cultures, and nature. We are both happiest when we are surrounded by water.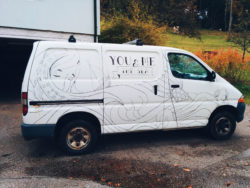 In 2013 we bought our first car together. It was an old Toyota High Ace delivery van that we turned into a surf-van. We mainly used it to follow the sun and go on exciting adventures on or near the water. In September 2013 we moved into the car for a month to drive all the way to northern Spain to surf and enjoy our first long break from reality. This adventure was definitely the starting point for our dream to live a life on the go for a while.
And when did you switch from van life to sailing life?
In 2015, shortly before Kathi turned 30, Max proposed to challenge themselves and to try out a new water sport: sailing.
So for a birthday present, Kathi got a sailing course that year. Our first baby steps on a sailboat happened on a lake in Austria. We started with dinghy sailing and got the license that you need to sail the Austrian waterways (i.e. lakes & rivers). We worked well together, loved the challenge, and being so close to nature all day.
It was a no-brainer that we would move on to blue water cruising after that and so we soon both got our skipper's license in the North Adriatic sea area. We loved the freedom and seeing cities and islands from the water. It certainly is a different experience than taking the inland route.
During that time, Max was watching a lot of YouTube sailing channels, feeling that this lifestyle is something that he wants to pursue himself, and soon the dream of full-time sailing the world was born.
For our first sailing vacation, we chartered a yacht in Croatia for two weeks and it was amazing. We loved every aspect of this lifestyle and the idea of seeing the world together from our own floating home seemed more realistic than ever. 4 months later, we bought the boat.
How were you able to buy your boat?

We basically started saving money when we started to work. In the beginning, it was mainly to have a backup and money you could use in case you need it, but soon we made the plan to use this money for a big adventure.
We always wanted to see the world together, so in the back of our heads, we knew that this money will be for traveling. A soon as we decided to buy a boat, we started saving for that dream and nothing else.
A soon as we decided to buy a boat, we started saving for that dream and nothing else
We used to live in an expensive 85 square meter rental apartment, that we didn't really use. We mainly used it to cook and watch TV after work. In hindsight, this was completely insane. Paying for a lot of space when you're hardly ever there to enjoy it now seems absolutely pointless, but everybody our age did it like that so at the time, it felt natural to upgrade and to live in a big apartment once our financial situation allowed us to do so.
After setting the plan in motion to buy a sailboat, we downsized to half of that. It allowed us to save almost half of our incomes each month. That made the biggest difference and we didn't even mind the lack of space. We actually preferred having fewer rooms to fill with unnecessary stuff. We were both working long hours and we hardly ever spent time at home. In the end, we had enough money for both the sailboat and for traveling (roughly) 3 years.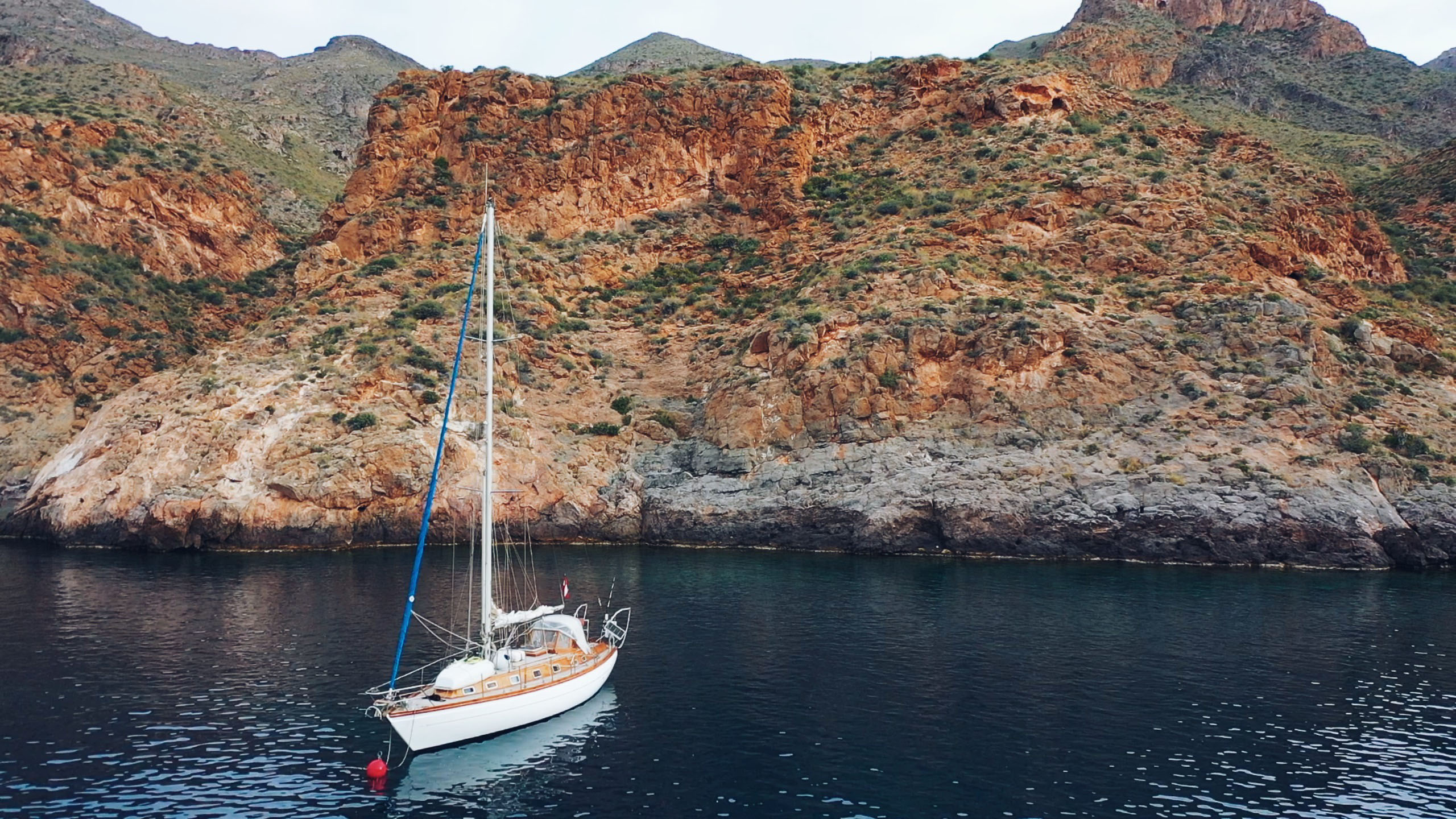 How do you afford to travel and live on a boat?
In the first year, we took an educational leave from work to study online. In Austria, you have the opportunity to do something like that for 12 months after you have worked for 4 years straight. So after every 4 years of working, you can take an educational leave, and you are funded by the state of Austria, which is absolutely amazing.
During the first year of this sailing adventure, we both got paid about 60% of our last income and were able to save everything we didn't spend on the boat, on docking fees, or groceries. On top of that, we were able to learn something new that will help us with stepping up our careers in the future. Win-win-win! Since July 2020 we are now both unemployed and live off our savings.
Since July 2020 we are now both unemployed and live off our savings
We also invested in funds years ago and while something like this always comes with a risk, we are happy that we did this. That way, our savings grow a little bit even without us putting any money in at the moment. The money that's in those funds already keeps growing.
Fingers crossed that it will stay that way for a while. 😉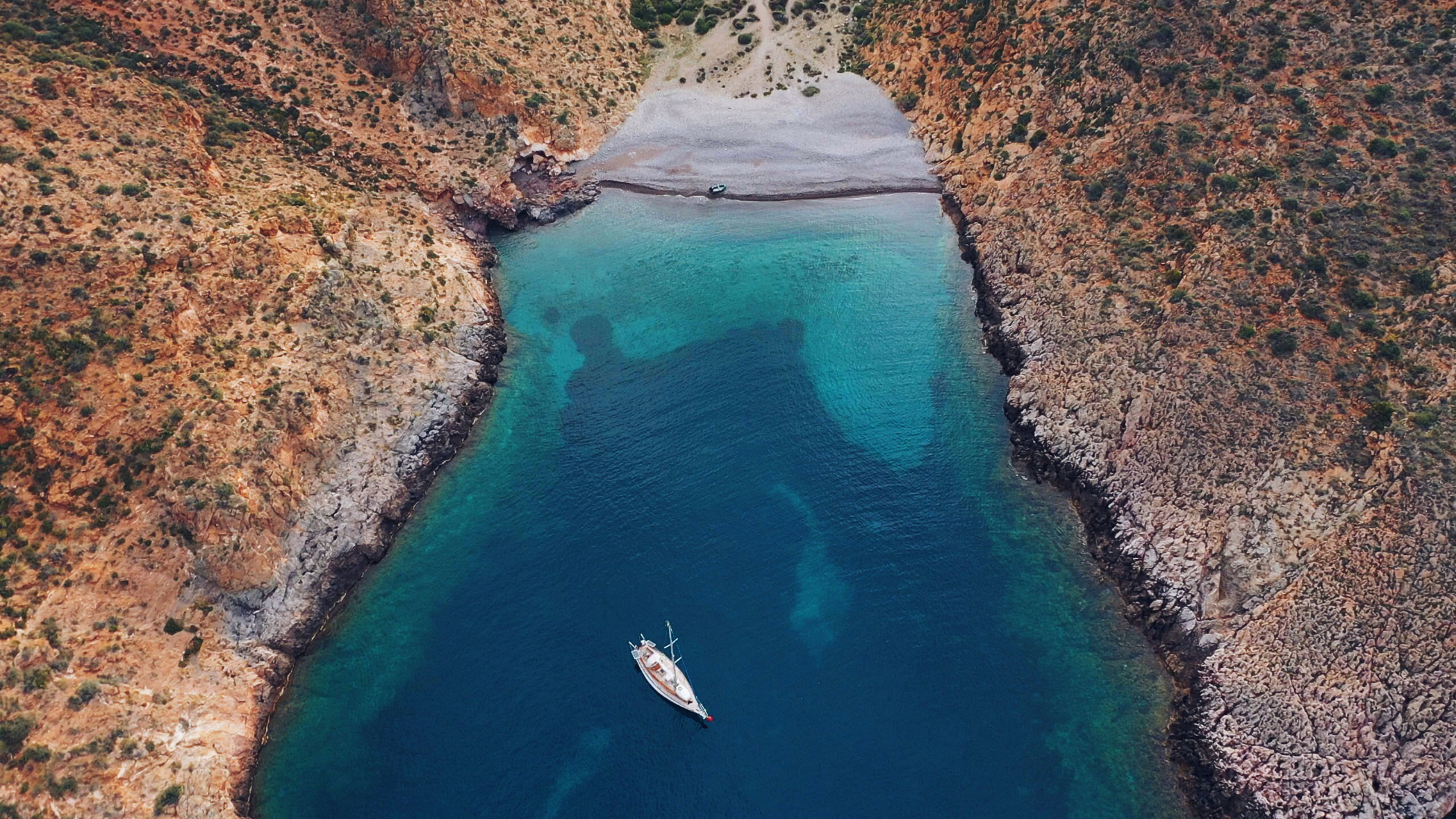 What's an average day like for you?
We still wake up super early and start mostly by getting the boat ready for the day. We don't work in an office, but that doesn't mean that we don't work. Our social media channels are the creative outlet for Kathi, which most days (especially when editing videos) feels like a full-time job.
Max keeps the boat in ship shape, does all the passage planning, and cooks on most days. Other than that, we try to explore and document as much of our surroundings as we can and enjoy the freedom to take breaks and close the laptops or floorboards whenever we want to.

CAPTURE FROM Kathi & Max's INSTAGRAM 'Sailing Makani'
How much does living on a boat and sailing cost you?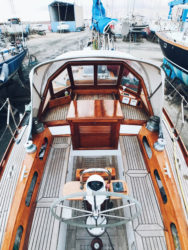 When we started, we calculated with 1.500 € per month to live this life for about 3 years. We hardly ever eat at restaurants or go out and we stopped buying things we do not need. There is no space on a boat, so you don't need 20 pairs of shoes or 7 ball gowns.
We now definitely spend less than 1.500 € per month. That said before you buy a boat you should consider the following: Living on the boat is, or can be super cheap depending on where you are in the world. Repairs and upgrades are super-expensive.
We recently spent a lot of money on a big sailboat refit, but we now plan to stay at anchor most of the time which should allow us to cut our docking fees to almost zero during the summer months. With that in mind, we were able to put a big portion of our savings towards refitting MAKANI to the point where she becomes a permanent home on the water and a properly equipped bluewater cruising vessel.
We now definitely spend less than 1.500 € per month

What do you spend the most money on?
The boat. The materials, tools, spare parts, and so on are expensive. You constantly need additional things that you forgot the last time or that break along the way. You use your home as a vessel and it is not only your house on the water but also your means of transportation and things break constantly. That's unfortunate, but it happens.
When you buy a boat, you will work on it and spend money on improvements and upgrades until the day you sell or sink it. We now meet many other cruisers, ones that have money and others on a shoe-string budget and most of them will tell you the same thing: 'To maintain your own boat will be your biggest expense.'
Do you see yourself as savers or as spenders?
Definitely savers!
If you would have asked us 6 years ago, the answer would have been spenders. It's easy to fall into the spending trap when you live in a big, exciting city, earning decent money for hard work. You want to reward yourself for putting up with that, which you should, but this dream was a turning point for us. As soon as we started to save our money for this big adventure and a floating home, everything else felt less exciting and eventually became irrelevant.
As soon as we started to save our money for this big adventure, everything else eventually became irrelevant
Are you satisfied with your financial situation?
Yes and no. It would be a lie to say that there's no room for improvement.

We are still good to enjoy this lifestyle until the end of this year. But we also talk about options to improve our financial situation to enjoy this lifestyle longer than originally planned. We honestly don't know if we leave the boat and go back to land-life or keep living aboard MAKANI and find work around the boat.
Of course, it will be hard to make the transition back. We don't think it will feel the same once we return to a 9 to 5 job and an apartment somewhere. It might be possible that we are in too deep at this point! 😂
If you could change one thing about your finances, what would it be?
Go back in time and buy a small apartment somewhere to rent out. Regardless of how big or small, a steady income would be excellent. We are also thinking about investing more in the future where your money works for you.
All in all, we are pretty happy with our financial situation and the decisions and cuts we made in the past when we both had well-paying jobs. We might be a good example that it is not necessary to have a steady income to live the sailing lifestyle for a while.
Lastly, what is your best tip (or two) for someone who wants the same lifestyle as you?

Tackle the project realistically. It looks exciting and easy from the outside, but in reality, you will have to overcome many challenges living this lifestyle. Physically, emotionally and money-wise.
We all have this romantic idea of sailing around the world on a budget, but it is hard work, willpower, and planning that goes into it.
Another tip would be, to get as much experience as you possibly can before you buy a boat. Start somewhere familiar and fun. We should have taken more time to allow ourselves to get to know the boat and to grow along the way. We think we rushed into this lifestyle starting up in Northern Europe – to us unfamiliar and rough sailing grounds. The beginning of the adventure should be fun and exciting because big challenges will come along the way.
Related blog articles
Did the story of Kathi & Max inspire you? Do you want to be able to explore the world by boat as well? Check out these related articles to get more information:
The Power of the Big Hairy Audacious Goal
What does Pay Yourself First Mean
How to start investing in real-estate
–
Follow Kathi & Max | Sailing MAKANI
More about us & the boat on our website: sailingmakani.com
Sailing MAKANI vlog: youtube.com/sailingmakani
For real-time updates follow us on Instagram & Facebook: instagram.com/sailing.makani &  facebook.com/sailing.makani
Support our MAKANI-Adventure: www.patreon.com/makaniadventure