In 'Money Talk' readers who have chosen a different lifestyle, share their finances with us. This time, it's the turn of YouTube sailing couple Mandy (31) & Alex (32) from See The Little Things. In this Money Talk, they give a glimpse into their money mindset. They started their sailing adventure two years ago and just announced that a little new crew member is on the way. 'Mainly through planning and living cheap, we were able to save up enough money to buy a sailboat within 5 years of working.'
Tell us your story. Who are you and what do you do?
Hi! We are Alex and Mandy and we have been living full-time on our 36 foot Beneteau sailboat, called Blue, for over 2 years now. We actually just had our 2nd boat anniversary on the 3rd of March! A strange and cool feeling. On the one hand, it seems like forever ago, but then again the 2 years have flown by so fast. We can't imagine living any other way anymore.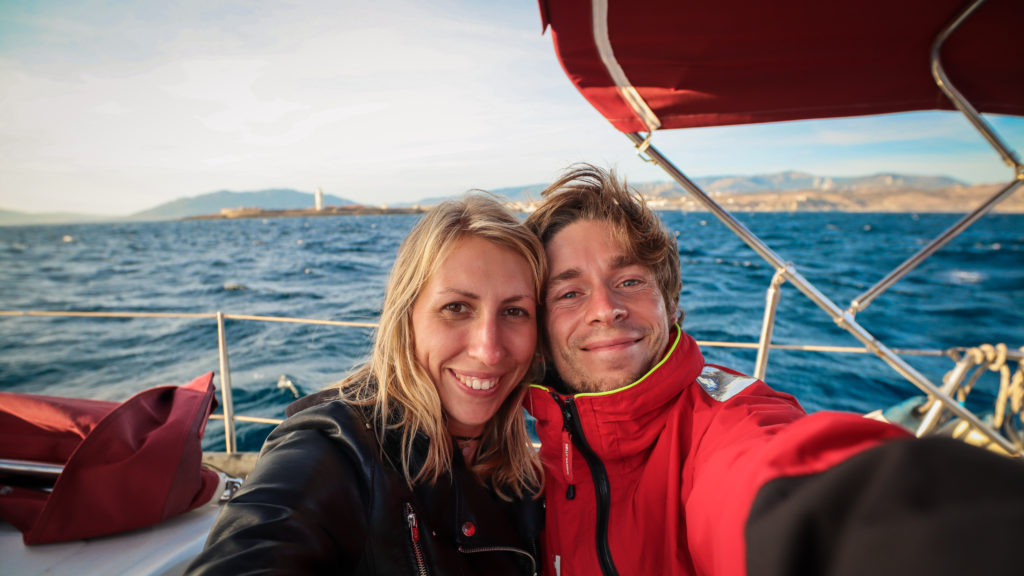 How did it all start?
When we started this adventure, we took a 1-year sabbatical from work and arranged we would still get paid 50% of our salary during this time. Therefore we earned only 50% of our salary in the year before our absence. We were very lucky our employer granted us this setup so easily. Because this way we didn't need to worry about money or health insurance and we could even go back to a job afterward (if we wanted to). It would be a bit like a 1 year paid vacation. 
The main reason for us to want this one year off though was to find ourselves back. And to see if we could start our own business. Work had been taking up a lot of our time and even though we worked at the same company and lived together, there was very little time left to really spend with each other. We didn't want to become that couple that grows apart before 30 because of a job.
We didn't want to become that couple that grows apart before 30 because of a job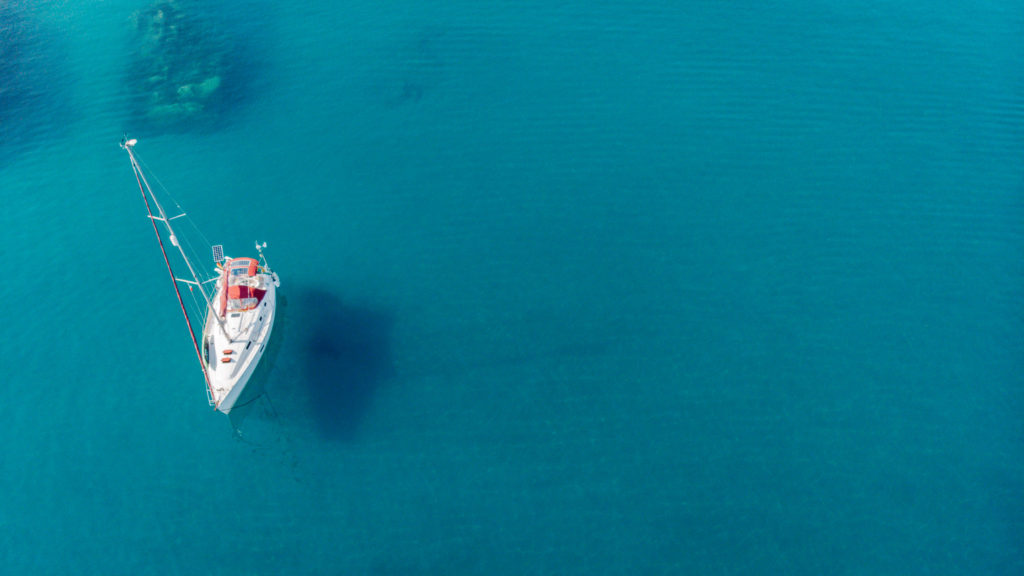 Why was growing apart something you feared?
The whole situation of working for someone else and not being free in what we do with our day was something we didn't enjoy. So we looked for an alternative. One where we could spend more time together and make our own choices. And carry full responsibility for our lives without being dependent on someone else.
So when we managed to get that 1 year of sabbatical, we used that freedom and opportunity to build ourselves a brand and find a way to make money independently. After about 8 months we actually managed to make a little bit of money online. I am talking about maybe 50-150 euros a month here. But this did give us the confidence to take a leap of faith and quit our jobs for a full-time (no end in sight) boat life. After all, we weren't ready with sailing yet, therefore going back was just not an option.
After about 8 months we actually managed to make a little bit of money online
So here we are, well over a year after we quit our jobs and 2 years after we set sail. Life is not always easier than it was before. Some days are a lot harder and are still very stressful. But it is a different kind of stress and a different kind of hard. It is something we choose ourselves and we can only hold ourselves accountable if something goes wrong. But on the other hand, we can also take all the credit if something goes right. That is an amazing feeling and is worth the struggles in the end.
After all, every kind of life comes with its own rewards and struggles and it is up to you to decide which ones you want. And right now the rewards of our current lifestyle outweigh the struggles by a million. "Finding happiness by doing things that are hard" has really become our life motto and it works really well for us. We are so much happier right now.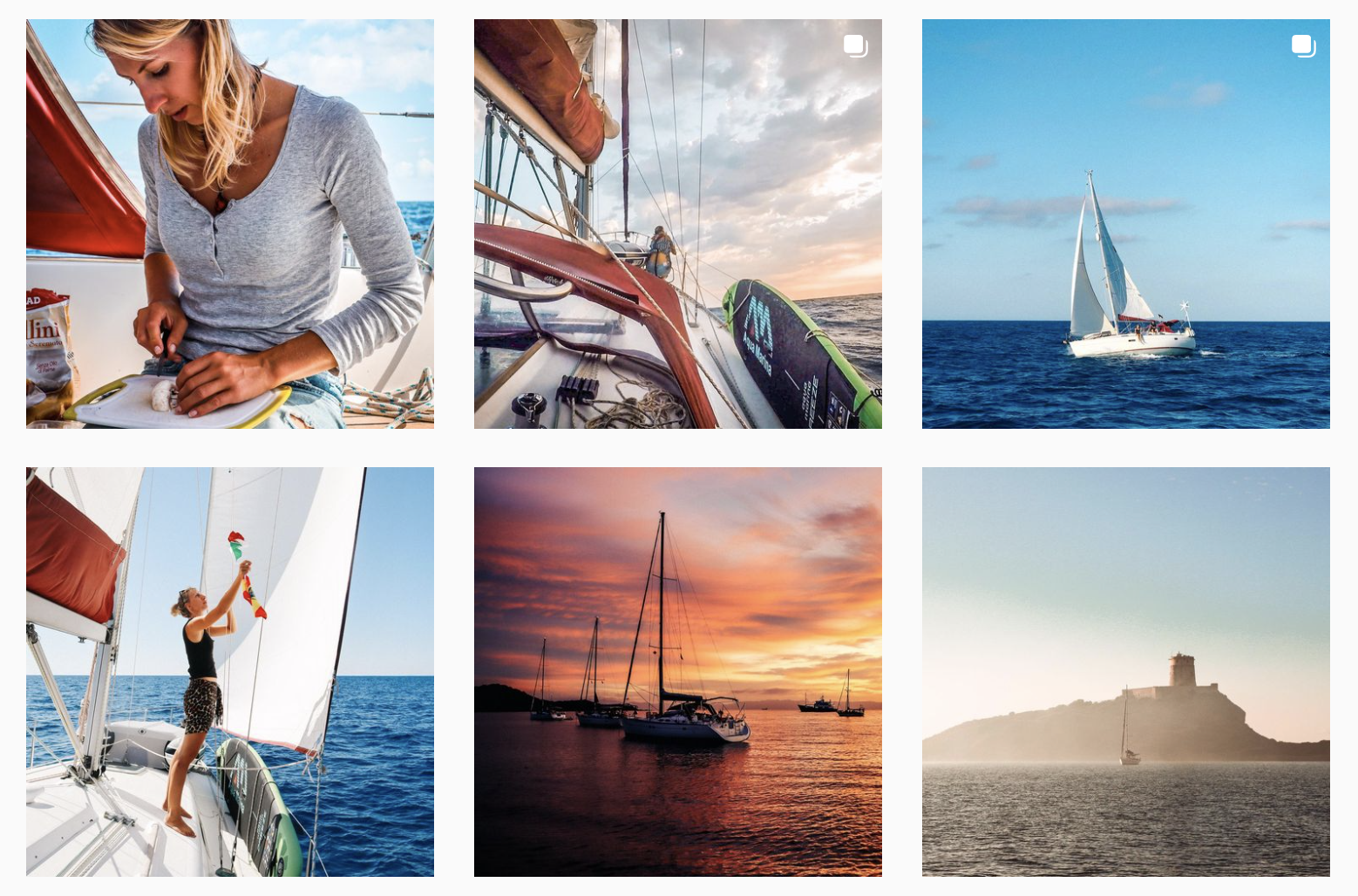 Why did you decide to start sailing?
We both always wanted to learn how to sail. In the Netherlands boats are pretty normal I'd say. Even if you don't live close to the ocean. I (Mandy) grew up in Drenthe and we didn't have any ocean close by, but we did have many lakes and canals. So as kids we'd often rent a small 5PS motorboat and drive through the canals or over a lake. This was always a big happening and a highlight for us kids. I absolutely loved being on those little boats and out on the water. Sailing was just one of those things I then wanted to learn, but somehow never came around to doing.
Alex grew up in the south of Germany, so also no ocean anywhere close. But he did spend a lot of time at Lake Constance as a kid. On a good day, it is filled with sailboats, making you wonder what it's like to be on one. Also, he loves the physics of flying a kite, which he used to do a lot as a kid, and to him, sailing is like flying a kite. No reason not to love it 😉 But also he never came around to actually learning it.
When we were then living in Berlin we found out that we could do a sailing course through University (even though we weren't students anymore) for a really good price. So we decided to finally take those sailing lessons.
Ten weeks long we spent every Sunday out on the lakes of Berlin. Learning to sail small 4,20m dinghies. And we really loved it! We always wanted to take one year off to travel "before starting the grown-up life", but backpacking didn't feel like the right way to go. So when on a warm, summer evening, after an intense day on the water, Alex had the brilliant idea to travel on a sailboat instead. To cross the Atlantic even. We decided this would be pretty epic. And that's how we ended up sailing for life.
How were you able to buy your boat?
We both always lived frugally and saved quite some money over the years. Even though we made very little money the first 1-2 years of our careers (and only worked full-time for 6 years), we still managed to each save several hundreds of euros every month. We lived in a small and inexpensive apartment (even though the budget allowed for more), never owned a car (even though we could afford it), always drove our bicycle instead of taking the subway, spend many vacations with friends or family since they all lived far away and booked tickets for vacations or family visits really early for very little money.
So mainly through planning and living cheap, we were able to save up enough money within 5 years of working to buy a small sailboat. The best tip on saving money I ever got was: every time you get a raise, just put that extra money on your savings account every month. Because before you got the raise, you were able to live with what you got then. This means you most likely will be able to keep on living with that same budget. 
The best tip on saving money I ever got was: every time you get a raise, just put that extra money on your savings account
We didn't have a clear goal for our savings from the beginning, but always knew we wanted to do something bigger, something different, that would require money. So we saved every euro we didn't necessarily need without giving up on a comfortable life. There are many ways to save expenses without having to give up a whole lot. Even during our sabbatical when living on the boat we saved money. Once you know how to live frugally, it's easy to keep it up. And it becomes a sport to keep saving.
How do you afford to travel and live on a boat?
Like I mentioned before, the first year we had a sabbatical arrangement with our employer. That covered the costs for that time, so we could travel without worrying that we'd have to spend our savings.
We did hope to travel for longer than just that one year and eventually make it our lifestyle. So we used that one year of financial freedom to see if we could set up an online business and make money on our own. We had thought about this extensively before starting our year off and prepared by looking at all of our options.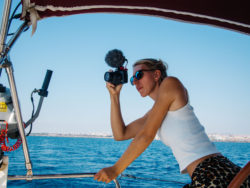 Making videos about sailing and creating a brand around that, seemed like an interesting and fun option. So that's how we ended up starting a YouTube channel where we document our life and experiences and share our knowledge of sailing. Like any business, it takes a couple of years for it to take off (if things go well of course) and we were lucky enough that it did.
We are now 2 years in and created a brand around "see the little things" and have about 6-7 different income streams. Our main medium to reach people is YouTube and through that reach, we can make money in other ways than just YouTube ad revenue. Because let's be honest, Youtube won't keep you afloat. You need to get creative to cover your costs.
We are now 2 years in and created a brand around "see the little things" and have about 6-7 different income streams
I do have to add to that, that we live cost-effectively. Our boat is small and we cook most of our meals ourselves. So our monthly budget is pretty humble. But it is the best feeling to know that you have utter freedom and still make enough money not to have to worry about being able to buy food!

What's an average day like for you?
That highly depends on the time and place (and unfortunately currently on governments' restrictions). The first year we'd wake up, enjoy a sunrise, if we were early enough, make breakfast, go for a swim, lift anchor, and sail to the next bay. If we weren't sailing we'd spend our day swimming or exploring, but we also found ourselves working on videos and photos a lot. 
Especially in high season, we spend a lot of time observing charter boats trying to anchor or lift anchor, which was very entertaining. But we also learned a lot! Especially how not to do things… haha. 
The past year, on the other hand, we spend a lot of time in marinas.
How much does living on a boat and sailing cost you?
How much we spend in a month really depends on where we are and the time of the year. In winter we stay in a marina, so that will make it more expensive. In Greece, we basically stayed on anchor, reducing monthly costs significantly.
Now that we are in the Canary Islands, anchoring is not really comfortable, so we spend a lot of time in marinas again. And depending on the marina this can be as little as 200 euros or as much as 600 euros for a month. But we did consciously choose to get a smaller boat (especially one under 12 meters), so costs for marinas are mostly not too crazy.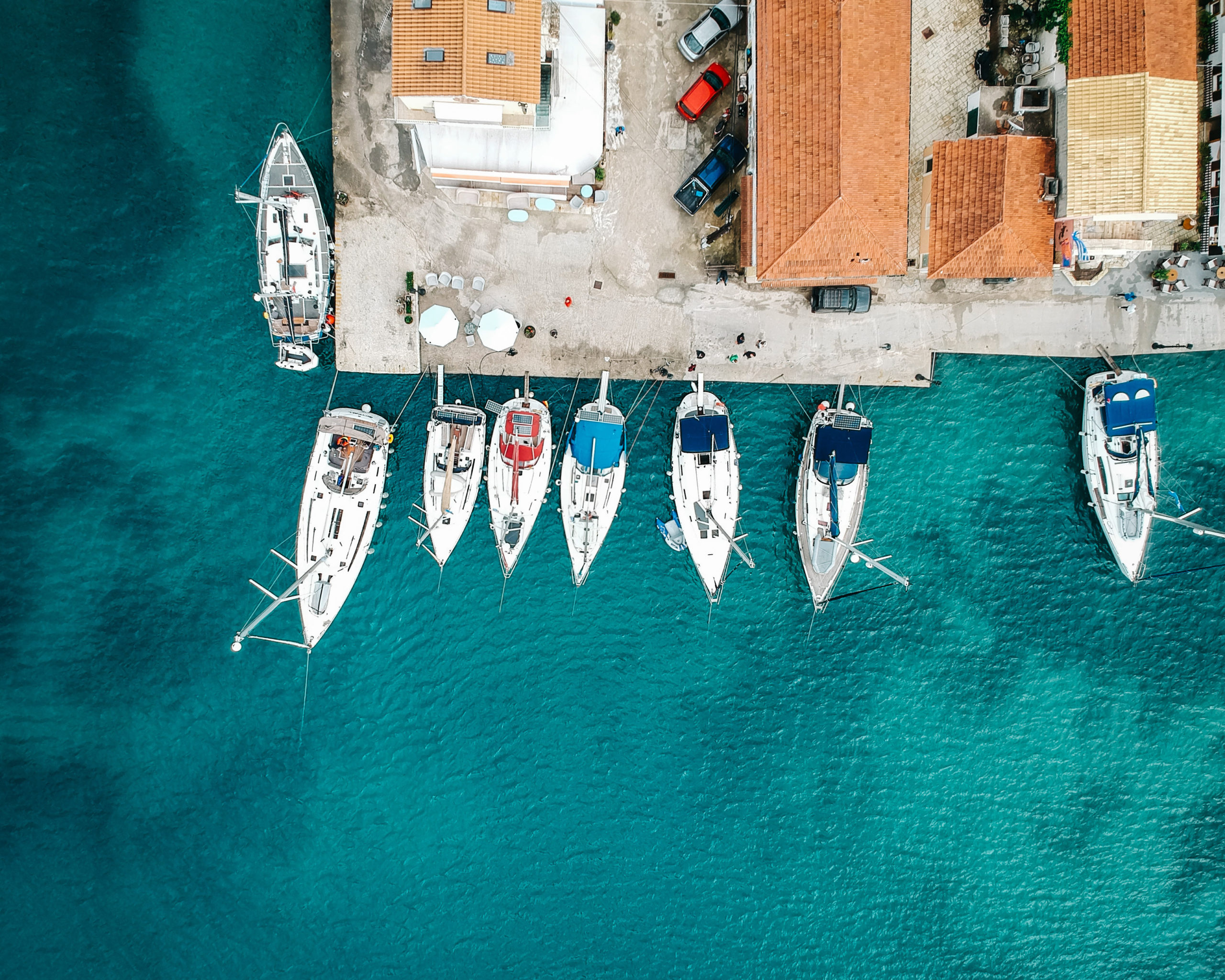 We set our monthly budget to 2,000 euros. Sometimes it is less (when we anchor a lot in summer), so then we are lucky. As we are upgrading the boat to get it blue water ready, we currently do tend to spend that much. But then again, a boat often needs maintenance and unforeseeable things happen. So it is smart to calculate that into your monthly budget anyway.
In the end, our monthly costs on the boat are quite similar to our monthly costs back in Berlin. You can definitely live cheaper if you want to, but since we can afford some luxury and comfort, we choose to do that. We don't have fixed costs like an apartment or a car back home. Essentially there is no 'back home', this is all we own.
Our monthly costs on the boat are quite similar to our monthly costs back in Berlin
What do you spend the most money on?
The boat haha. Definitely. Of course, we did a lot of upgrades. But in the end, I think that will (most likely) always be your biggest expense.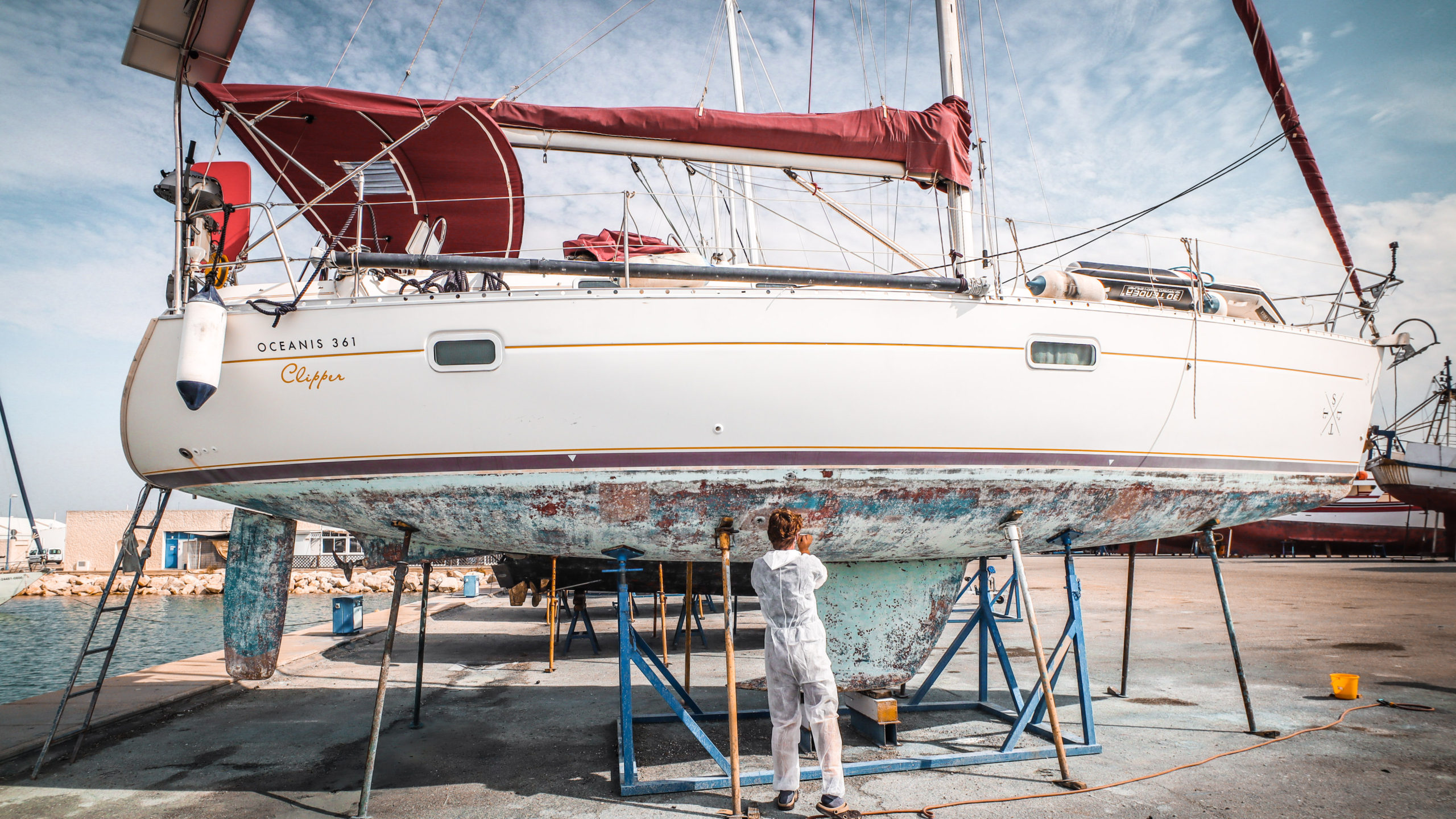 Do you see yourself as savers or as spenders?
We are definitely savers. Which doesn't mean we don't spend money. Like I said before, we do like a certain level of comfort and enjoy good food, so we spend money on that. But we try to do this wisely and still always save as much as we can for a rainy day.
Are you satisfied with your financial situation?
Yeah, we definitely are. There is always a time of struggle to gain freedom and to reach your dreams, but the outlook looks great. And we are pretty proud of what we have managed until now. What we do is hard work and requires a lot of self-discipline. But we chose to give up financial security to gain not only freedom but hopefully also more financial freedom in a couple of years.
We chose to start a business that has the potential to scale up, rather than working on fixed hourly rates. Hoping this will give us financial freedom in the long run and keep us afloat. And if not, we managed to extend our journey for the time being and eventually go back to "normal jobs" with financial security.
If you could change one thing about your finances, what would it be? 
We really wish we would've bought bitcoin back in 2017 and Tesla last year… I mean, were we blind?!
Lastly, what is your best tip (or two) for someone who wants the same lifestyle as you?
Get a good overview of your finances: income, costs, savings, assets. I am a big fan of financial plans and make them so I always know what's happening on the money side. Money Awareness really helps to get you to your goal.
Make contingency plans every step of the way.

 

When you start something new, reducing costs is easier than making money.

 

Go small, go now.
Don't be afraid to take a leap of faith. In Dutch we say "waar een wil is, is een weg" (where there's a will, there's a way) and I 100% believe in that!
Related blog articles
Did the story of Mandy & Alex inspire you? Do you want to be able to see more little things as well? Check out these related articles to get more information:
14 CREATIVE ways to SAVE money
Living on a WEEKLY BUDGET of only 100 DOLLARS
Cutting expenses vs earning more money?
–
Follow Mandy & Alex | See The Little Things
STLT website: https://shop.seethelittlethings.com/
Youtube channel: https://www.youtube.com/c/seethelittlethings
Instagram: https://www.instagram.com/helloseethelittlethings/
Support the production of STLT: https://www.patreon.com/seethelittlethings