Living full-time aboard our Lagoon 42 catamaran has been such a big change for us! A new lifestyle living (and working) on floating home! If you are interested in the monthly expenses of full-time sailing, this blog is for you.
We left the Netherlands exactly on the 1st of July 2020 to sail south towards the Mediterranean. On the day of our departure, we started tracking our expenses with the help of the app 1Money. A super simple way of knowing how much you have spent and in what category. We keep track of our expenses for ourselves.
Since this is a new lifestyle for us, we are very interested to see how much it costs us every month.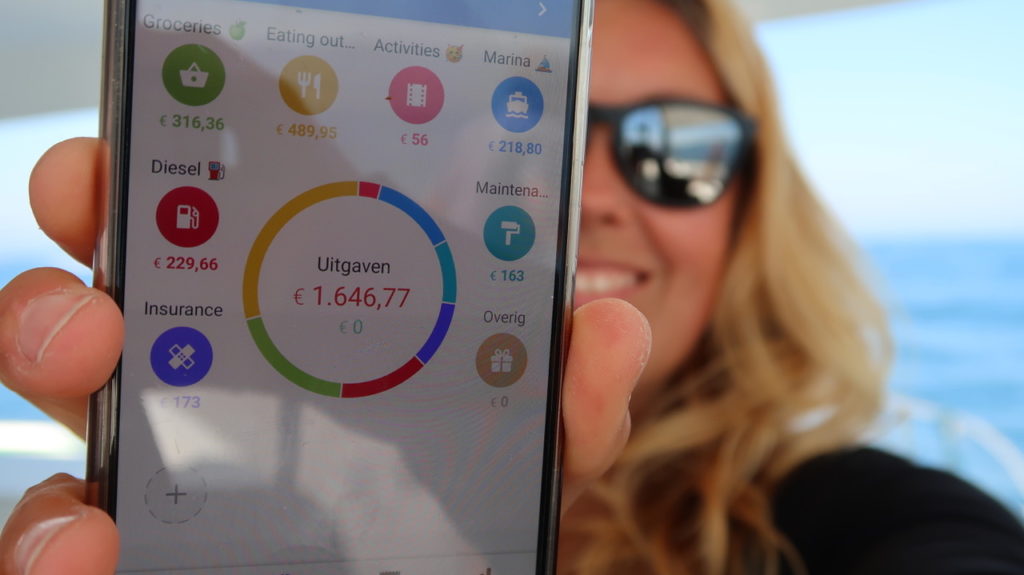 Why we share our expenses
We decided to start sharing monthly overviews of our expenses with others because we think that the financial information about this (sailing) lifestyle is very helpful and insightful. Especially if you are thinking about starting your own adventure. We definitely benefitted a lot from blogs from – for example – full-time travelers Kara and Nate who share their financial information.
However, a lot of blogs often focus on the income side of the story (how to earn money while traveling the world). While we are convinced that the expense side of the story is probably even more interesting. If you want to know why we think this, you should definitely read our blog "Cutting expenses vs earning more money"
How we track our expenses
As mentioned, we use the app 1Money to track all of our expenses. Every time we buy something and spend money, we open the app to add the amount. The app is free, easy to use, and flexible since you can define your own categories, which is great!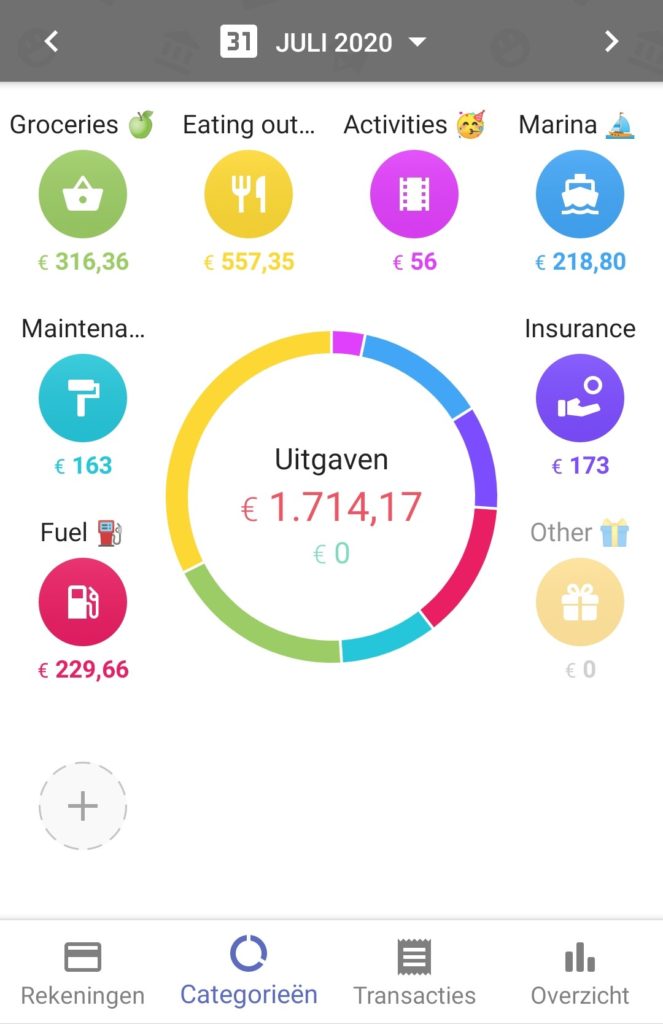 Eight categories
We divide our expenses into eight categories. We may add extra categories in the future, but for now, it seems to be working quite well. The categories we use are:
Groceries
This category obviously covers all the food and drinks we buy in a supermarket to use when we are on the boat.
Fuel
When we fuel up the catamaran, we have to get diesel. In this category, we also add the costs for gasoline for our Honda generator and the Highfield dinghy. We cook on propane gas, so if we need a new gas bottle we will also add the costs to this category.
Insurance
Our boat is insured with Pantaenius and we have fixed monthly costs for that.
Eating out
An important category for us 😉 It includes going out for breakfast, lunch, or dinner outside the boat. It also covers cups of coffee on a terrace and ice creams on the go!
Activities
In the Activities category, we add expenses for entry fees (for instance for a museum), touristy things we might do in a city (such as a wine cellar tour or renting a bike), and public transportation costs (metro, ferry, and train tickets)
Marinas
We love being at anchor, which is free, but sometimes we have to go into a marina. For instance, if there are no good places to anchor.
Maintenance
If we have to buy anything for the boat, the costs are added to this category.
Other
This category covers all other expenses that really do not fall in any of the categories mentioned above.
Costs we do not add to the app
There are some costs that we do not add to the app and therefore will not be included in our monthly overviews. If you want to have the full picture, you should add them to the total amount. These costs are:
the monthly costs for our mobile phone plans (they are part of our business expenses)
our health insurance, which is around 85 euros per person per month
our travel insurance (15 euros per month)
the yearly costs for our bank accounts and bank cards
Our monthly sailing expenses overview July 2020
So here we are, looking back at our expenses in July 2020: our first month as full-time liveaboards!
In July 2020 we sailed from Stavoren in the Netherlands to A Coruna in Spain. Since we are on our way to the Med, we sailed to different locations quite a lot, which is different from living on a boat in one place. This also has an impact on the costs we make while underway. Also, we definitely saw our first month of full-time sailing as a holiday. This means that we spend probably more on eating out than we normally would 😉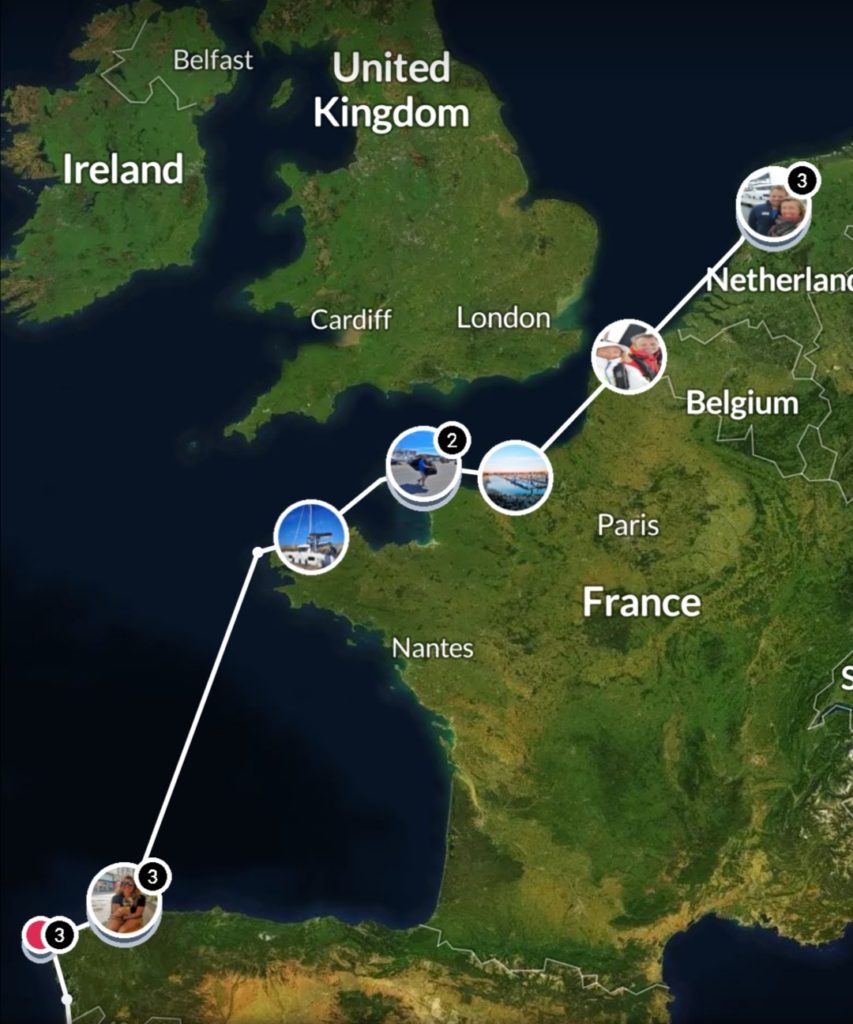 Total expenses
Let's start with the total amount: altogether we spend 1.714,17 Euros in July 2020.
The division into the categories
Below you can see our expenses divided into eight different categories.
Groceries        316,36 Euros
So we left the Netherlands with a boat which was loaded with food. We did huge grocery runs before departure. The costs of this were in June 2020 and therefore not included in this amount. Also, we got quite a lot of food from our friends of Greatcircle, which does mean fewer costs getting groceries in our first month on the boat. Also, we eat out quite a lot which helps as well 🙂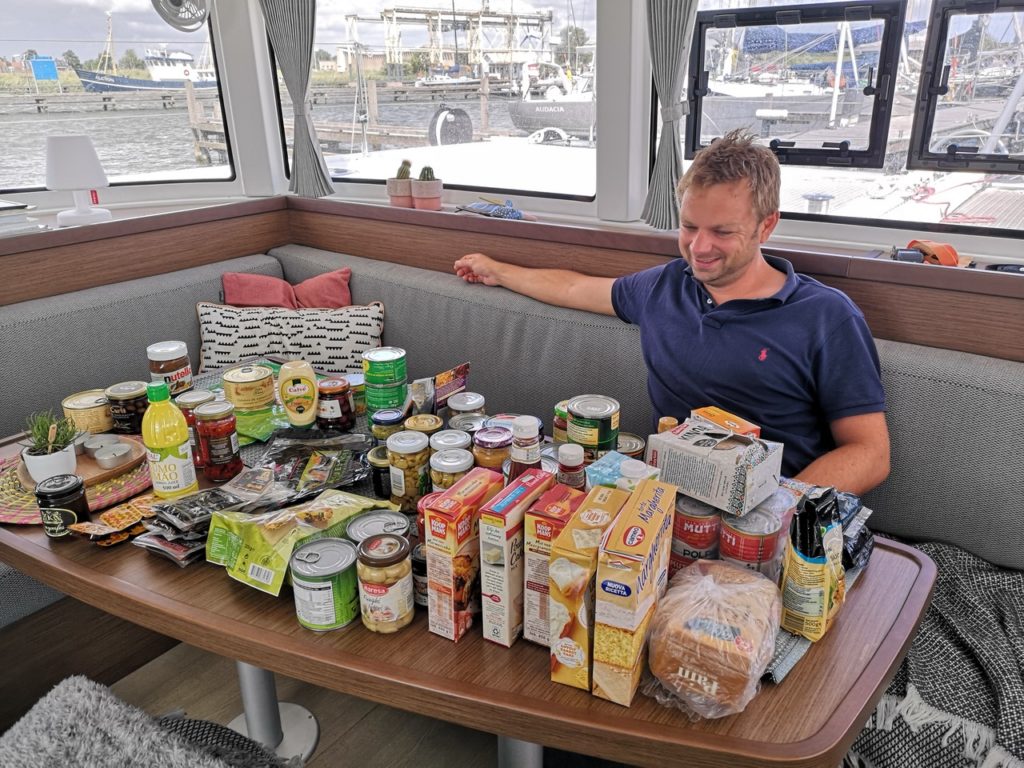 Fuel                 229,66 Euros
Leaving the Netherlands our tanks were about half full with diesel from our trip getting the boat delivered from France (via Guernsey) to the Netherlands. We also had a full dinghy tank and 20 liters of extra gasoline. We wanted to fill the diesel tanks up in Guernsey again, but we were not allowed to enter the island because of COVID. Instead, we just added about 150 liters in Roscoff (France), before crossing the Bay of Biscay.
Insurance       173 Euros
Our monthly fee for our boat insurance at Pantaenius.
Eating out       557,35 Euros
In our first month of cruising, we actually ate out quite a lot. We were in marinas often, which made a walk into town easy and therefore eating out quite tempting. Also, we were so happy to have left, that we decided to splurge a little.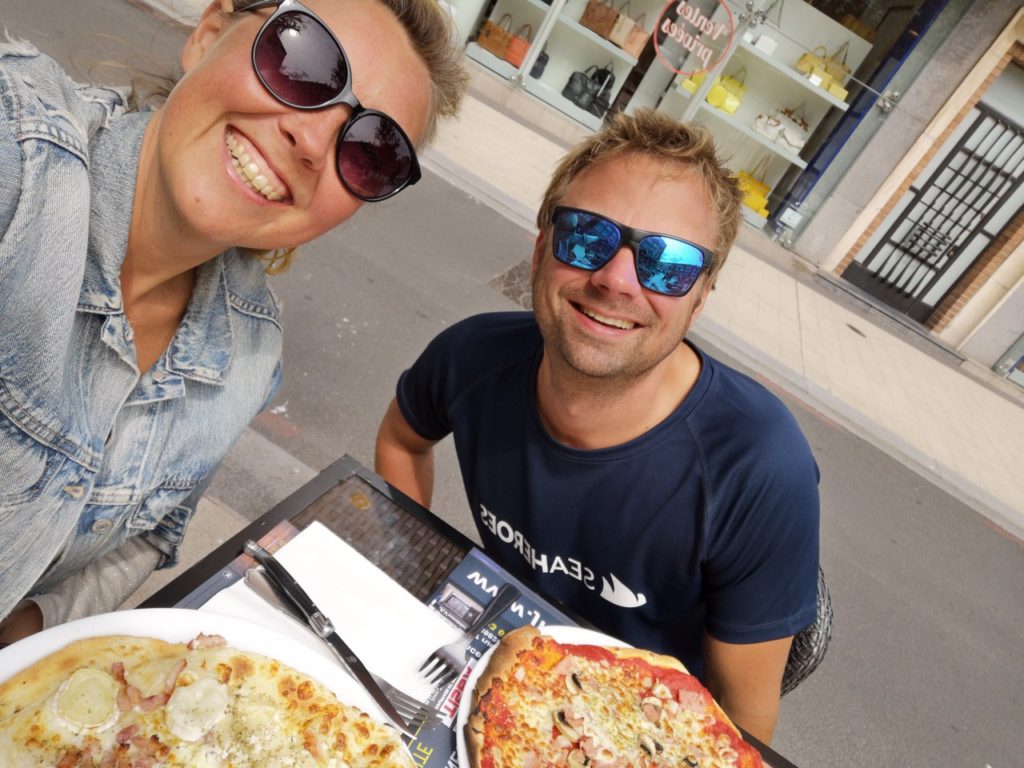 Activities        56 Euros
We had two nice activities that cost us money in July 2020. We visited La Cite de Mer in Cherbourg and we took the ferry to Ile de Batz in France and rented bikes to go around the island.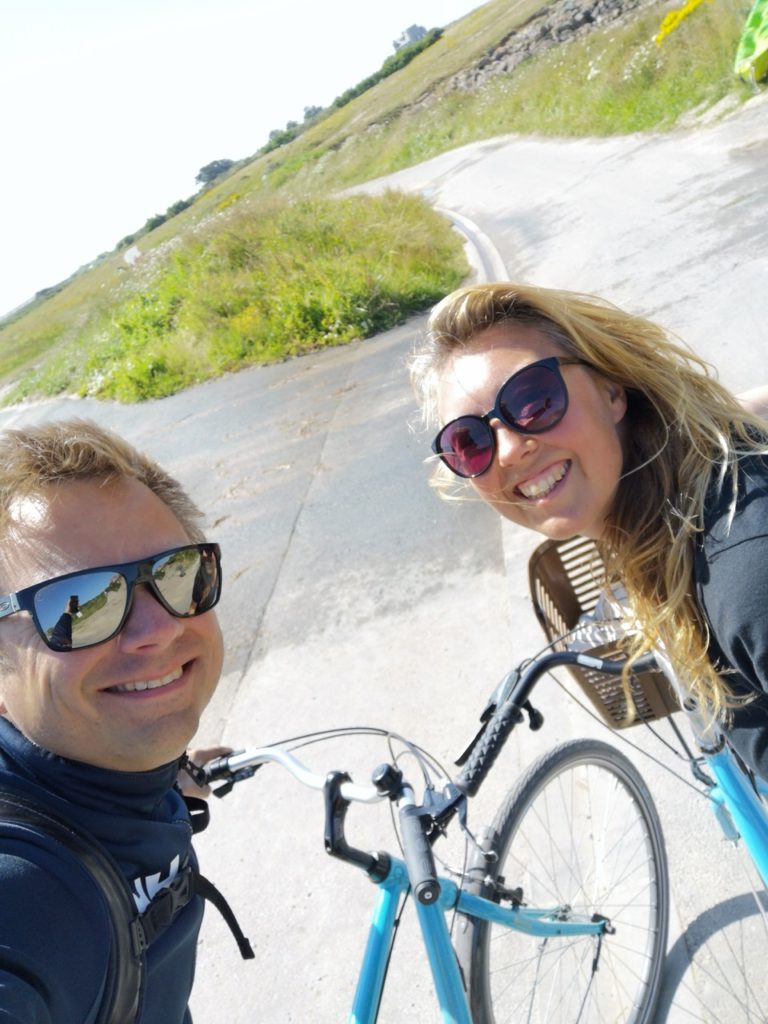 Marinas          218,80 Euros
In July we stayed in a few marinas. One reason is probably that we are used to marina life from the Netherlands and have not yet switched to life at anchor. In IJmuiden (the Netherlands) we stayed a few days because of a storm that had to pass. The other marinas we used mainly as a place to stay before continuing our journey. The most expensive marina was Le Havre (82,80 Euros per night, we only stayed one night). In IJmuiden (NL) and Duinkerke (France) we paid 45 Euros per night.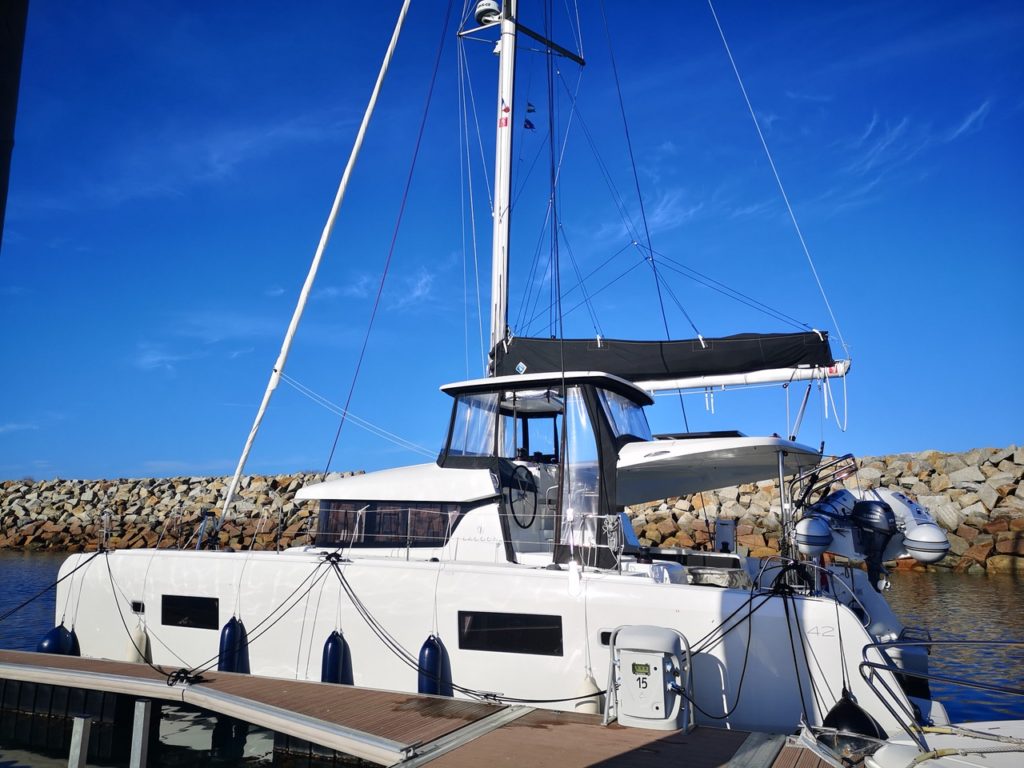 Maintenance  163 Euros
Since we have a pretty new boat (August 2019) we should not expect this category to be very high. In July we spend 163 euros in total, which included better preventer lines for the main and headsail (for the crossing of the Bay of Biscay).
We also bought new pair of sailing gloves, since the first pair already ripped before we could even cross over to Spain and we had to repair our Code 0 sail, but fortunately, Zeilmakerij Dekker in the Netherlands reimbursed those expenses because of the warranty. This means actually the costs of maintenance were only 92 Euros in July.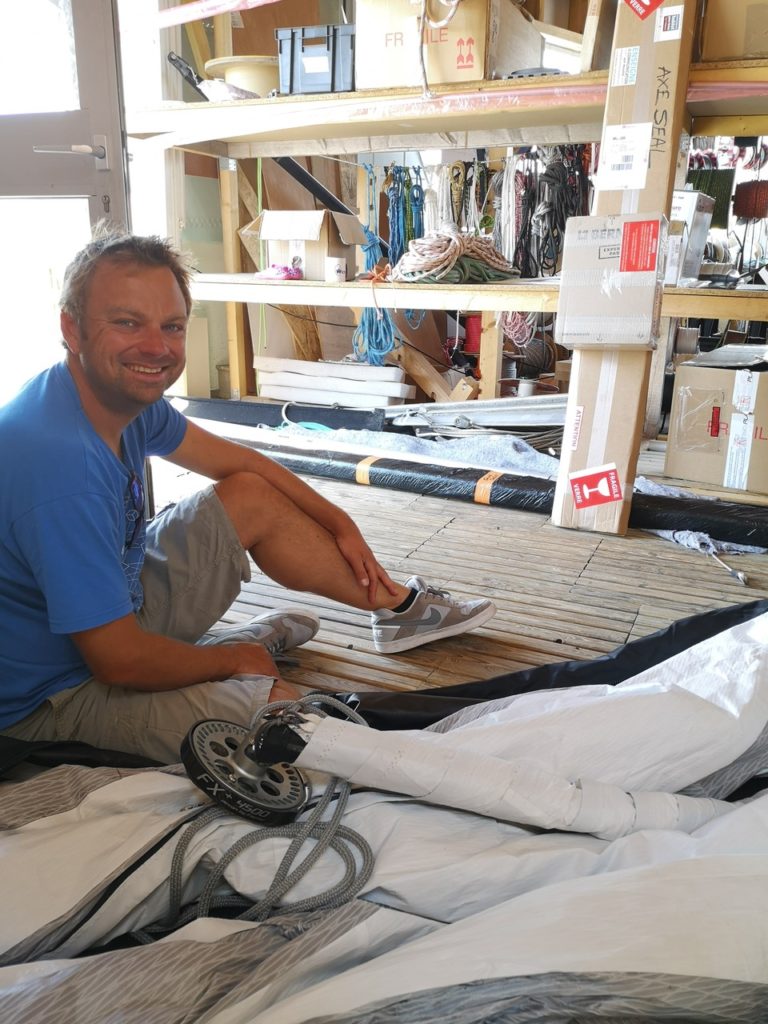 Other              0 Euros
We didn't spend anything else, so this category remains zero for July.
Conclusion
So there you have it! Our first month on the water. We think the amount for July is actually quite high. However, take into consideration that this is our first month of sailing with some extra costs for marinas and diesel. Also, July was a month which we tried to enjoy as a bit of a holiday as well. Resulting in quite high costs for eating out.
If you have any questions and/or suggestions on how we can improve this overview. Please let us know! You can contact us via contact@frompennytomany.com
We will keep posting a monthly overview of our expenses and also compare months with each other so you can the progress. Please keep an eye on this blog and subscribe to the blog notifications to make sure you don't miss the updates.